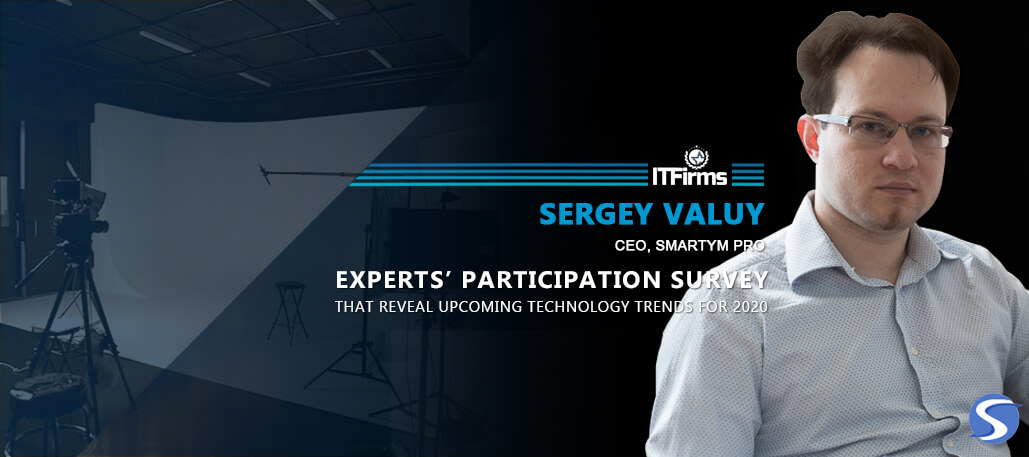 Interview with Sergey Valuy – CEO, Smartym Pro
Here is the exclusive interview of Sergey Valuy
–

CEO, Smartym Pro only on ITFirms. In this exclusive interview, he shared his

views on upcoming tech trends for 2020 

and many more things.
Let's check his success story and thoughts.
1. Tell us in brief about your company and the leadership.
Smartym Pro is a boutique software development company that helps our clients to make their ideas become real. We have a great team of more than 50 professionals, everyone acquires some specific knowledge, that is quite rare to find on the market. Our company has strong leadership with a technical background, which is important, because our management and executives are able to understand the developers and other technical specialists like no other manager can.
2. How would you describe your growth trajectory in 2018-2019? Any particular achievement? Any disappointment?
In 2018 we have become a recognized member of High Tech Park, and reached the position of acknowledged leaders in Blockchain development. In 2019 we have received an honorable achievement – we've been recognized as one of the most influential companies that have made an impact on the FinTech industry in Belarus. We are glad to be a part of the Open Banking phenomenon, an active participant and service provider – a helping hand for European Banks in making a big step towards the future. However we are still upgrading our expertise in Native Mobile development, just as we have been doing since 2012.
3. Please describe the operational structure of your company- from the moment a client walks in, to the product deployment.
Our software development flow generally consists of 4 interconnected and equally important stages: the Discovery stage – where we figure out your requirements and wishes considering the future product, and then make a research; the Development stage with full development experience from business analysis and UI/UX design to QA sessions; Deployment – at the end of this stage clients get a ready-to-use product, that is then released on the market; Post-release support – which is important for every progressive project since the modern business environment is changing unpredictably fast.
4. What engagement models do you offer? How should a client choose?
First of all, we offer a traditional outsourcing model: this is the case, where our team takes responsibility for all the product development stages, starting from the discovery stage and UX research and ending with post-release maintenance; business analysis, project management and quality assurance is included. The client will have little involvement, so that he could concentrate on more strategic business tasks. Moreover, we offer an outstaffing model. This one is a perfect match for clients, that want to have full control over the team, and for those that might not only specific specialists and not a whole full-fledged product development team. In this case a client can hand-pick the specialists he needs, and these people will be in his full control, while we take all the administrative issues and costs upon ourselves. How should a client choose? Depends on his priorities, requirements, budget and other conditions. We discuss different options with the client and our goal is to make our cooperation as fruitful and comfortable as possible.
5. What do you as a leader prioritizes – vertical expansion of your business or the horizontal expansion of your expertise and services? How do you balance both?
We believe that it's important to stay in tune with ongoing stuff. In order to balance both priorities, we invest in R&D of new technologies to launch new services in the nearest future.
6. What is your outlook for 2020?
We are planning to utilize more of our evolving expertise in the Fintech domain. At the moment we are participating in Open Baking and PSD2 movement, preparing the banks for the future changes.
7. Any particular technology or industry you would be targeting? How do you plan to prepare your workforce for the upcoming technology upgrade?
As we have mentioned earlier, we are going to get involved more with the Fintech industry. Moreover we would like to try using cross-platform solutions more often, since they are more commercially ready. In order to prepare our employees for the upcoming upgrades, we organize internal master-classes and seminars, where we share experience and technology-specific knowledge.
8. With technologies like React and Node that can be used for both web applications and mobile apps, how do you envision the development methodology to be in the future?
We still believe that the approach should be chosen independently from one case to another. For instance, React Native has become a good solution for social or informational apps. However, native mobile development didn't lose its relevance, and never will.
9. Other than technical expertise, what traits you believe are essential for any app development firm to succeed in this rapidly evolving industry?
The role of soft skills in application development is often mistakenly underestimated. It becomes especially clear and evident, when you work with a distributed multinational team. Communication – is the key to success in any industry. Moreover, we put emphasis on pre-development activities such as user experience and product vision shaping. Therefore we offer standalone product workshops and UI/UX prototyping.
10. How do you assess the role of research agencies like ITFirms in bridging the gap between clients and service providers?
From our experience, such directories are very helpful in connecting clients with Eastern European companies. What is more important they give an unbiased assessment to companies. Without such agencies as IT Firms we wouldn't be able to be where we are today, it's a huge boost and a source of motivation to upgrade our services and grow. We believe that IT Firms is a trusted resource, where clients can find the service providers, that will never fail their expectations.
Thanks to the ITFirms' strict methodology of picking top companies for the list, based on different criteria, a potential customer in search of a high-quality digital service provider can be sure that his requirements will be fully satisfied and he won't be left with nothing. Many of our clients have chosen us to be their IT-partners in their projects thanks to such research agencies. We are glad that ITFirms chose to pay attention to our work and assess it.
---
  Smartym Pro
  https://smartym.pro
  [email protected]