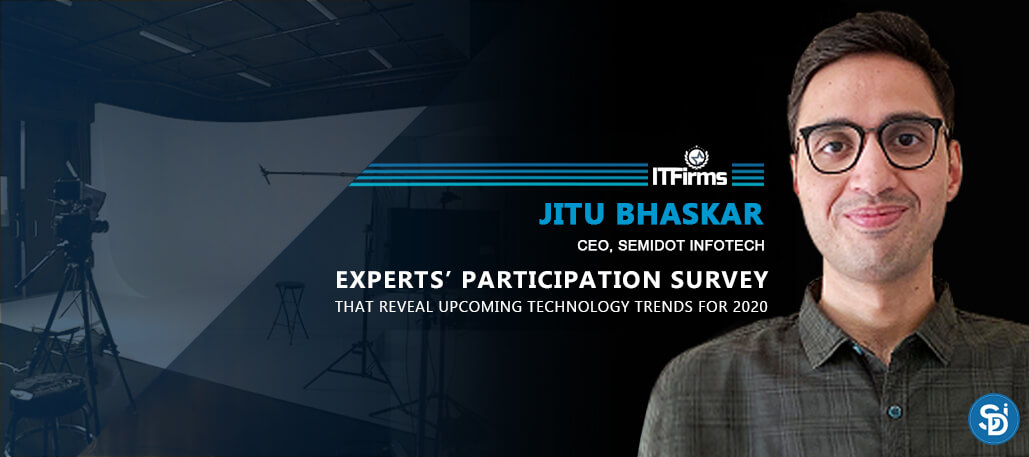 Interview with Jitu Bhaskar – CEO, SemiDot Infotech
Here is the exclusive interview of Jitu Bhaskar
–

CEO, SemiDot Infotech only on ITFirms. In this exclusive interview, he shared his

thoughts on upcoming technology trends for 2020

and many more things.
Let's check his success story and views.
1. Tell us in brief about your company and the leadership.
Our company ideology is "We deliver what you imagine". We strive for our clients so they can achieve their goals with the products we create for them. While satisfying our clients in all aspects is one side of the story, making our employees feel like a family is the second, we ensure all our team members always feel like family while working with us.
2. How would you describe your growth trajectory in 2018-2019? Any particular achievement? Any disappointment?
In 2018, we set our foot firmly in the blockchain space, we had over 20 clients for blockchain-related projects, and we are still connected with over 80% of them. Apart from that, not exactly a disappointment, but some of our team members switched to tech giants, we are truly happy for them, but at the same time miss them as a part of our team.
3. Please describe the operational structure of your company- from the moment a client walks in, to the product deployment.
When the client first contacts us with their requirement, the first step is to give them an estimate within 24 hours. If they don't have the requirements fixed, our BA will help them with everything, and help set goals for their project's development. After that, the BA will consult the project manager, and proceed on giving them an estimated development cost for the engagement model you choose.
After that it's wire framing -> design -> development -> testing -> deployment -> maintenance.
4. What engagement models do you offer? How should a client choose?
We offer 6 engagement models to be precise, we have something for each client that knocks on our door. Choosing the right engagement model is subjective to the requirement and the budget of the client, while some engagement models would cost much less, some might cost the median amount of money. Suppose the client wants the whole team onsite, we have a model for that, but it would cost much higher than the offsite model, to aid this we introduced hybrid engagement model, which offer the best of both. Just as the above example, we have a perfect engagement model for every clients, so they can be at peace of mind at all times.
5. What do you as a leader prioritizes – vertical expansion of your business or the horizontal expansion of your expertise and services? How do you balance both?
While vertical expansion is a priority, and a need for any business to grow, we completely understand that growth would be a waste if done without growing horizontally simultaneously. We have perfectly balanced both until now, and hope to always do it this way, both our turnover and our expertise and offerings, have grown in sync until now.
6. What is your outlook for 2020?
With rapidly evolving emerging technologies, we look forward to creating new projects which ease lives for all our client's customers. With advancements in AR/VR, IoT, and AI, products that change everyday lives are now possible, and we look forward, to be a big part of this revolution.
7. Any particular technology or industry you would be targeting? How do you plan to prepare your workforce for the upcoming technology upgrade?
No, since we have worked in almost all industries by now, we don't have to especially go ahead and target any in particular. However, we are looking forward to further deepen our roots in Blockchain and AI development, as we have seen a lot many startups in the space lately. Another reason for interest in these technologies is because we believe in making the world a better and secure place, through implementing the project in these technologies.
8. With technologies like React and Node that can be used for both web applications and mobile apps, how do you envision the development methodology to be in the future?
Technologies like React and Node have existed for quite a while now, and we have worked in a lot of such projects lately. Clients are nowadays more and more accepting of the fact that with a slight compromise, they can get both a web and a mobile app, in considerably lesser time and cost. It is a part of how we work when a client first sends in their requirement, we do a feasibility check and tell them if going with React or Node would work for their project.
9. Other than technical expertise, what traits you believe are essential for any app development firm to succeed in this rapidly evolving industry?
Accepting and implementing new engagement and hiring models would be the first, and adopting new technologies and experimenting with them, would be the second. Apart from these, there are a lot more things like staying focused on client's satisfaction at all times, and other fundamental business ethics that would help an app development firm succeed.
10. How do you assess the role of research agencies like ITFirms in bridging the gap between clients and service providers?
Research agencies like ITFirms play a very important role in filtering the real company listings from the fake ones. If there wouldn't be an agency like ITFirms, both clients and service providers would have had a really hard time to find each other.
---
SemiDot Infotech
https://semidotinfotech.com
[email protected]