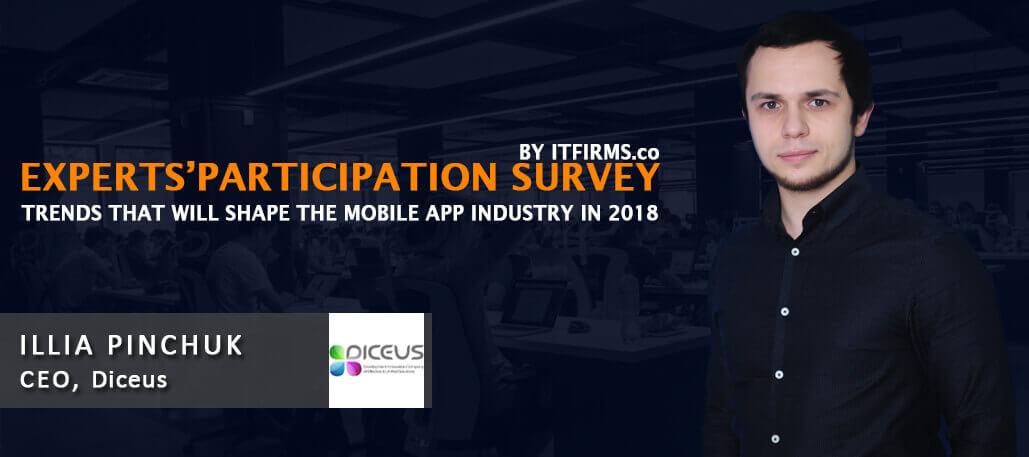 Interview with Illia Pinchuk – CEO, Diceus
Experts' Participation Survey – Trends That Will Shape The Mobile App Industry In 2018
Few lines about Illia Pinchuk –  CEO of Diceus
Illia is a founder and chief executive officer at Diceus. Expert in software product development for various platforms and solution architecture for lots of industries.
1. Tell us about your company in brief.
Diceus is a technology partner for customers from over 20 countries of the globe. For more than 6 years we cultivate relationships with technology-leading companies working in different industries. Our team leverages industry knowledge and leadership in technology to provide high-quality services and state-of-the-art IT solutions.
2. How do you describe your mobile app development team in terms of experience and expertise?
Since 2011 we have been building native apps for iOS using Swift technology and Android using Kotlin. Cross-platform apps are built with Xamarin by Diceus as well. Our team has successfully delivered over 50 mobile apps for telecommunication, insurance, and entertainment industries. We are also able to support and maintain the apps that have been built with the help of more traditional technologies.
3. How would you drive your team to meet technology demands of 2018?
Our leaders are ready to embrace change and take risks to meet technology demands in such areas as IoT, Chatbots, AI this year. Diceus team has successful managers who acknowledge the need for the company's development and are able to navigate the entire team through change. Each of our team members has a detailed Personal Development Plan (PDP) that help to develop in new technologies and be one step ahead.
Our employees have a bunch of possibilities to visit professional meetups, workshops, and conferences to keep up with the times.
4. How do you help your clients in choosing the right yet profitable platform for app development?
Whatever type of the project we handle, we guide our clients every step of the way. Our experts bring clarity to customers' vision to create the application that fits their business needs. We conduct an in-depth research on our client's business, industry, and target audience to offer the best-suited product. By integrating actively into our customers' businesses we're becoming a technology partner to them. Our company takes into account the most effective strategies of a project development when choosing a platform that will be easily scalable to meet the future needs of the product.
5. What all services do you think you would add to your offerings in 2018? 
The prime goal of our company is to become a technology partner to our customers and provide a wide range of full-cycle services to them, from SRS writing, research and design to product implementation and maintenance. With a fast development of Big Data, IoT, blockchain, and other emerging technologies, we are focused on adding those to our offerings this year. This will bring plenty of choices to our customers and growth prospects to our company.
6. How are you going to differ in processing solutions and applying methods in the coming future?
We are aimed to combine traditional and innovative technologies to build the most effective apps that will be easy to use for our customers. Our team is capable to build user-friendly apps that will meet the business goals and challenges of the coming future.
7. How do you scheme your pricing model? How do you fix your budget?
We are constantly working on crafting the best pricing strategies that's why today we offer our clients two major engagement models: time and material, and fixed budget. As we are a technology partner focused on long-term business relations, more often our customers prefer choosing time and material engagement model as it is more flexible. However, we take into account the scope of the project when offering our customers the most-suited model. Fixed budget is available to our clients who are ready to pass through the entire business analysis process, SRS writing, and estimate procedure. Any changes are reviewed as change requests by our team and are added as additional requests to a contract. In this case, customers must be 100% sure about how they vision their projects. Time and material engagement model doesn't include precise SRS documentation. Sprints and scopes are formed on the fly so that the customers are able to coordinate their projects. However, some clients choosing time and material would like to understand how much it will cost to them to develop a project. In this case, it is possible to offer a fixed budget model inside time and material when a final total price is known and all change requests are monitored so that not to exceed the fixed price.
8. Define your future prospective and vision regarding new technologies like Artificial Intelligence, Chatbots, IoT apps, Augmented Reality apps and Virtual Reality apps?
We have already had a successful experience in creating the apps related to some of the above-mentioned technologies. Our vision is to provide the services that meet future market trends and demands. This year experts in IoT, AR, VR, and AI have joined our team to meet the challenges of the innovative technology world.
9. What are your favorite industry verticals for 2018 and why?
Being a technology partner to big corporations in healthcare, e-commerce, automotive, construction and other industries, we are focused on creating CRM, ECM, ERP solutions for those. The reason for this is that these industries, more than others, show a strong demand for changes to provide smarter services to their customers. And we are ready to help them build smart apps for their businesses. The other favorite industry verticals for 2018 are entertainment solutions like music, social networks, and game apps as these attract the core target audience.
10. What product/service and in which category you would like to build/offer to establish or redefine your authenticity and expertise in your operational domain?
Currently, we are expertised in web and mobile development in several destinations like BI, cloud solutions, data science, Big Data, blockchain, CRM, ECM, ERP, UI/UX, DevOps. We have already established our expertise in the above-mentioned domains with successfully accomplished projects for customers in more than 20 countries of the world. We keep doing our best to provide the high-quality services and build profitable products to our clients.
  Diceus
  diceus.com
  [email protected]