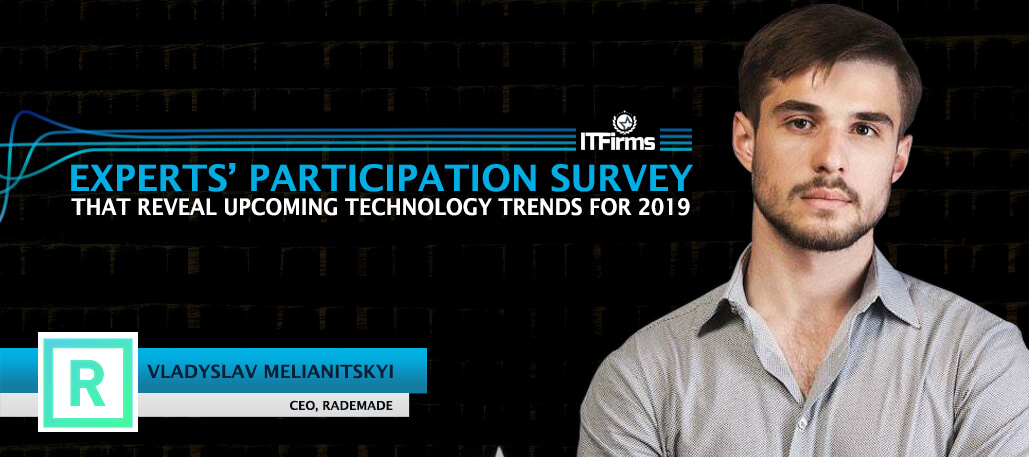 Interview with Vladyslav Melianitskyi – CEO, Rademade
ITFirms conducted an exclusive Interview with Vladyslav Melianitskyi – CEO, Rademade under "Experts' Participation Survey" series, That Reveal Upcoming Technology Trends for 2019.
1. Tell us in brief about your company and the leadership.
Rademade is an international company that provides professional software development services, such as web & mobile application, online marketplaces, e-commerce platforms, CRM and ERP systems. We target at certain business domains and particularly at fintech, healthcare, legal, food, travel, and retail. But not only at them 🙂
Also, our focus lies on the development efficiency. We understand that a real team could be times more efficient than just a separate group of senior specialists. The company has an entirely flat structure without heads of departments and managers. It means that the company is built by teal organization principles similar to holacracy.
2. How would you describe your growth trajectory in 2018? Any particular achievement? Any disappointment?
We had a challenging year. First of all, we updated our key client portrait and focused on scaling growing companies, so the number of startups in our portfolio decreased. Aside from that, we changed our corporate structure, upgraded the Community of Practice process and made good revenue growth in the second part of the year.
3. Please describe the operational structure of your company- from the moment a client walks in, to the product deployment.
Rademade has a step-by-step working layout for developing the client's idea:
1. If a founder or a Product Owner doesn't have any specific requirements we start from Project Analysis. On this stage, we build a roadmap together with user stories and set priorities for the project. We follow an Impact Mapping process on this stage and it takes 2-4 weeks in general.
2. Then we provide a full estimation with numbers, an expected team, total length of the project & a budget.
3. After that, we start with an active development stage. As usual, we find a way to build MVP in less than 4 months. A team involvement in the active development stage is between 50 and 200 hours. This number depends on the UX/UI level, developers team size, QA, and Scrum Master involvement.
4. Then comes maintenance. We have a few maintenance plan types.
There is basic maintenance, which includes a development team with < 200 h/month involvement. This plan is perfect for planned development.
Then, a hot reserve with a development team involved < 10 h/month. It's matched with incident management.
And finally, there is a cold reserve with only one developer involved.
The type depends on the project, required response time and Product owner needs.
4. What engagement models do you offer? How should a client choose?
Together with a client, we discuss a company's technical background, level of development services and expertise of Product Owner role. Then we choose the best option between:
A dedicated team – the client hires our team for full-time work, but without a manager from our side.
A managed service – there is a Product Owner from the client's side only for the time of this project, while we provide our manager and team.
A Product Development Model – the Product Owner is introduced by our side.
5. What do you as a leader prioritizes – vertical expansion of your business or the horizontal expansion of your expertise and services? How do you balance both?
Currently, we are focused on vertical scaling with new approaches, readymade solutions, expertise level and quality of our services. Next year we plan to add more technologies and open new development centres in Ukrainian regions.
6. What is your outlook for 2019?
We have a roadmap for this year to increase leads up to 150-200 per month. Also, we aspire to build an account exclusively with growing companies and scale our team in the second part of the year. We plan to open a second office in Ukraine if the scaling gets more than +50% in the next eight-month.
7. Any particular technology or industry you would be targeting? How do you plan to prepare your workforce for the upcoming technology upgrade?
As I told previously, we focus on growing service companies in fintech, healthcare, legal, food, travel, and retail industries. Therefore, we provide integration services of existing software as well as build additional modules for business needs. We mind time-to-market metrics and understand that building software from scratch is time-consuming and not cost-effective for business. So, by improving our existing open-source software opportunities we continue to provide an excellent service for our clients.
8. With technologies like React and Node that can be used for both web applications and mobile apps, how do you envision the development methodology to be in the future?
I believe, that ReactJS will cover most of the frontend and mobile application. So, you'd be able to include most of the stages for growing product: build Community of Practice or MVP on ReactJS and PWA, then build a native mobile app on ReactNative. You'd need to rewrite your app once it becomes massive. Yet, hiring engineers with good seniority would ensure that you can maintain huge apps on React Native and build custom components for them. I agree that everything will be rewritten in JavaScript in the nearest future.
9. Other than technical expertise, what traits you believe are essential for any app development firm to succeed in this rapidly evolving industry?
I assume that a good engineer has to own a wide range of hard and soft skills. Company values and culture are the most critical things in growing companies. Thus, each new member in Rademade had an interview regarding the values of our company, such as a passion for self-education and development, proactivity, personal responsibility for the team and relationship building. These are the essential skills for issue solving and making the right decisions for the company growing process and client serving.
10. How do you assess the role of research agencies like ITFirms in bridging the gap between clients and service providers?
I understand that such platforms bring value to product owners and founders who can find there an appropriate development company that fits their needs, expertise, and values. It could be awesome if such firms would dive deeper into the company expertise and culture to help find the perfect fit for the clients.
  Rademade
  rademade.com
  [email protected]