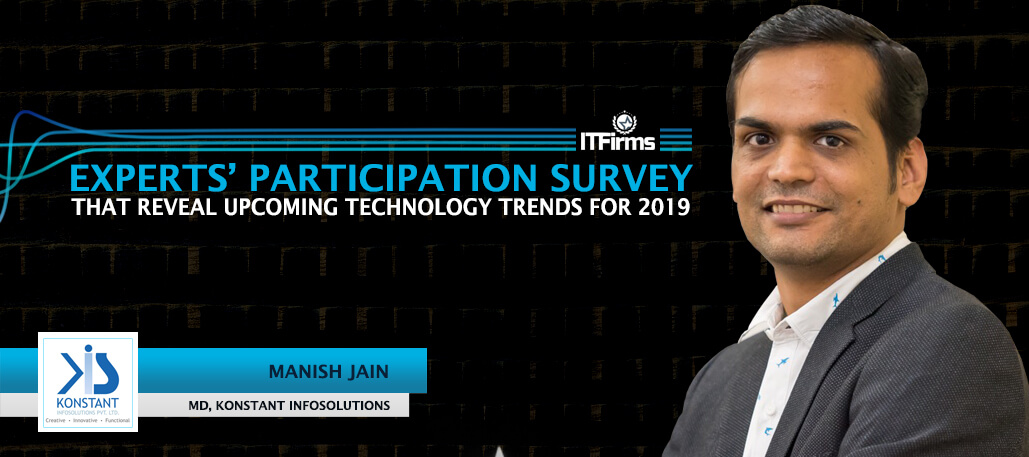 Interview with Manish Jain – MD and Co-Founder, Konstant Infosolutions
Manish Jain – MD and Co-Founder, Konstant Infosolutions, presents his views on upcoming technology trends for 2019 as part of ITFirms's Expert Participation Survey.
1. Tell us in brief about your company and the leadership.
As we manage our organization we are accountable to our employees, colleagues and all stakeholders. We are inclined towards our basics and honest in all our undertakings. We are more engaged and collaborative with colleagues. We are more in touch with them, more conscientious of what they do and say, more concerned about fairness and diversity, responsible for their security and overall welfare. We weigh these new expectations, past experiences and our leadership instincts against the learned habits and conventional wisdom to get desired results.
2. How would you describe your growth trajectory in 2018? Any particular achievement? Any disappointment?
We started with very few employees. As the team increased, and tasks were allocated, things started to fall in place and the staff was organized. This ensured that work didn't fell down through the cracks. We always strived to avoid turf wars as this helped us through various processes. We have structured our organization chart for each position for our current situation and a second chart for where each one of us wants to be in coming one or two years.
It was important for us to maintain a steady operational workflow, assigning responsibilities, scheduling tasks and managing various operations to achieve maximum client satisfaction rate. In this process we had been marking out strong credit checks, implemented a number of successful projects and enhanced our technological expertise. We were listed among top 5 mobile app developers in 2018 by SiliconIndia, Ranked among top 5 app developers and development companies in India by Clutch, # 1 Magento web development company by the extract.co, Recognized as #1 mobile app development firm by ITFirms, ranked among top iOS app development agencies by Business of Apps, Ranked among top 10 mobile app developers by AppFutura.
3. Please describe the operational structure of your company- from the moment a client walks in, to the product deployment.
Our decision process involves planning, organizing, coordinating, and controlling all the resources that we incorporate in delivering our core services. Konstant's digital business strategy includes business models, designs and a mix of technologies that will impact our enterprise architecture discipline and deliverables over the coming year.
As the client reaches us with their idea, the big task is divided into subtasks and the objective of the application to be developed is understood from the client. The planning and requirement collection phase involves determining who all are our target audience, how the app will be used, on which platform it will be built upon, checking competitor behavior, determining the budget, the deadline of submission, and marketing of app and monetization model to be followed.
We follow the entire software development life cycle for a project of any size and budget unless otherwise necessitated by the client.
This involves research and planning -> Checking technical feasibility -> Building the prototype -> Designing the app -> Design to development handoff (which involves kickoff meetings and weekly hurdles) -> Testing the application (Unit to UAT)-> Deploying the app
4. What engagement models do you offer? How should a client choose?
Project, time, budget and client requirements are four bases for deciding about the engagement models.
We make use of project-based engagement model when the requirements are clear. Their costing is fixed based on milestones.
We make use of resource-based engagement model when we get a chance to try a technology for the very first time. Their costing is based on hourly or daily rates based on the type of resources engaged.
We follow a dedicated development model while setting up low-cost offshore development practices. Costing is flexible based on the type of needs and resources.
We go into partnership engagement when capital is not enough to take the relevant risk. Costing is according to predefined hourly rates and profits are shared.
We follow a fixed cost model in case there are no unknown factors when all the requirements are gathered and written as clearly and accurately as possible.
5. What do you as a leader prioritizes – vertical expansion of your business or the horizontal expansion of your expertise and services? How do you balance both?
We are focused on enhancing our technology and services portfolio learning every nook and cranny from every project we undertake. We are inclined to please our clients and boost our business in the process. We also plan to improve our solutions, prevalent practices and include tools for better productivity. Although we strongly seek but do not adopt future trends unless required that could leave the current projects in jeopardy.
6. What is your outlook for 2019?
We have planned for a few things like duplicating the success in the areas in which we are performing substantially well and identify areas where our business is underperforming.
7. Any particular technology or industry you would be targeting? How do you plan to prepare your workforce for the upcoming technology upgrade?
Having served almost every industry niche, we will strengthen core mobile app development with more native and cross-platform app technologies. In addition to this we look forward to extending our efforts towards AI (we have already developed chatbots for e-commerce applications earlier), Augmented, Virtual Reality, Blockchain, and Data Analytics. We have already started exploring and managing big data applications and wish to assist businesses across the globe to decipher this decisive information in a procedural way.
8. With technologies like React and Node that can be used for both web applications and mobile apps, how do you envision the development methodology to be in the future?
We plan to bring features like rapid CMS, instant localization, instant integrations and rapid scale technologies to build best and most efficient app development platform in the world and we're confident that this is the best offer in the market vs. other app development firms.
9. Other than technical expertise, what traits you believe are essential for any app development firm to succeed in this rapidly evolving industry?
We believe in honesty and hard work. Our sincere efforts are directed towards achieving maximum client satisfaction rate. We are working towards improving client communication, valuing time and resources, committing yourself to the deadlines till the time they are not completely satisfied.
10. How do you assess the role of research agencies like ITFirms in bridging the gap between clients and service providers?
ITFirms have been working smartly to match service seekers with service providers. They follow stringent criteria to select top service providers that are easily identifiable amongst the rest. We sincerely thank them for acknowledging our efforts.
  Konstant Infosolutions
  www.konstantinfo.com
  [email protected]