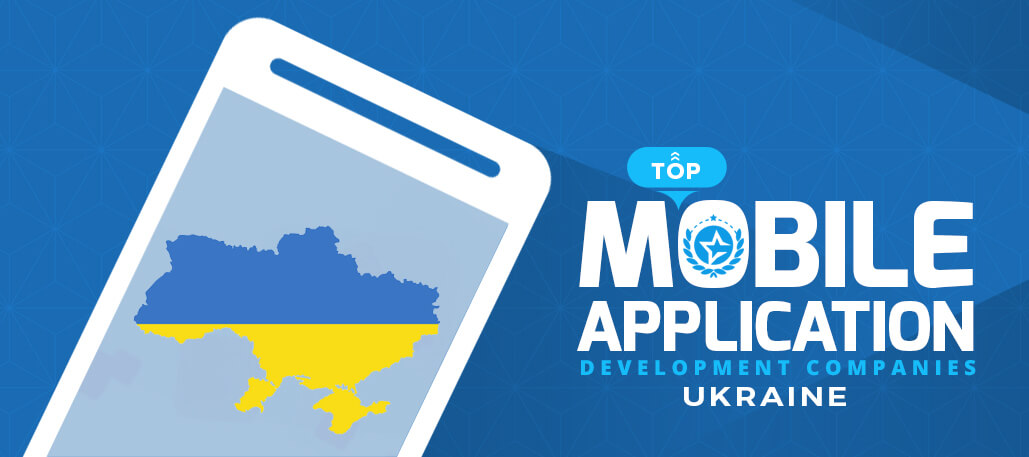 Top Mobile App Development Companies Ukraine and App Developers to Hire
Mobiles apps are now the new frontier for accelerating user engagement and ensuring satisfaction. The problem is that building mobile app is a costly and complicated affair, which when appended with the fact that there are already millions of apps vying for user attention, makes the situation grimier. Ukraine, however, is special with a large pool of mobile app developers competing to deliver cutting-edge mobile apps at a fraction of their perceived cost. Having developed some of the most recognized mobile applications around, the mobile app development services of the region are proficient enough to cover all platforms and industries. Here are the top mobile app development companies in Ukraine, from which if you choose, you can't possibly go wrong:
Top Ukrainian Mobile App Development Companies & Developers List
1. Cleveroad:
Cleveroad team is your reliable partner in software design and development. Starting with an idea, through requirements analysis to UI/UX design creation and development, we work hard to drive value into every project we undertake. Having delivered over 130 software solutions, we gained vast expertise in iOS, Android and Web apps development. We believe that creative thinking and collaborative approach to every step of development process delivers top-notch products.
Services provided by Cleveroad:
Cleveroad provides full stack development services – mobile, web, desktop apps development, user-first UI/UX design, responsive web design, and development, backend integration, outstaff services.
2. TechMagic:
TechMagic is a development company from Ukraine. Being startup founders ourselves, they help entrepreneurs to launch their great ideas. TechMagic execute Lean Startup Methodology and believe in Minimal Viable Product development to see if a concept works. They use Agile to make quick iterations and build solutions that really fit the market.
Services provided by TechMagic:
TechMagic has experienced in native iOS and Android application development with complex Back-End (Node.js). Also, they provide dedicated team model, so clients can build thier own team in Ukraine.
3. SteelKiwi Development:
SteelKiwi Development was founded in 2011 as a web development company. With an initial focus on Python/Django, we entered the mobile development market in 2012. As an international company, we're pleased to serve customers from all over the world, with the majority of our clients coming from the US, Canada, Australia, and across Europe. We've helped over 100 customers solve complex business problems through close cooperation and ongoing collaboration, with some projects lasting 12+ months and requiring development teams of 10 devs per project. Being able to provide top quality services has resulted in many repeat customers, satisfied with a constant partnership. We build exceptional web and mobile applications.
Services provided by SteelKiwi Development:
We are a full-cycle service provider with over 50 full-time staff covering all areas of IT. Our team members bring their unique set of skills to our 6 departments: web development, mobile development, graphic design, technical support, quality assurance (QA), and sales and marketing. We have sales representatives in the US, Israel, the Netherlands, and Slovakia.
4. Yalantis:
Yalantis is a full-stack mobile and web app design and development company. We excel in customer-centered user experience and user interface design. We deliver expected value to our clients by focusing on KPI in our approach to app development. We optimize our products at every stage of their development to give our clients maximum value for minimum effort.
Services provided by Yalantis:
Their services extend to each facet of strategy, design and development. Strategy planning, web design, application development, testing and QA, account management, eCommerce are the services offered.
5. N-iX:
Based out of Ukraine and Poland, N-iX is a software development partner since 2002. They provide end-to-end digital transformation services on the latest devices across all platforms. The team focuses on delivering scalable, secure and manageable solutions that are aesthetically appealing and render smooth UX. Developers at N-iX are well-versed with trending technologies including Big Data, Virtual Reality (VR), Machine Learning and AI, Blockchain, Data Science.
Services provided by N-iX:
Experts in software product development, game development, mobile application development, OpenText Profesisonal services, technical support, QA and testing, game art production.
6. Rademade:
Rademade is a brand, targeted on creating high quality SaaS products. We have been developing ERP and CRM systems for 6 years. Also we are involved in eCommerce sphere by the means of our own OMS product – Online Marketplace Solution for b2b, b2c or p2p marketplaces.
We are already trusted partners with a number of global brands like Transparency International, BASF, BUD, Canon, Johnson&Johnson, Facewatch to name a few.
All of our developers are Full Stack, and working with Ruby on Rails and Angular JS helps us to create clear code rapidly. Among our skills also are MarionetteJS, Karma, CoffeeScript, jQuery, HTML5, CSS3, SASS, Stylus, Rupture, Jade, Bootstrap, Gulp, PhoneGap.
We prefer to work on a time and materials basis, with the help of SCRUM methodology. T&M model means the project moves in 2 week long cycles, giving the client fewer investments for detailed tasks specifications. Also, it helps us to be more flexible if there is a need to change priorities about features or add new functions.
Services provided by Rademade:
Project Analysis, Development of CRM, ERP systems, Online Marketplaces, eCommerce stores, UX/UI design, QA.
7. EGO cms:
EGO cms is a full-cycle custom web and mobile app development services provider for startups and enterprises worldwide. Since its founding in 2005 EGO has been upgrading and diversifying its development and design skills in order to meet clients' needs. At present, it focused on delivering to clients stunning design-centered apps with beautiful and intuitive user experience.
Having a special approach to each client makes this small team stands out from the rest. Among clients, EGO is known as attentive, reliable and extraordinary thinking and caring team of experts.
In addition to the great native app development skills, EGO has deep expertise in cross platform development with Xamarin, confirmed by the presence of certified Xamarin Engineers and mentoring at Xamathons.
Services provided by EGO creative media solutions:
Mobile application development for iOS and Android, Web application development, UI & UX Design, Prototyping, Project strategy, Project management and support, QA and testing and Stores release and market launch
8. Web Peppers:
Web Peppers is a professional web development company that provides a high quality services for web and mobile app development all around the world. We've delivered more than 300+ successful projects to our valued customers and served a variety of industries including media, healthcare, translation companies, advertising, accountant and business services. Our skilled developers implement a full range of technologies that helps us to make any business successful online and generate new leads for our clients.
Services Provided by Web Peppers:
We provide professional solutions across Custom Web Development, UI/UX Design, Website Support and Maintenance, Mobile App Development (Android, iOS), E-Commerce Development, CMS development, Cloud Services.
9. Glorium Technologies:
Glorium Technologies is a software development company that provides services with personal approach. They believe that specific business needs specific solutions, so we are ready to meet requirements from small business and startups, large enterprises, and technical teams.
Glorium was founded in 2010. Its main focus lies in the healthcare software scopes. However, it deals with real estate, finance, logistics, E-comerce, gas and oil industries, as well. They work through the transparent and agile methodologies, Scrum in particular. The headquarters are located in New Jersey, the U.S. Main development office is in Kyiv, Ukraine, and there is an office in Minsk, Belarus. Expertise gained allows Glorium to deliver high-quality software.
Services provided by Glorium Technologies:
Custom Software Development, Healthcare Software Development (EMR/EHR, telemedicine, etc.), Web Development, Mobile Development, Desktop Development, Big Data Solutions, Enterprise Application Integration.
10. PerceptionBox:
PerceptionBox is a top-notch, full cycle and client focused development service provider. From full-service developments to a la carte services, we guide and help our clients to launch the most scalable digital products. We always act as your partner and safely guide you through the thorns of the world of technologies & software up to the skies of business success. With the astonishing design, amazing development, agile management and great quality assurance we do our best to skyrocket business of our partners with blazing custom software development service.
Services Provided by PerceptionBox:
Dedicated Teams (outstaffing), Web Development (Frontend, Backend), Mobile Development (iOS, Android, Cross-platform), Custom Software Development, E-commerce Development (Magento, PrestaShop), BI & Data Science, Cloud & DevOps (integration, testing, deployment and infrastructure management, further support)
More Industry Leaders:
11. CodeIT:
CodeIT is a software development company launched in 2007. Based in Kharkiv (Ukraine) CodeIT has no geographical boundaries for its business – our partnership history includes cooperation with businesses from small to enterprise-level, startups and government organizations based in 20 countries around the globe.
Services Provided by CodeIT:
Custom web applications development, iOS and Android mobile applications development, Automation and manual quality assurance, Designs and prototypes creation, IT consulting, etc.
12. QArea Inc.:
QArea was founded in 2001 and has grown ever since towards success and innovation. We have nailed 800+ projects by now, encouraging flexibility and aiming at long and lasting relationships with customers and partners.
QArea unites 250 truly talented developers and testers. We deliver wide range of premium services to any company with our rates starting at $15.
We value our customers; hence our primary goal is the establishment of long-term relationships with clients. Certainly, we understand that constant improvements in delivered quality and value must be in place. Today this process is one of QArea's clearest guidelines and our unspoken motto states: "Deliver more within less, that's the way to success!".
Services provided by QArea:
The various services QArea offer are Custom software development, Testing & QA with a dedicated QA Lab, which currently consists of 100+ software testing engineers, IT consulting for startup, MVP, tech consulting and projects from scratch and support & maintenance.
13. VindiTek:
Digging deep into numerous programming languages and tools, we can fit the best framework for your idea.Creating and supporting IT products, we want to be proud of being a part of those projects. Our team provides  24h customer support, official agreement, code quality guarantee and something more than product development. That means synergy of our personnel technical skills and creative insights born through dialog with the clients.
Do not limit yourself! Your ideas are worthy to be released in best IT apps!
Services Provided by VindiTek:
We've already managed various projects across the Europe, Southeast Asia and even Australia in such industries as Sports, Payments, Logistics, Consulting, Real Estate, Travel, IoT and Marketing Technologies.
We specialize in the following technology stack: iOS, Android, Ionic/React Native, JavaScript/AngularJS/ReactJS, NodeJS, Ruby/Ruby on Rails.
14. Zfort Group:
Zfort Group is a top Ukrainian IT service provider. We offer custom software development and dedicated teams for the world's leading businesses. The core industries we work with are e-Commerce, Dating, e-Learning, Healthcare, Charity, Entertainment, and Finance. We have the specialists in the following areas: PHP, ASP.NET, JavaScript, UI/UX Design, HTML/CSS, Quality Assurance, iOS and Android development. Zfort Group's customers include large and middle-sized industrial companies, online marketing agencies, web design studios, technology startups, and other. 
Services Provided by Zfort Group:
Detailed Business Analysis & Consulting, top notch Web & Mobile Development, responsive UI/UX Design, strong Project Management, thorough Quality Assurance.