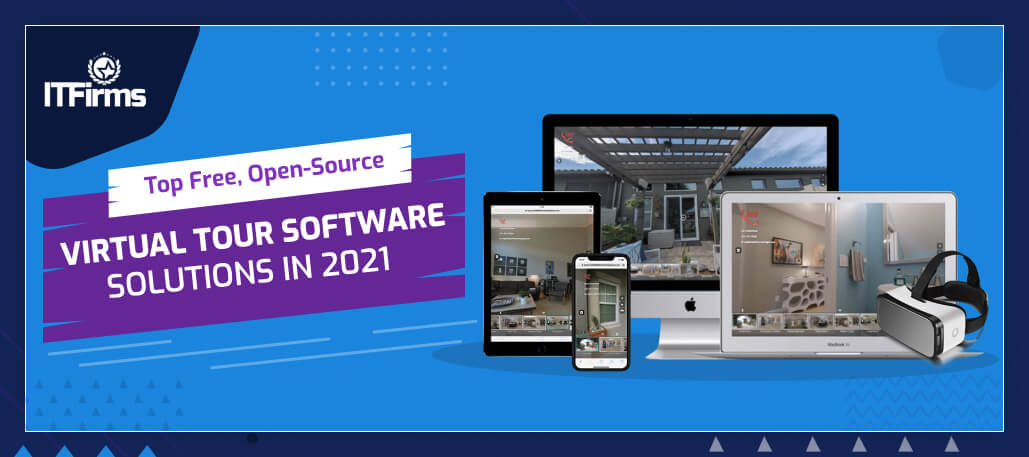 Top Open-Source Virtual Tour Software Solutions in 2021
Virtual Tour-making software brings transparency for viewers who are unable to visit a specific location in person. Here is a list of prevalent virtual tour-creating solutions in 2021!
Virtual tour software provides a representation of a specific area/location in a panoramic/360-degree view. Such tours are helpful at the time of property purchase. These capture an intuitive view of the arena and enable digital transactions. It works on image-stitching and Omnidirectional cameras, 360-degree tours, and 3D tour techniques.
Why should we use virtual tour software?
Virtual tour software like Google Tour Creator, My360, RoundMe, Matterport, GoThru, Veer Experience, Cupix, Metareal, Panoskin, Pano2VR, Kuula, 3DVista, KRPANO, Cloudpano, Marzipano, Orbix360, Concept 3D, Real Tour Vision, My360 Virtual Tour Software, Pano2VR, DiveIn Studio, Klapty, SeekBeak, Shapespark, 3DVista Virtual Tour Pro, Matterport 3D Showcase, eyespy360, etc. – enables users to visit a location without physically having to be there. It saves time and allows more people of interest to access it easily. Companies can design their virtual tours with an option to pick hotspots, to highlight an area or a location or a nearby object. Also, businesses can add artifacts virtually so that the users can understand more about them.
Features of Virtual Tour software 2021
Hotspots: To allow viewers to identify, locate, learn and understand the finer details.
File Recovery: To prevent a virtual tour from being lost, it becomes essential to store it in the cloud.
Instant Publishing: To record and publish the tour online soon after creation.
Drag and Drop: Easy drag and drop facility to enable users to identify what works better. Users get to pick things within their virtual home and place it somewhere where it looks better.
Auto Responsive: The virtual tour resizes to screen size automatically.
Enlarge and Email Button: There are options to enlarge the objects and email the queries to the creator instantly.
Map Button: It helps locate or list a business.
Viewer Traffic Statistics: It is easy to track virtual tours and analyze the source of online traffic.
Google Street View Style: The 360 images create a walkthrough
Different Views: Panoramic, 360 degrees, aerial and moving videos
Professional Photography: It uses a high dynamic range (HDR) for precision.
Free and Open Source Virtual Tour Software
With an intuitive interface, competitive base, and multi-resolution features, this virtual tour-creating software is highly responsive and supports self-hosting on your domain.
Main Features of Lapentor
It creates Krpano-based virtual tour that supports multi-resolution.
It designs a virtual tour interface and adds functions without any coding.
It can host virtual tours within the domain.
This free virtual tour software is an open-source and free platform designed for creating virtual reality and augmented reality-based applications and games.
Main Features of OpenSpace3D
To create augmented reality applications for computers, tablets and mobiles.
To create virtual reality applications for HTC Vive, Oculus, Google Cardboard applications.
It supports file imports from more than 40 supported file formats.
To create applications by assembling functions without programming.
It includes a complete 3D models library for your projects.
To export all the assets with animations and shaders from your favourite modeller.
It has native support of devices – leap motion, HTC Vive/Oculus, Google Cardboard, Myo, Tobii eyeX, 3dRudder.
Marzipano is a 360-degree media viewing tool for the modern web. It supports all major web and mobile browsers, crafts standard web technologies, and provides a powerful JavaScript API.
Main Features of Marzipano
Embraces the web
Major browser support
Optimized performance
It is a free web service for virtual tour creation. It helps create a sense of presence with the online virtual tours, especially bringing panoramas to life.
Main Features of Makevt
Easy to start.
Easy to grow.
Custom design.
Tour creation and hosting.
This free virtual tour maker helps create virtual tools instantly and updates them anytime, anywhere. It enables anyone to create unlimited online virtual tours without professional knowledge.
Main Features of Vtility
Easy to create
Updated regularly
Unlimited free access
Built on HTML5
Mobile and tablet friendly
Available on any PC
Cloud-based
It allows uploading 360-degree images to create an online 360-degree virtual tour.
Main Features of Paneek
It is compatible with several operating systems.
It is available on the web.
It brings in regular upgrades and improvements.
This free virtual tour creator helps create magical virtual tours in minutes. Give your buyers a compelling in-person experience with a free trial.
Main Features of Panoroo
No more relying on photo albums
No more paying extra
No hassles
No more sharing quick videos without a complete picture
No more bumpy FaceTime walkthroughs on the phone
Tours in 2 minutes flat
Impressive experiences
Engage with buyers personally
In Conclusion: Why is virtual tour essential?
Real estate agents, marketing professionals, tour operators implement virtual tours to create presentations, scoping their prospects. Free 360 virtual tour software helps realtors to give a detailed look at the inside of the home for sale, helping potential buyers save time by preventing unnecessary in-person visits. It enables the tourism industry by showcasing destinations to tourists with inviting immersion. It allows teachers: to make their students access virtual tours to visit museums, tour cities, visit educational locations without the need to spend time and money on a field trip.
Please share your suggestions at [email protected]