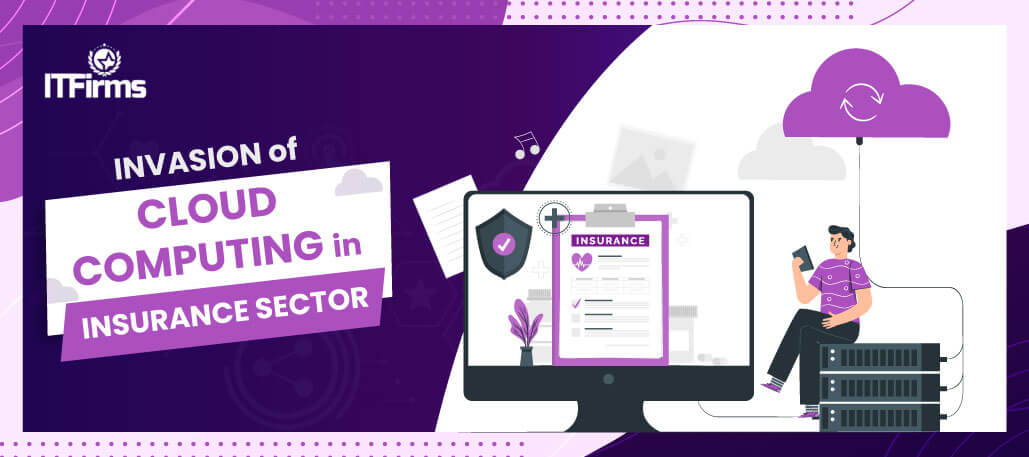 Invasion of Cloud Computing in Insurance Sector
Major insurance companies propel their imminent capabilities to the cloud. Let's see how both meet halfway and get together to scale the available infrastructure!
Cloud computing enables insurers to reuse IT resources more efficiently, on rent or on-demand. It reduces long-term infrastructure costs. Its scope often extends upwards and outwards to cloud-based platforms, applications and business processes, which opens new opportunities for insurers. They interact with customers, collaborates with partners, manage their value chains, assess and manage risks and generate revenues.
How cloud computing helps insurers?
Cloud offers opportunities for insurers to build more flexible, a customer-centric model that drives profitability and performance:
It enables insurance companies to access IT-based services, infrastructures, applications, business processes, and platforms.
It preps IT to better respond to the changing business requirements, create new services, and open new markets to achieve high performance.
Cloud computing does not require any capital investment to enable usage.
The initial price varies based on "pay-per-use" or "buyer consumption";
It cost less than IT-owned and managed in-house services.
It is programmable and adaptable in use.
It is easy to acquire and deploy.
It reduces the costs of IT ownership and operation.
Cloud computing unifies customer data and is customer-centric.
It handles peaking demand at a low cost.
It drives new business opportunities, drives innovation, propagates a service-oriented model, engages customers, better manages intermediary relationships, maximizes renewals by customers, and supports the integration of third-party systems and agency management systems.
What do insurance companies need to consider during cloud integration?
Insurance companies require considering every implication and business potential of the cloud for their business. Insurers align their IT with their specific strategic challenges and aim to target benefits like lower TCO, financial flexibility, need-based utilization, speed-to-market, and availability of information anywhere and anytime.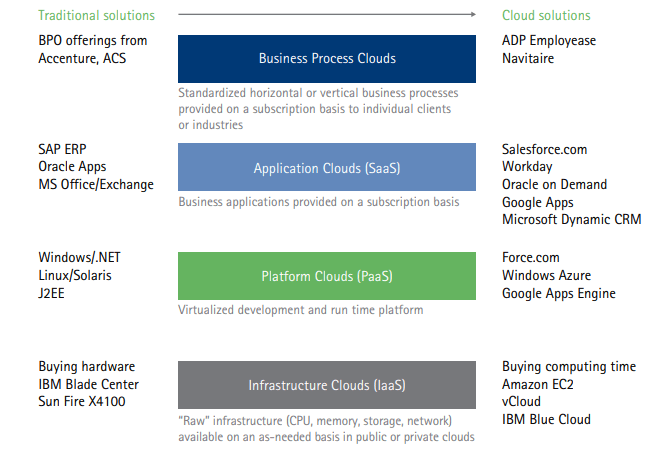 A continuum of four cloud computing opportunities for insurers
There used to be only a few vendors who considered vertical industry-focused cloud computing services personalized to the needs earlier. However, the industry is soon underlining the potential of the cloud. Salesforce.com scales to horizontal SaaS solutions of cloud, and Microsoft has implemented Sharepoint Online as a global carrier.
Challenges to the Adoption of Cloud Computing in the Insurance Industry.
Insurers require achieving profitability by investing less time, resources and premiums, investment income and reducing the time to market to overcome piling competitors. To resolve – you need an infrastructure cloud solution that boosts financial flexibility, reduces costs of IT ownership and cuts operating costs by ensuring timely payment of services.
Every successive layer of the cloud solutions furthers the increasing flexibility and standardization. It facilitates easy and quick integration of new operations, acquisitions and collaborative partnerships. It also brings you a step closer towards product markets at reduced capital requirements, lower risk and speed.
The adaptability of cloud computing companies helps insurers reshape their traditional operating models and address emerging opportunities and challenges. It reduces the time and cost required to pilot new projects.
Conclusive: Scrutinizing the Impact of Cloud Computing in Insurance
Cloud computing brings the required competitive advantage and forward-thinking uses into the insurance sector. Customers expect quick responses from cloud computing service providers. But if you want a response from someone you are targeting for a sale or an investment, it pays off to do 5-minutes of legwork. As customers look for coherent interactions across every channel they choose to use, the benefit of cloud computation in terms of (1) Cost-effectiveness, (2) Flexibility, (3)Pervasive availability and (4)Agility of unified customer information helps insurers in meeting these demands.
We've discussed methods that innovative insurers believe will be leveraging the cloud competitively in the coming times. Tune to our experts to acknowledge how we inscribe cloud computing technology in insurance applications!