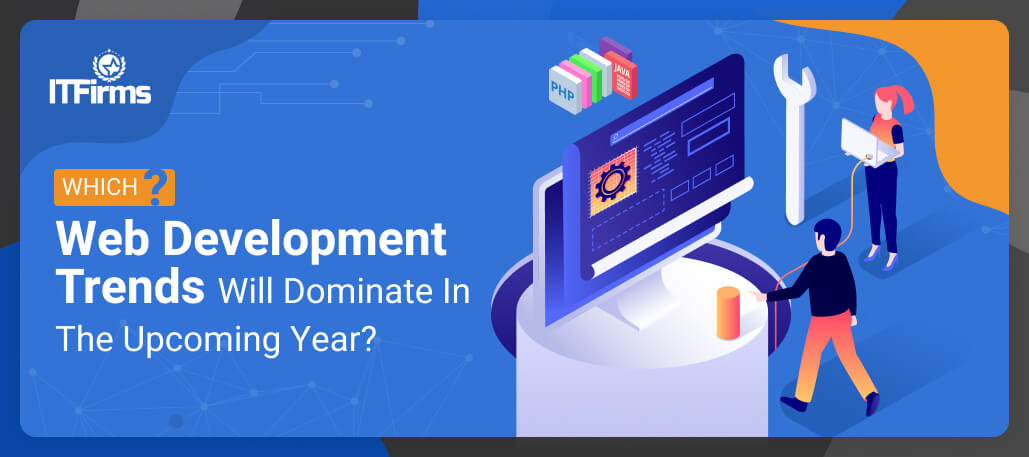 Which Web Development Trends will dominate in coming years?
Here is an illustration of the best web development trends that will propel the projects in web development companies!
Mobile App Development hasn't been able to take away the sheen from web development, irrespective of the complexity of development, popularity of mobile apps, businesses wanting to expand, virtual assistants to support 24*7, ease to carry devices in the pocket and some more. Web development will remain the basis of software development complying with the current dynamics. We are illustrating a few trends in web development here that will continue their ripple effect:
Best Web Development Trends
Cybersecurity
With the increasing frequency of cyber attacks, cybersecurity is becoming more important than ever. Websites that prioritize security and data privacy are likely to gain more trust from users.
Artificial Intelligence (AI) and Machine Learning (ML)
AI and ML are already being used in web development to personalize user experience, enhance search functionality, and automate tasks. In the future, we can expect to see more advanced AI-powered features in web applications.
Voice User Interface (VUI)
With the increasing use of smart speakers and voice assistants, VUI is becoming an important trend in web development. Websites that incorporate VUI can offer a more accessible and convenient user experience.
Augmented Reality (AR) and Virtual Reality (VR)
AR and VR technologies are already being used in gaming and entertainment industries, but they are also finding applications in e-commerce and education. In the future, we can expect to see more websites incorporating AR and VR to offer more immersive user experiences.
Low-code/No-code platforms
These platforms allow users to build web applications without needing to write code. With the increasing demand for custom web applications, low-code/no-code platforms are likely to become more popular.
Progressive Web Apps (PWAs)
PWAs are web applications that behave like native mobile apps, with features such as offline access, push notifications, and app-like UI. With the increasing use of mobile devices, PWAs are likely to gain more popularity in the coming years.
Single Page Applications (SPA)
Single Page Applications will remain popular with consumers rushing to extract maximum information in minimal time. SPA's are not required to be downloaded from the server each time a page loads. This way these are easy on performance saves user's time and are therefore most popular amongst users. With extensive use of JavaScript SPA's give instant results and bring the much-required interactivity into the web interface. We find Single Page Applications in everyday use like Gmail, Google Maps, GitHub, Twitter, Trello, Google Services like Drive, Maps, Spreadsheets; and Face book etc. Many advanced admin templates as well as Vue.js/React.js/HTML/PHP can be used to build Single Page Applications.
Web Assembly
Making use of web assembly to fasten the overall development process (programming language gets converted into byte-code and compiles in browser) will make developers get rid of the disadvantages of JavaScript execution which slows the process and dampens user experience. This eases cross-platform scripting, faster code execution, hardware-independent, highly secure.
Native Web Apps
Apps are either platform-specific (native) or work across platforms (cross-platform/hybrid). But native app development will enhance web app development trends as they cater to the specialties of a single platform – like device-specific GPS, Camera, Microphone, gallery, email, push notifications etc. Including native functionality in the web application will increase performance, ensure quality through ratings in the app store.
Motion Design UI
Static and motion designs in the user interface help converge major complexities and smoothens the appeal. Adding animations, GIFs, motion graphics do add some appeal – charts, pop-ups, opening envelop with a message, pull-down menu, scrolling, transitions in headers and footers, to add a dash of uniqueness to the overall style. It goes a long way in making an imprint on customers. These animations can help guide customers through the app and make the content easy to understand.
Serverless Architecture
Every company is now going the Amazon way with Amazon Web Services (AWS), the cloud hosting and server-less architecture approach. This makes it easy for applications to run faster. And the development teams no longer require maintaining physical servers or databases to store their data. This approach isn't new. Major important cloud services have been implemented by AWS Lambda, Google Cloud Functions, Azure Functions, IBM OpenWhisk, Alibaba Function Compute, Iron Functions, Auth Webtask, Oracle Fn Project and Kubeless etc., and are being used by companies like Netflix, Amazon, Reuters, America Online, Telenor etc., but now even a bit smaller retail chain networks, data science companies, Aeronautics, Security professionals have started making use of this approach. This reduces any possibility of data loss, chances are that if anything gets deleted, it can be recovered or the action can be revoked. It is easy to deploy, is scalable, can be developed in less budget, is flexible, and strengthens architecture.
Continuous Integration followed by Continuous Deployment
As discussed above, a mix of front end and back end technologies integrate to bring forth a legible solution. Following an agile approach to SDLC helps in detecting errors and integrating required bug fixes at an early stage so that these do not get pushed towards staging or production stages. Continuous integration is followed by continuous deployment and delivery helps in detecting any time elapses, testability to improve performance, meantime to resolution, quick fault isolation, and fast feature introduction.
5G Technology
Developers can get the right indexing from the search engine only if they make their website mobile-friendly. It is important for the website to work on universal codes, to have desktop and mobile versions and also to work offline (along with having access to native device features), all this at optimal performance is possible with 5G networking. This speeds up transmissions, lowers latency, brings connected devices together, enhances capacity, slices the network to include availability and coverage. This technique can be combined with virtual reality, augmented reality and can be used to enhance business performance.
Blockchain
Cryptocurrencies will augment enterprise solutions; however, the measure of transparency cannot be estimated here. These virtual modes of payment will impact enterprises, offer decentralization, security, and distributed ledger. This will particularly be helpful in supply chain management, to check identities, to assure the right quality of data, improving analytics, securing the internet of things.
MEAN-React-Vue-Flutter
Vue.js, React.js, Flutter are widely prevalent technologies to develop web applications. MEAN is an open-source javascript software stack that is used to build websites and web-based applications. These can be combined with compatible front-end and back-end frameworks for creating user interfaces, single-page applications, and progressive web applications.
Conclusion: Which web development trend will be the highlight?
Web development trends can improve the interface, user experience, the performance of web applications and websites in an amazing way. Implementing one or more of these trends can be helpful for your projects. Also do let us know if you are looking to partner up with a top web developer in India, get to know the best business deals. Discuss your requirements with us.