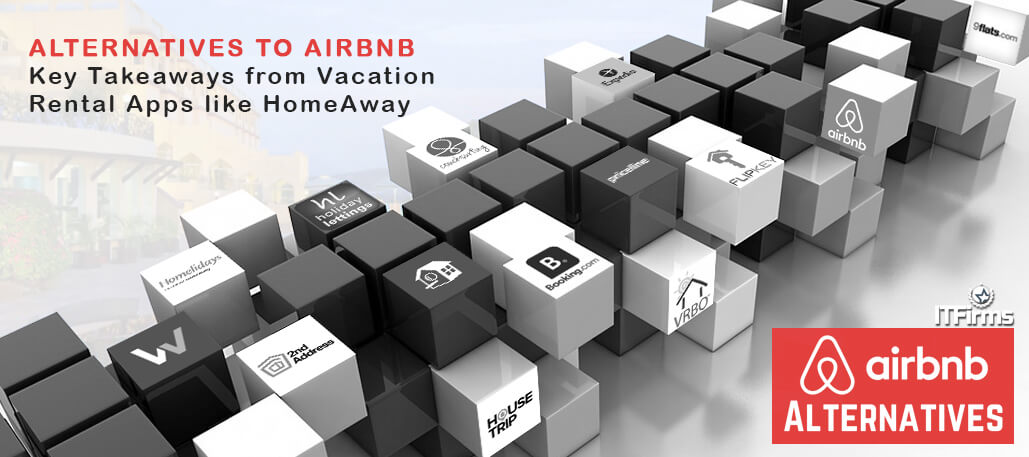 Alternatives to Airbnb: Key Takeaways from Vacation Rental Apps like HomeAway
Look for the experts who can guide you to not-to-be-missed sights, take you off the beaten path, help you eat, play like a local. Read for pertinent tips from airbnb alternatives!
Although each one of us tries to scan through all the possible websites across the internet before heading for our most awaited vacation, it can still be challenging to discover all current travel trends and statistics. The days of creating an itinerary by "googling" the top things to do are over. As the travel industry is at the forefront of technology adoption with a focus on digital technology trends, frequent travelers have always been enthusiastic about adopting the technological changes to make their travel simple, less expensive and enjoyable. As the trends approach, these give rise to tremendous innovation in products, services, techniques and subsequent business models like Airbnb, Uber and likewise, etc. As the websites increase customer reach and enable easy adoption of technology, they subsequently ease searching for destinations, unseen and unexplored areas, market, locals, hotel bookings and more things to enhance the entire travel experience. Catalyzed by the social media craze, the organizations have gradually crept its mobile-first approach, advancing into era of mobile, imbibing a cusp of artificial intelligence in the travel industry. Latter have banked high on relevance, preferred by customers (travelers).
Hotel room photos displayed on the websites can often mislead. This is where property and vacation rental apps come in the picture. Travelers use these for travel and leisure, for visiting friends, family and for business. These are less expensive than hotels and resorts. Hosts allow travelers to see real pictures before booking (based on location preferences).
Based on customer's travel preferences, which includes price, focus on safety, ease of booking, service and various other relevant factors, here is a list of best property-rental apps for getting a good price, best vacation rental apps for families, best property rental apps for international travel, tips building apps like Airbnb and for booking property rental apps and staying safe and healthy during the trip: (in no particular order)
| | |
| --- | --- |
| Airbnb | Wimdu |
| Flipkey | 9flats |
| Booking.com | Homelidays |
| Couchsurfing | Expedia |
| 2nd Address | Priceline |
| HomeAway | HolidayLettings |
| VRBO | HouseTrip |
Most of the Airbnb alternatives have over 2 million available homes in various countries. It is one of the largest varieties of properties to choose a travel destination. It comes with "Book with confidence" guarantee and offers 100% refund of security deposit and 100% refund in case of any scam, fraud, withholding of access, phishing or property misrepresentation. These apps like Airbnb have easy to navigate categories to help plan out a vacation in case one is not able to decide a place.
Seeing is not always believing, you might be a redneck if you watch little house on the prairie for decorating tips. So instead of simply picking drab places at the time of planning your trip, which does not fulfill the purpose, read some real time tips and follow your heart:
Try to negotiate with the host before simply giving into booking at first place.
Be inquisitive and ask as many queries before going for the actual booking.
Don't give into squirm and stay quiet in case of indecision, waiting for the last minute.
Do your homework, make researches, ask people who know the places, or who have been to those places, ask travel agents or contact hotel directly to come upon a comparable price point and create realistic expectations.
Few safety Tips While Using Property Rental Apps like HomeAway
Keep a track of the authenticity of the individuals with whom you speak, and try not to share your personal details with everyone involved.
Contact the owner (mandatorily) at the time of the final booking.
Go through the place and hotel reviews before you book.
Always let a friend or a relative know where you visit and about your whereabouts.
Make use of websites that offer identity verification.
The listings with positive guest feedback must only be considered.
Don't just go into booking because of the low price. Do a lot more research, analyze all essential factors and find out about food, rooms, facilities, locality and likewise.
Book only when you are convinced that the listing is legitimate.
Travel Trends That Are Going To Drive the Tourism Industry In 2019
Must-watch out these:
Knowing your audience (rare or frequent travelers)
Giving them personalized booking and traveling experience
Providing a secure platform for both owners and rentals
There is an increase in last minute booking and cancellation.
Travelers prefer bookings that come with a guarantee, insurance, and free cancellations.
Advance bookings are preferable for multi-day tours.
There has been an increase in travelers who wish to explore new destinations.
An increase in ecological and educational tours is in demand.
Travelers enjoy a local experience.
Adventure tours will always be in demand.
Come Full Circle
You can doss well once you have all that you need before planning your next trip. It is challenging to throw caution to the wind and hit the road without a plan. Knowing about the best rental apps available in the market is helpful in the same way as consulting an expert to find the best getaways. It can help you maximize your trip time, minimize your budget, find best secret trails and not to be missed eateries that are known to only those who devote their lives to traveling the world!