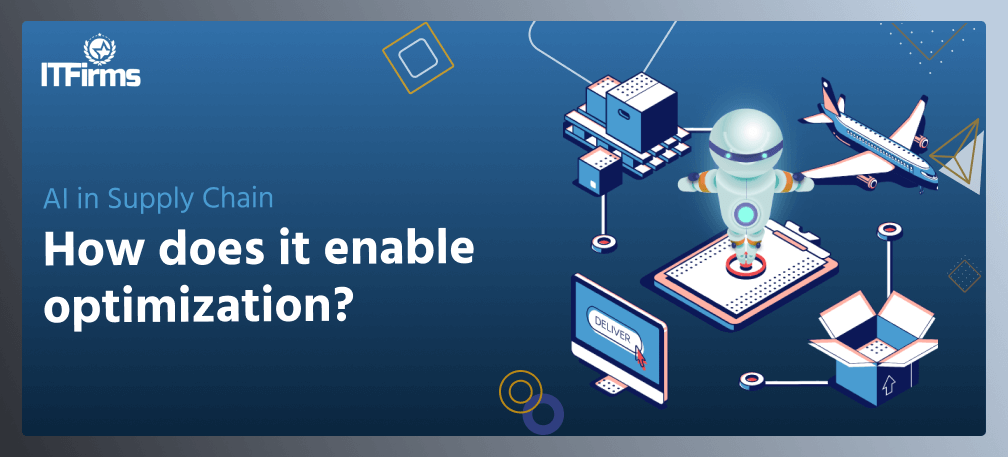 AI in Supply Chain: How does it enable optimization?
"Here's a precise study on the coalescence of data analytics and AI in the supply chain and the reasons for its widespread use by enterprises and large-scale organizations!"
A supply chain is a network of resources, organizations, individuals, activities, and technologies involved in the creation and sale of a product. It includes the delivery of source materials from the supplier to the manufacturer through delivery to the end user.
The Problem Statement
Think about augmenting your manufacturing, production, packaging, supply, storage, transportation, and logistics departments with a high level of transparency and security. Make your supply chain future-ready by introducing indispensable techniques that honour the need of the hour and optimize the business fully.
The Solution: What are the applications of ML and AI for SCM?
Machine learning is a subset of artificial intelligence that allows an algorithm, software or system to learn and adjust without being specifically programmed to do so. Integrating machine learning in supply chain management can help automate a number of mundane tasks and allow enterprises to focus on more strategic and impactful business activities.
AI helps examine warehouse processes and optimize the sending, receiving, storing, picking and management of individual products. It helps check and ensure the right distribution channels to get goods to retailers and other customers.
AI in Supply Chain Management and Logistics Examples
Coupa
Echo Global Logistics
Zebra Technologies
LivePerson
Epicor
Infor
Covariant
Symbotic
C3 AI
HAVI
What challenges in the supply chain can machine learning solves?
According to inbound logistics, AI/ML transformations undertaken by manufacturing companies will lead to productivity gains of more than 20% across the supply chain, by 2024. Companies using machine learning to improve their supply chain management are Amazon, Microsoft, Rolls Royce, Alphabet, and P&G.
Improving the efficiency of the supply chain plays a crucial role in any enterprise. Operating their businesses within tough profit margins, any kind of process improvements can have a great impact on the bottom line profit.
Gartner predicts that at least 50% of global companies in supply chain operations would be using AI and ML-related transformational technologies by 2023.
A few challenges that ML resolves in SCM:
Poor resource planning
Inefficient supplier relationship management
Satisfying customer needs
Quality and safety
Technical downtimes
Cost Inefficiency
determining Pricing
Transportation Costs
What are the top use cases of machine learning in the supply chain?
Predictive Analytics
Automated Quality Inspections
Real-Time visibility
Streamlining Production Planning
Reduces Cost and Response Times
warehouse Management
Reduction in Forecast Errors
Advanced Last Mile Tracking
Fraud Prevention
Which benefits does machine learning deliver to supply chain management?
Here are some examples of frequently outsourced IT services:
Cost efficiency drives waste reduction and quality improvement.
Optimization of product flow, hence lesser inventory.
Seamless supplier relationship management due to simpler, faster and proven administrative practices.
Derive actionable insights, allowing for quick problem-solving, and continual improvement.
What is supply chain management and how does AI help in the process?
AI-based supply chain optimization software overstates cognitive predictions and recommendations on optimal actions, helping manufacturers with potential implications across time, cost, and revenue.
AI was developed to create machines to imitate human intelligence and improve human decision-making. Any machine that comes into being automates the manual process, reduces the chances of errors, speeds up the process, and improves the overall performance of the system.
AI has been widely used as a decision-aid tool but has seen limited application in supply chain management (SCM).
Which sub-fields of AI help in solving supply chain management problems?
Can man-made reasoning function in this ever-advancing world of work and constant innovation? Along with deep learning the three types of AI – Managed learning, unaided learning, and fortification learning have a significant impact on supply chain management. It is inclusive of inventory management, warehouse management, and logistics. With the penetration of computers in supply chain management, e-commerce platforms like Amazon are utilizing computerized reasoning for web-based shopping and have automated its warehouse. Other similar e-stores are using machine learning to improve the management and predictability of their supply chain.
Right since 1980's, supply chain has evolved from being product driven to customer driven till date.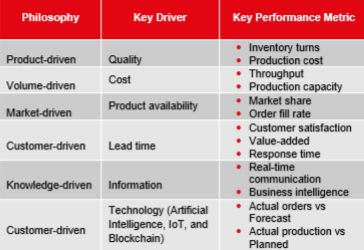 (Source)
SCM activities include logistics and planning, finance, procurement and inventory management, sales and customer service, quality assurance, and operations utilizing computerized machines and gear to save time and reduce error. It examines weather, and traffic, and predicts the future on the basis of feedback from customers. AI can help in designing and promoting products, catalyze the mechanical process including transport and logistics to improve accuracy, reduce human labour costs and decrease lead times.
IIoT runs smart industry manufacturing to drive the entire supply chain without any manual participation. AI in the supply chain with advanced sensors and facial recognition capabilities helps companies improve supply chain visibility and security. AI applications in the supply chain need vast amounts of data to feed systems and meet the diversified needs of supply chain operators.
What are the advantages of artificial intelligence in supply chain management?
Streamlining Process – Using data and trends, AI can streamline every aspect from demand to inventory to supply with minimal human input. It saves time and reduces errors. Example: Chat Box, IBM Watson for operational procurement.
Precision Planning – With AI, analyzing the infinite source of data at once. It helps examine information like weather, and traffic to improve demand and supply. Example – Machine learning using Robots, Smart Drones or the Internet of Things (IoT)
Market Shaping – AI products can help in designing and improving the products, easily access data reports along with future predictions and feedback from customers. Example: Convergence of AI and Blockchain.
Faster Transport – AI also catalyzes mechanical processes like transportation and logistics, improves accuracy, reduces human labour costs, and decreases lead times. Example: Autonomous Vehicle.
What are the prerequisites of artificial intelligence in supply chain management?
Some pre-essentials of viably actualizing AI into the supply chain give standard outcomes if pre-requisites are:
Constant information
Multi-basis information
Shopper-driven targets
Expense of progress
Identity check process
Dynamic and accessible devices
Operator artificial intelligence collaboration
By far Amazon E-Commerce Marketplace has been voraciously making use of artificial intelligence in managing their supply chain. It figures administration, client gadgets, computerized text, and nearby administrations in goods and day-by-day purchasing.
How do AI and Analytics optimize the supply chain?
Enterprises that make use of AI in the supply chain are more instrumented with the machine-generated data flowing out of IoT devices. They are more intelligent as they are able to competitively assume with help of data analytics and modelling. Such organizations are more interconnected with extensive connectivity for better decision making.
Widespread supply chain data helps optimize the workflow to provide forecasting, identify inefficiencies and drive innovation. The coalescence of these is called supply chain analytics. It is basically of four types:
(1) Predictive Analytics – to predict the future outcome and mitigate risks,
(2) Descriptive Analytics – to provide visibility of all kinds of internal and external data across supply chain management,
(3) Prescriptive Analytics – It involves collaborating with logistics partners, reduce time and maximize business value,
(4) Cognitive Analytics – To improve customer experience. The feedback received through AI-driven systems is used to answer complex queries. Moreover, complex AI and Analytics systems offer breakthrough ideas and provide better customer needs and demands.
Expressible Takeaways
We aimed to examine the influence of artificial intelligence (AI) in the modern world, with respect to supply chain management (SCM). We also aimed to identify how AI applies to supply chain management. AI has created a value chain for supply chain management and persuades corporate revenue growth and cost savings in modern organizations.
There is no one trick that pays off, but myriad options to go by. The use of virtual assistants, chatbots, predictive capabilities, operational costs, data collection, and inventory management all improve with the adoption of AI technologies. Besides the use of automated warehouses, data collection, and inventory processes are being improved with the adoption of AI technologies.
Organizations are making use of genetic algorithms to strengthen their logistics process, improve delivery times and reduce costs. AI streamlines every aspect of demand from inventory to supply with minimal human involvement. It is also effective in precision planning, makes transportation faster, and provides access to real-time data and multi-source data used by business organizations. The automation of warehouses is the key to success of supply chain management in organizations.