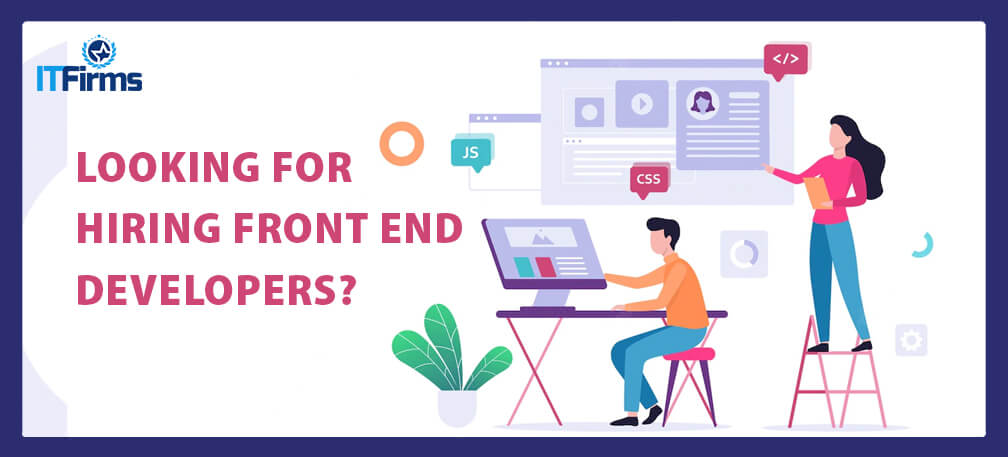 Ascertain How to Hire Front End Developers without a Flinch From the Professionals
"Looking for hiring front end developers? Ascertain how to hire frontend developers from the professional to get masterful results that will exceed your expectations."
As we enter a new era in which the internet has become a very important component for the success of any business, having a functional, attractive, and clean online presence is essential.
As outlined in a study from Foresters, improving the user experience of a website or mobile app can increase the conversion rate by up to 200%.
As far as developing functional, attractive, and clean user interfaces is concerned, it can't be done without hiring front end developers.
Front-end developers are well versed in creating user interfaces that stay in the user's mind and allow them to interact as easily as possible with them.
Zippia, one of the leading career experts in the USA, estimates that there are over 80,827 people who work in the field of front-end development presently alone in the United States.
The number of front end experts has been growing steadily all around the globe, so how would you choose one that is going to fit your project requirements perfectly?
Here in this blog, we will provide you with a brief insight into the benefits of hiring front-end developers as well as the skills and hiring costs associated with them.
So, let's get started.
Why Should You Consider Hiring Front End Developers?
Here you will get to know about the benefits that you can avail yourself by considering front end developers for hire:
First Impressions are Vital
The key to overall customer satisfaction is a positive customer experience. According to a study conducted by Paradigm, 75% of website or app credibility comes from the user interface.
39% of visitors will abandon a website if they find it difficult to navigate or if loading takes too long. Thus, it is crucial that you instill a captivating user experience at the beginning of your project if you wish to be successful.
With their vast industry experience, front-end professionals can create an experience that transmits trust and integrity to the user.
Adaptive Design for Visitors' Screen Size
Responsive design is defined as the process of arranging content and elements on a website so that they can adjust automatically based on the size of the screen the visitor is viewing.
As reported by GoodFirms in their recent survey, 73.1% of web designers believe that a non-responsive website design is the main reason why conversion rates are low.
The developers who handle the front end of your website can also design a responsive design, which will result in the website becoming quicker, easier to use, and more accessible on different screens.
The Amalgamation of Animations to Make Web Pages More Interactive
Animated graphics are an excellent way to catch visitors' attention, increase engagement, and improve communication.
Front-end developers possess expertise in animations and programming tools for developing web pages to make them more interactive by using animations and programming codes.
The front-end developer can use code to implement a variety of interactions, from clicking a button to scrolling down a web page, that front-end developers can implement in an interactive way.
Accelerating and Scaling Websites and Applications
It is estimated that more than 53% of the user base of the website has been lost as a result of the slow loading time.
Developers responsible for front-end aspects of websites and applications are responsible for speeding up loading times and ensuring the user experience is smooth.
As well as ensuring that the front end works well, experts check that the app is secure, compliant with a variety of devices, and has a good user interface.
Front End Developers Skills to Produce Masterful Results
When it comes to front end developers skills, HTML, CSS, and JavaScript are often the most commonly taught. Having these skills is an essential requirement for a front-end developer. However, in addition to these, there are several other skills that developers should possess to produce mindful results for businesses:
Understanding of Frontend Frameworks and Libraries
The introduction of frameworks is widely used as a way of simplifying the fronted development process and making it a smooth journey for creating captivating user experiences.
A few of the most popular front end frameworks available in the market are mentioned below:
Vue.JS
Angular
Svelte
React
Visual Skills
A front-end developer with a strong visual sense, a passion for design, and the ability to see aesthetics in a design should be one of your top priorities.
Having a professional who understands your creative vision for your business and works with designers to make sure that it is brought to life on the web is critical for success.
AJAX
AJAX stands for Asynchronous JavaScript and XML. As a bridge between the client and the server, the programming language serves as the conduit between those two.
For example, when a web browser, e.g. a user, requests the server, then AJAX can deliver a response to the user without forcing the page to be reloaded. Because AJAX works asynchronously, the site does not freeze until the server has responded.
Understanding the principles of Ajax will give the developers an edge in creating instant responses for the users, resulting in a better end-user experience.
Browser Developer Tools
Today's modern browsers, be it Google Chrome or Mozilla Firefox, provide developers with the means to build rich web apps with ease. Developer tools include the ability to inspect HTML, CSS, and JavaScript to determine which assets have been requested by a page and how long it took to load them.
By having the skill set and expertise across a variety of browser dev tools, you can produce interactive and rich user interfaces.
Testing and Debugging
Among the most important skills that a front-end developer ought to possess is the ability to perform testing. By testing the user interface, developers ensure that it is free from all kinds of bugs and glitches that could negatively affect the user experience.
Responsive Design
In the present day, there is a vast number of devices available in the market like desktops, tablets, and smartphones. You should have a well-versed developer who knows the ins and outs of responsive design to ensure that your web application doesn't lose its charm on different screen sizes.
What Do You Need to Know About Hiring Front End Developers?
There are multiple ways through which you can hire front-end developers. Here we're going to walk through the different frontend developers hiring models:
Freelance Front End Developers
Hiring a freelance front end developer is one of the most affordable options. Freelance developers work individually.
Freelancers offer low-cost development services, which is one of the most appealing benefits of hiring a freelancer.
There is another advantage to hiring freelance developers, which is that you can hire them only whenever you need them.
Freelance developers are proven to be the best choice when you're working on a small project and require resources for a short amount of time. In contrast, if you have a complex project that needs to be handled by someone who will be liable for adhering to deadlines, freelance developers often find it difficult to take on the challenge.
In-House Frontend Developers
The term "in-house front end developers" refers to hiring a team of developers to handle the business side of the company.
It turned out that hiring front-end developers in-house has been the best decision for businesses with long-term business goals to achieve.
Their sole objective is to run your business efficiently and effectively and they are at your disposal at any time to deal with any urgent requirements.
In-house developers seem to be the most beneficial option to choose. Nevertheless, they often cause organizations concern due to their high costs. Hiring can be a long and difficult process, especially if your organization is located in a small town where it is very difficult to find skilled candidates.
Outsourcing Developers
In terms of hiring, this hiring model has proved to be the best option for companies looking to gain the benefits of in-house developers without spending too much time and money on infrastructure setup, lengthy development processes, etc.
Under this hiring model, you can hire front end developers from any of the offshore development companies from any country. Your project will be built by remote developers who are under your supervision and working from a remote location.
Aside from the above-mentioned advantages, working with offshore developers will give you access to a global talent pool, which will increase your chances of success in the long run as well. Additionally, you will be able to scale up or down your team of developers depending on the scale of the project you are working on.
In terms of price, hiring offshore front end web app developers is more expensive than using freelancing developers, but the benefits they provide are justified. Since outsourced developers are located in different locations, time-zone issues may occur.
As far as hiring offshore developers is concerned, the benefits are surely enticing. For you to be able to reap these rewards, follow the easy guide to hiring the best offshore development team and start translating your vision.
How Much Does it Cost to Hire Front End Developers?
Several factors should be taken into consideration when estimating the cost of hiring front-end developers. The effects of each of these factors on the cost can be seen in a variety of ways;
The complexity of the project
Experience level of frontend developers
Location of outsourced frontend developers or freelancers
Selection of technology stack
Every project has its own set of factors that contribute to its success. Due to this, it is impossible to provide you with an accurate estimate of the cost of hiring frontend developers.
As a general estimation, if you hire front-end developers from India, then they will cost you somewhere between $20-$50/hour.
Final Take: How to Get the Best Results by Working with Your New Hire?
When hiring a front end specialist, your primary goal is to develop a website that will be able to adapt to any device and will appear great on all of them. The next struggle for you once you have found the right developers to work with is finding the ways for you to get the best results from them.
As a best practice, we recommend that you create a document that summarizes all the requirements you have for your new hires, and have a detailed discussion with them regarding the goals that you wish to attain with their employment.
During the frontend development process keep yourself engaged with the developers and stay informed about the progress of developers. By doing so, you will be able to make sure that your development journey is heading in the right way.
Frequently Asked Questions
What are the different steps in the process of hiring front end developers?
Here is how you choose the right front end developers for hire:
Analyze your requirements in detail
Know where you can look for developers
Analyze front end developers skills
Schedule an interview with the developer
Carry out skill test
Onboard the developer
Why hire remote front end developers?
Access to global talent
Pivotal in augmenting your in-house team
Cost-saving
Access to all the crucial skills and technical expertise required
Free from infrastructure cost
Easy scalability
What are the different types of front end developers available to hire?
On the basis of experience, mainly there are three types of frontend developers as mentioned below:
Junior front end developers: 0 to 1 year of experience
Middle front end developers: 1 to 3 years of experience
Senior front end developers: More than 5 years of experience