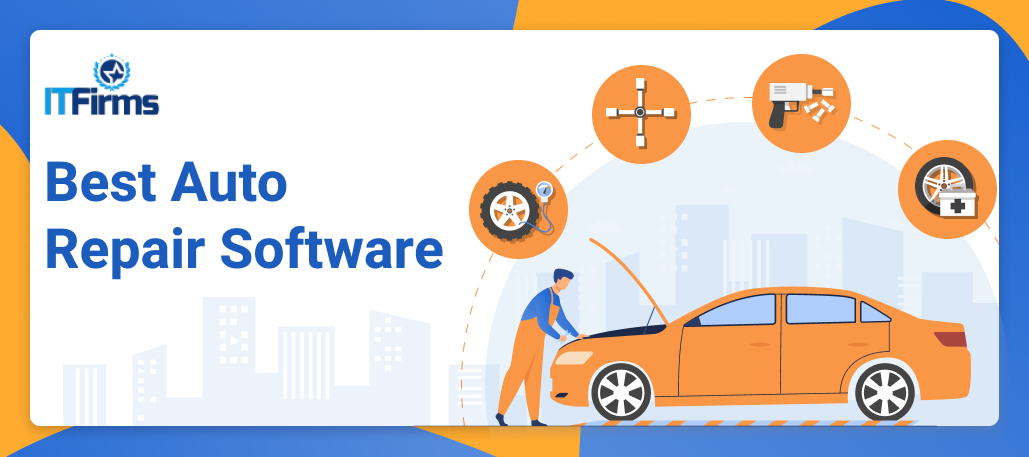 Best Auto Repair Software (Free and Paid)
Auto repair software work wonders in the case-ready physical app that isn't available by the roadside. Know the features that make them the best!
Auto repair software comes in handy if you ever get stuck with your vehicle and no mechanical help is available nearby. It helps you understand the problem and take the right corrective actions, thus saving time and cost incurred by the incorrect diagnosis.
Not every automobile shop repair is free and offers varied services. Generally, they provide standard and transparent pricing, some guarantee on genuine spares, 24*7 support, updates in real-time, some percentage of cost savings, a guarantee of full service. Such on-demand car servicing apps offer to schedule pick-up and drop-off times, offer exciting discounts on any number of services, offers insurance and discounts on referrals.
Such on-demand car repair apps offer hassle-free payments and accept debit and credit cards, Google Pay, UPI-BHIM, Mobikwik, PhonePe, Paytm, Freecharge, Airtel Money, JioMoney, Easy EMI's and Cash on Delivery options. (Please Note: We are listing the contactless payment options available in India here). They service a range of vehicle brands and models. Apps that offer free vehicle repair often offer unlimited vehicle lookups per subscription, fast fixes based on technical service bulletins (TSB) and diagnostic trouble codes (DTC) with a comprehensive database.
What services do custom development software companies into auto repair provide?
Car Repair: Car Service (subscription or non-subscription based), engine Repair, changing car oil, replacing the air filter, coolant top-up and more
Car Cleaning and Detailing: Types of paints used according to brands like 3M, Weurth, Diamond, DUPONT paint, Nippon Paint. Car Wash, Rubbing- Polishing, Interior & Exterior Detailing, Car Dry-cleaning
Car AC service: Replacing AC Gas, Removing & Refitting Dashboard, Topping the vehicle up with Compressor Oil, cleaning AC Filter and AC Vent, and AC Leak Test.
Car Battery: Brands like Exide & Amaron come with a warranty, Replacing the existing battery, Pickup & Drop and free replacement
Car Wheel Care Services: 4 Types of Tyre Rotation, Automated Laser-Assisted Wheel Alignment and Balancing
Denting and Painting Services: Removing dents, premium DUPONT Paint over Grade-A primer
Fitting Car Lights: Get Bumpers, Lights, Horns, Stereo Systems etc.
Car Glass & Custom Services: Glass replacement and other custom repairs
Replacing Car Tyre: Offering major tyre brands like CEAT, Apollo, Continental, Falken, Michelin, MRF, JK, Pirelli, Yokohama, Bridgestone available with free pickup & drop
List of Free Auto Repair Shop Software
It is one of the Best Shop Management Software for Auto Repair Shops, auto detail, body shops, motorcycle repair, marine repair etc.
Key Features of VIP Shop Management
Fast Invoices
One Time Payment
Credit Card Processing Through Square Terminal
VIN Scanner
VIP Self Check-In
Shop Boss (Offers Free Trial)
It is leading shop management software for independent auto repair shops and is a very modern way to manage traditional car repair, service, and replacement tasks.
Key Features of Shop Boss
Auto repair labour guide
Parts ordering and estimating
Mark-up calculator
Customer self-check-in
The application can be accessed anytime, anywhere
Customer Portal
Full Integration
Full Appointment Scheduling
QuickVIN Service allows fetching vehicle's license number and state
Email and Text Notifications
RepairShopr (Free Trial and Free Demo)
It is complete repair shop software to manage inventory, invoicing, CRM, parts, order tracking and reporting.
Key Features of RepairShopr
Provide Email Marketing
Offers Free Trial
They handle every kind of repair
Stay Informed
It is customizable
Workflows are streamlined
Customer Support is flawless
There are numerous payment options options
It is a secure cloud-based auto repair software solution designed to help automotive repair facilities manage their business processes. The user-friendly interface allows opening a service request, do a vehicle walk around and interview the customer from the phone device. This solution allows users to customize labour rates and track employee hours per ticket to calculate profitability.
Key Features of Complete Auto Reports
Billing & Invoicing
Service History Tracking
Work Order Management
CRM
Labor Rates
Quotes/Estimates
VIN Lookup
Appointment Scheduling
Vehicle Inspection Reports
Invoice Generation
Time Tracking
Workflow Management
This shop management software system for auto repairs is a feature-packed and cost-effective choice for shop management and accounting applications.
Key Features of MaxxTraxx
Controlling appointments
Know when customers are due to arrive at your shop
Tracking the work in progress
Service counter reports
Auto repair businesses can track quotes and estimates that they've given to their customers
Know full repair order history
Know the job specifications in advance
Monitors Instant Profitability
They provide colour coded alerts to let you know if the price that you have quoted to sell a spare part is low or high.
They equip auto shops with software to run, understand, and grow their business. It is simple and smart shop management software for mechanics, auto-shops, and repair shops.
Key Features of Shopmonkey
Get Paid Faster
Provide world-class customer service
It is easy-to-use
Friendly Support
CRM Plus Beautiful Estimates & Invoices
Mobile & Tablet Ready
Workflow Management
Schedule the Calendar
Unlimited Emailing & Texting
Automated Follow-ups & Reminders
Notifications
Digital Vehicle Inspections
Messages Templates
Integrated Payments Processing
Generate Vehicle Fleet Reports
See estimated labour hours and associated parts for specific jobs
Take a deeper dive with fully integrated diagrams, specs, bulletins and more
Help find the available slot for a job
View maintenance schedules and intervals by mileage or vehicle age
Modern Time Clocks
Labour Efficiency and Margins
Permissions
Inventory
Track Parts Ordering
Track Status
This is premium automotive repair software for professional auto care shops. Their services range from repair information to shop management software, to marketing services. This garage management software helps analyzing, shop management, marketing, and is a modern, easy-to-use and is a highly customizable solution for vehicle repair work.
Key Features of Mitchell1
Accounting
Cash Management
Customer DataBase
Billing & Invoicing
Maintenance Scheduling
Labor Rates
Parts Management
Vehicle Tracking
Service History
Work Order Management
It is a powerful, reliable and easy to use automotive software solution for mechanics and small auto repair shops.
Key Features of AutoRepairBill
This free auto repair software is easy to use – invoice, bookings and quotes are even easier
Client billing dashboard is detailed
Estimates and invoices can be sent by email
On-demand booking helps in managing the time efficiently
Plate Decoder/VIN and vehicle lookup
Backing up of all repair invoices to your PC in the ZIP file
Integrating CARFAX for service history and uploading invoices
Cloud-based services to secure financial data
They accept card payments with PayPal
They provide full car service history on cars in North America