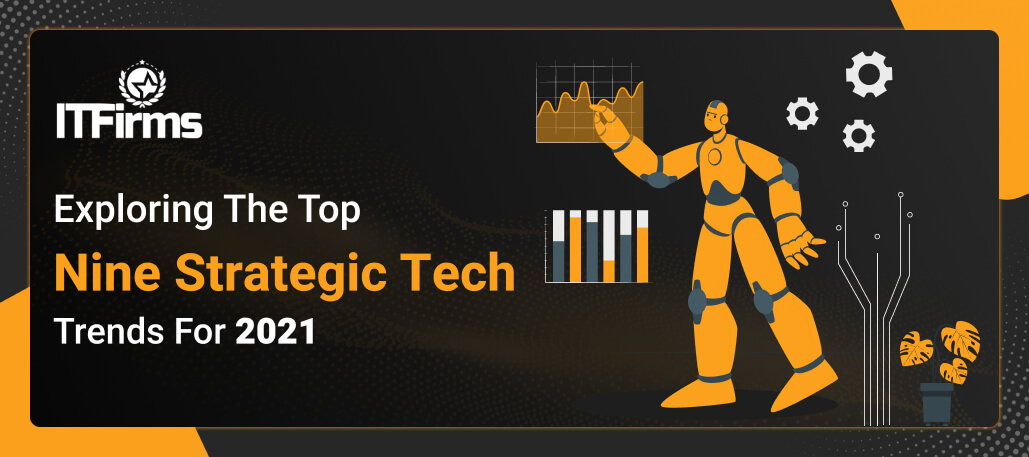 Exploring The Top Nine Strategic Tech Trends For 2021
Tech Analysts explored the need for operational resiliency across enterprise functions, in response to COVID-19, coming up with the top nine traits that will trend in 2021!
Strategic technology trends are something that organizations can't afford to ignore. These trends will have a significant impact over the next five years, and most organizations are not adequately factoring these into their strategic planning today. Nevertheless, each has significant transformative potential.
1.
Internet of Behaviour (IOB)
The IOB consists of multiple approaches to capture, analyze, understand, and monetize all kinds of physical and digital representations of behaviour. Analyzing this collected data can be used to then track behaviour. Internet of Behaviour has transmuted from the Internet of things wherein the devices, data and processes are combined to generate relevant information. It includes commercial customer data, citizen data processed by the public sector that can be utilized to track behaviour or location. The privacy laws can vary depending upon the geography, impacting the adoption and scalability of IOB.
For example, IOB can be used to monitor health protocol compliance at an industrial site to capture behaviour events. Sensors or RFID tags on a person or in the environment can be used to determine if employees are washing their hands regularly (Much relevant when workers return to their office/factory locations after the COVID-19 pandemic). Computer vision can be used to determine if employees are complying with mask protocols and then speakers in the environment can be used to warn people of protocol violations.
2.
Total Experience
Matching the employee's experience with that of their customer's and adding a dash of user experience to it can lead to a successful business outcome. After all, the profitability of any business is the measure of how happy and satisfied their customers are. If your business makes up to their expectations, then the abundance will follow. This also distinguishes your business from that of your competitors providing a sustainable competitive advantage.
Total-experience interconnects multi-experience, customer experience, user experience and employee experience, creating a more unified approach, solving complex business challenges by transforming the human experience.
For example, in response to COVID-19, an online appointment system, integrated with the company's app can let customers know about the check-in process. Employees then can use their tablets, to co-browse with the customers and guide them without physically touching the customer's device.
3.
Privacy-Enhancing Computation
Privacy-enhancing computation consists of three technologies that pre-test data and enable secure data processing and data analytics.
It provides trusted environments to process and analyze sensitive data.
It performs processing and analytics in a decentralized manner and includes federated machine learning.
It transforms the data and algorithms before processing or analytics is performed.
With all three of these approaches, private data is not exposed. A real-life application might be multi-party data analytics, where organizations pool their data for joint analytics without providing access to each other's underlying data.
4.
Anywhere Operations
Every business wants to have their piece of cake post-COVID-19. 2021 onwards will mark the mobile-only operational model, with every business coming to the reality of being flexible to continue their operations and being at par with the competition. The preferable location will be "anywhere", and the "mobile-first" will bring operational independence. The remote workforce will flourish with businesses thinking about redistributing their assets and liabilities, addressing the concerns in the contactless scenario. As the decade passes, COVID-attached-fear will become minimal if not diminished altogether, but even if a bit of it remains, the sensors and RFID tags in the office premises and factory settings will enforce social distancing.
5.
Cybersecurity Mesh
Cybersecurity Mesh is based on the formation of the "walled city" approach. This is a more modular, responsive security approach based on distributed policy enforcement architecture and provides required scalable, flexible and reliable cyber-security control.
6.
Intelligent Composable Business
App Development Companies will need to rearrange their business operations, to adapt to the post-pandemic scenario and environment. For a faster digital transformation and to be able to make quicker and agile business decisions, organizations need to adopt a mindset that enhances and emphasizes composability based on orchestration, modularity, autonomy, and discovery. This process makes it easy to identify customer behaviour, identify trends, and quickly create new business services which may include reassembly of existing packaged and custom application services to creating such new services.
7.
AI Engineering
AI brings in the required innovation to the existing projects. It encourages efficiency but is it equally easy to maintain? With scalability and governance issues, AI has become the mainstream DevOps process which is gradually being adopted by a set of specialized and isolated projects. It will clarify operationalizing and involve a combination of techniques.
8.
Distributed Cloud
Distributing the cloud services to various physical locations can help organizations cope up with low latency issues, help accommodate laws, reduce data costs. However, the operation, evolution, and governance remain in the hands of public cloud providers. The organizations still get benefitted from public cloud economies and can omit the need to manage a private cloud of their own which can be complex and costly. The most important utility of a distributed cloud is to ensure that the data remains in the geographical location in which it is mandated to reside. Distributed cloud is the future of cloud computing.
9.
Hyperautomation
Legacy processes can be expensive if not streamlined adequately. Supporting business processes by a patchwork of automation technologies seldom helps if not optimized, connected, lean, explicit, or consistent. This may delay the business from achieving its operational excellence. All such processes should be automated by making use of intelligent technologies in coordination.
In Conclusion
These are the strategic top tech trends that will outline and formate the upcoming year 2021. They combine to help organizations to transform their business and prepare for the intelligent, composable future. This list is referenced from Forbes and Gartner, and it combines three themes people centricity, resilient delivery, and location independence. The unprecedented socio-economic challenged faced during the COVID-19 scenario in 2020 demands the organizational plasticity to transform and compose the future, making up for what we've lost and reassuring that trust for people to believe in what they can build together. (Picked from Gartner Symposium IT/Xpo® 2020). If you would like to discuss this, our technology experts are available with individual solutions for your applications. Alternatively, sign up for our newsletter to receive notifications about our next uploads.