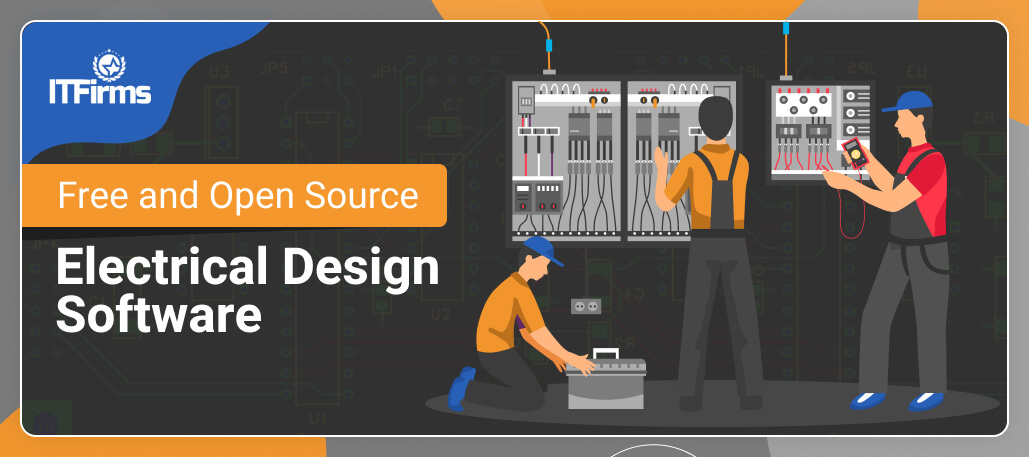 A List of Best Electrical Design Software
This list of top electrical design software tools will help you to create real-time applications with attractive and efficient GUI!
Electric diagrams are a pictorial representation of electronic circuits, similar to the ones we have in our electronics laboratories. Electrical Design Software represents these circuits on the computer in form of wireframes that can be re-graphed and re-phrased before creating the actual circuit. Electrical circuit design software is of great use to professionals such as electricians, electrical or electronics engineers, builders, technicians, programmers who can create an electric panel and free schematic drawings.
What are electrical circuit diagrams created for?
These are created to make professionals in electrical fields understand the intricacies of various connections in the electrical network, before creating an actual one. Breadboard, stripboard and printed circuit board are used for creating electrical circuit diagrams.
What can be the various types of electrical circuit diagrams?
One-line Diagram or Single Line Diagram
Block Diagram
Pictorial Diagram
Schematics Circuit Diagram
Wiring Diagram
Ladder Diagram or Line Diagram
Riser Diagram
Logic Diagram
Electrical Floor Plan
IC Layout Diagram
What are the challenges of electrical design?
Electrical designs are being used in the construction of industrial facilities for electric power generation commonly known as electricity generating stations. These are also called powerhouse, power station, and electrical generation plants. Although these digital electrical designs cannot help the engineers in diagnosing transmission faults, distribution system switching faults, lightning strikes, simultaneous operation of equipment, device interruption, data errors, memory loss, shutdowns but it can indicate wiring and grounding, dedicated circuits, spike suppressor, isolation transformers, voltage regulators or uninterruptible power supply.
What are the functions of electrical design software?
There can be many ways to create electrical panel drawings or electrical circuits but one of the easiest and most convenient options is by making use of electrical circuit design software. So let's have a look at some of the best free and open-source circuit drawing software in 2020:
QElectrotech is a free and open-source electrical design application to create all sorts of electronic circuits, electronic block diagrams, and control and automation circuits. This electronic diagram creating software can be used to sketch mechanical objects to illustrate processes and instrumentation drawings.
Main Features of QElectrotech
It features an element editor and a diagram editor to create schematic symbols.
It has a set of the library containing symbols with the IEC 60617 standardized symbols.
Elements and drawings get saved in XML format. Also, the diagram can be exported into dxf, pdf, jpg, png, BMP, SVG formats.
This software is configurable, is compatible across platforms and has multi-lingual support.
FreePCB is an open-source and free printed circuit board editor that includes much software within its range, working similarly like ZenitPCB, TinyCAD, Osmond PCB, BSch3V, ExpressPCB, Kicad, gEDA, Fritzing, DesignSpark PCB, EasyEDA. This editor is for Microsoft Windows and works under General Public License.
Main Features of FreePCB
It is a free CAD application used for designing the hardware to be manufactured.
It is fast and easy to use.
It can be used to route multi-layered keyboards
It can support copper pours and DRC checking
It comes with an integrated Digi-key parts catalogue with a bill of material manager
It is schematic capture software to draw electronic drawings and circuit diagrams. It has a user-friendly interface and libraries to support and create symbols/symbol references, parts list etc. It supports PCB, netlist formats, SPICE simulation netlists etc. It can export netlists for the PCB layout program. The finished circuit design can be copied and pasted into MS Word or can be printed across single or multiple pages.
Main Features of TinyCAD
It comes with electronic components like symbols, wires, junctions, labels, power, no-connects.
It brings some editing tools with it that allows you to drag and drop elements, make use of control to select more than one item, use block tools to flip and rotate areas of the schedule.
The finished diagram can be exported and shared across multiple formats.
It features some electrical tools to check wiring errors, creating a bill of materials, creating symbols automatically, and a reference painter tool.
It makes use of multi-page schematics.
Bitmaps can be inserted in the diagrams.
The created electrical drawing can be printed.
It is free electrical panel design software for Unix, Windows and X11 to create publication-quality schematic circuit diagrams and related figures. It can write Postscript output and hierarchical SPICE netlists.
Main Features of XCircuit
It features all common elements of an electrical drawing software free download free version
It allows inserting an info label, drag and drop elements, import external images, manipulate parameters, edits libraries, zoom in and zooms out for design intricately.
CircuitMaker is a free and open-source EDA tool to create electronic circuit designs and invent circuits.
Main Features of CircuitMaker
It is easy to install and use.
It can be used to create, use and share 3D printed robots.
Powerful ecad for open source hardware
Unlimited & free
Massive, rich component library
Share & collaborate
Native 3d™
One-click manufacturing
Push-n-shove routing
Multi-sheet schematic editor
Topological auto-router
DRC/DFM validated outputs
Import designs from other tools
KiCad is a free and open-source software suite to create electronic automation (EDA). It makes it easy to design schematics for electronic circuits and convert them into PCB designs.
Main Features of KiCad
It features Schematic Capture, PCB Layout and 3D Viewer
It is a real-time electronic circuit simulator useful for students, new electrical engineers who wish to create simple electronic circuits.
Main Features of SimulIDE
It is a real-time electronic circuit simulator.
It is fast and easy to use.
It is not preferable to perform critical analysis or to develop accurate models, but it is ideal for experimentation.
It is good for designing simple circuits – not just putting resistors, capacitors, inductors together but often constructing meaningfully integrated circuits with simulators.
AVR, Arduino, PIC microcontrollers that are accessible like other components.
It also comes with GPSIM and SIMAVR that allow making use of PIC and AVR microcontrollers.
Firmware can be loaded multiple times
The data can be transferred in between registers on the screen
Towards The End: Selecting The Best Free And Open Source electronic Design Software
We hope this free schematic drawing software list will help you in making the best selection. We can add more schematic design tools to this list, to fit the specific needs of the businesses. Let us know if you would like to discuss any such requirements and want us to modify/add something to it.