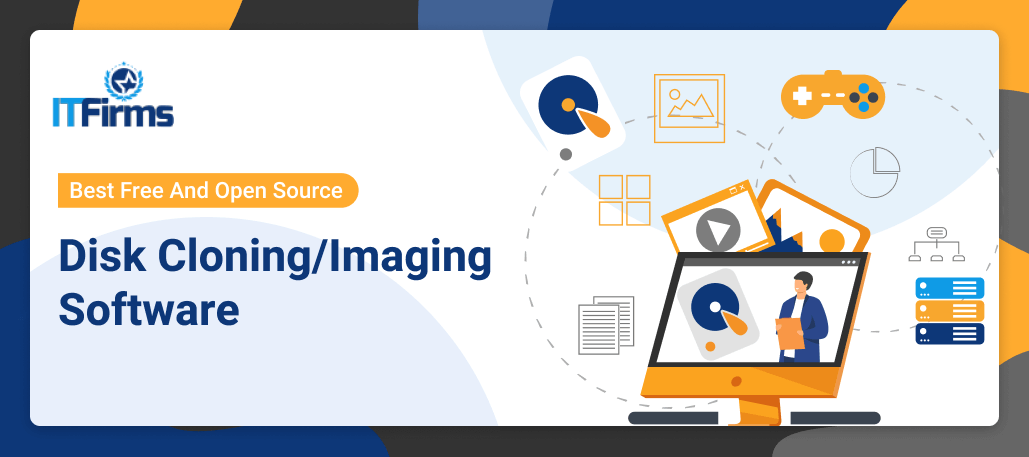 Best Open-Source Disk Cloning/Disk Imaging Software
Here're some best disk cloning software that can be resourceful and will help you in making better decisions.
Having a system image can help you get rid of potential shut downs or hacking attacks on your computer. An imaging software can help you create, edit, modify system images on a computer. Imaging software are often referred as digital imaging software or image editing software. Disc cloning software help clone the hard disk drive or solid state drive as a backup.
Here is a list of top free and Open-Source Disk Cloning/Disk Imaging Software (in no particular order):
It features incremental backups, continuous backups, notifications, anti-ransomware, automatic cloud storage and much more. It can backup individual files or full system image; it comes with continuous backups, desktop notifications. This tool also offers anti-ransomware and automatically restore compromised files.
Features of Acronis True Image
Backing up individual disk images/files
Continuous backups
Restoring in cloud
Desktop notifications
Anti-ransomware
This tool is used for backing up entire disk images/individual files with cloud backups, anti-ransomware and remote recovery. This tool is particularly used in large enterprises to can back up entire disk images, single files, and ESXi or Hyper-V hosts. This backup can be stored in over 14 cloud data centers. This software can be used to restore Windows and Linux systems with Acronis Universal Restore. It comes along with 30 days free trial. Beyond that the subscription price starts at $99 (78.05 pounds).
Features of Acronis Cyber Backup
This software helps with taking backup of the entire disk image or individual files
Remote recovery
It gives role-based administrative access
Can store data in over 14 Acronis Cloud Data Centers
AES-256 encryption
Acronis Active Protection
Anti-ransomware
This is a disk imaging and cloning software that comes with partition recovery, scheduled backups, anti-ransomware, encryption. It comes with a competitive pricing model. It comes through with a 30 days free trial. Pricing starts at $75 (58.54 pounds).
Features of Macrium Reflect
It comes with incremental and differential image backups
Images can be restored
Recover disk and individual partitions
Scheduling backups
Anti-ransomware
This is a free partition manager for Windows that features disk copying, partitioning, disk space analysis, a bootable media builder etc. This backup software for Windows helps create, copy, delete, format, move, resize, wipe, merge and split partitions. Users get to view their disk and partition properties like device names and total size to see how efficiently these are utilized. It comes with space analyzer to monitor disk space usage. It helps scan hard drive and recover lost files playing right during security breach or power outage. Users can handled boot issues as Minitool pro version comes with bootable media builder to create bootable CD or flash drive to fix boot issues. The price or pro version starts at $59 (46.05 pounds) for a one-year subscription. Freeware version is available for download.
Features of Minitool Partition Wizard
Manage partitions
Performs data recovery
Bootable media builder
Space analyzer
It is a free Disk cloning software that allows copying full disk images or partitions with automatic backups, upgrades and much more. It is used to configure automatic backups so that files can be saved. It restores data, create a WinPE/Linux Bootable Drive, migrate an OS to SSD/HDD. Subscription price starts at $39 (Pounds 30.43) per PC. Freeware version is available for download.
Features of EaseUS Todo Backup
Backup entire disks/partitions
It can recover lost files without any installations
Backups can be automated
Bootable drive can be created for enterprise version
OS can be migrated to SSD/HDD
This backup tool is capable of disk image copying, AES-256 encryption, incremental and differential backups. It is compatible with popular database systems like Oracle, PostgreSQL, MySQL, MariaDB, SQL Server; also with ESXi, Hyper-V. Users can choose to send their backups on cloud storage like Google Drive, Amazon S3, Onedrive, Azure Storage and Dropbox etc. The subscription price starts at $69 (53.84 pounds).
Features of Iperius Backup
Backup/Copy an entire disk image
Incremental and differential backups
It is compatible with ESXi and Hyper-V
Automatically backup to cloud storage
AES-256 encryption
Centralized management (Console)
This is a free imaging software works offline. It has a range of novice to advanced features. It is available in different packages for specific use and is an unrestricted freeware. It backups and restores images for single or multiple systems at once. It is recommended for enterprises, is free and open-source disk imaging solution. It is available for Linux. It is available as free download.
Features of Clonezilla
Create system backups/disk images
It also comes with bare-metal recovery
Clone multiple computers simultaneously (Clonezilla SE)
Custom boot parameters
This disk imaging software comes with backup and recovery, a partition manager, automatic backups, AES-256 encryption etc. Backups are automatically updated on a daily, weekly or monthly schedule. These come with partition manager that helps you to create, move, merge, split, and convert partitions that helps provide more efficient storage usage. It is a robust backup solution for Windows with a starting subscription price of $99 (77.24 pounds) for a workstation perpetual license. It also comes with a 30 days free trial.
Features of Paragon Hard Disk Manager
Backup and recovery software
Restore Hyper-V machines (Server version)
Partition management
Scheduled backups
Erase hard drives
AES-256
This tool can help create exact disk images on any PC disk like USB, HDD, CD, DVD, Blu-ray etc. Storage can be copied into a folder. These images can be used for disk duplications, PC upgrades, backups etc. It is free and open-source disk imaging tool for Windows that can be used for disk partitioning, scheduled backups, encryption and more. Computer system recovery is used by accessing the backup image. Includes a bootable component to restore Windows. Only applicable for a Windows-based environment. It features AES-192, AES-128, AES-256 encryption, scripting support, and email notifications, image compression, optimal storage usage. It is the best bet of enterprises that require a free disk imaging solution. The paid version starts at $39 (£30.43) for a Standard personal license. Business licenses start at $49 (£38.23). It is available as a freeware for Windows.
Features of Active@Disk Image
Scheduled backup
Clone disk images and partitions
Incremental and differential images
AES-128, AES-256 and AES-192 encryption
Email notifications and logging reports
It is easy to create backup, set compression levels, split files, uses Windows VSS for intelligent sector copy, clone the entire system. However, novice users might find it difficult to use. It is also suitable to recreate missing boot files. Use a registered version of this software if you want the hard drive recovery disk on WinPE to function properly. This software installs an Image Mounting Service that is set to run in an 'Automatic' mode upon the startup of Windows. This can be automated or can be done manually.
Features of Macrium Reflect
Faster Backups
Protection from ransomware
30 days of Technical Support
Central management
More Imaging/Backup Software to Consider
It features a user-friendly GUI, backup comments, a selection compression levels, partition, system and file folder backups and option to encrypt. It can split a larger backup, sector optimization during backup, shadow copy, GPT disk, UEFI boot support, differential or incremental backup modes and offers many free version. This works good even in presence of limited disk space, the type of encryption or compression that makes use of AES.
This imaging software comes with volume shadow service and volume locking features. It is used to backup and recover data. User needs to create BartPE boot CD, install plugins for the Drive Image XML and boot from the start.
This imaging and backup software is a good offline option that works in easy steps. It can create incremental backups, create a bootable restoration disk, and hard drive recovery.
This imaging software works on the concept of Acronis True Image Software. It comes with features like disk management, installation of new hard drives, diagnostics and free disk imaging for the life of the Seagate Hard Drive.
This backup and imaging software comes from Western Digital who are hard drive manufacturers. It offers disk management, diagnostics but it is specific to Western Digital Hard Drive only.
O&O Disk Image Professional Edition comes with professional and standard imaging functions, has system rescue tools and allows data recovery even if Windows OS is down. It is only applicable to Windows-based environment.
Towards Conclusion: Selecting the best disk cloning software
Almost every disk cloning or imaging software looks similar with some slight changes in the features that range from basic to advanced. The list is endless, however the ones we've discussed above are the most prevalent ones. Best software development companies have created some more tools that work in shadow: Drive SnapShot 1.46, MiniTool ShadowMaker, R-Drive Image, DeepSpar Disk Imager, Epsilon Backup, FlashBoot, IvyBackup, Hard Disk Manager 15, Handy Backup, EaseUS Todo Backup, Symantec Ghost Solution Suite, smartImager, ManageEngine OS Deployer, DAEMON Tools, and Paragon Backup and Recovery.
Hope this discussion on disk cloning/imaging software will help you in making better decisions. Please share your suggestions at [email protected]