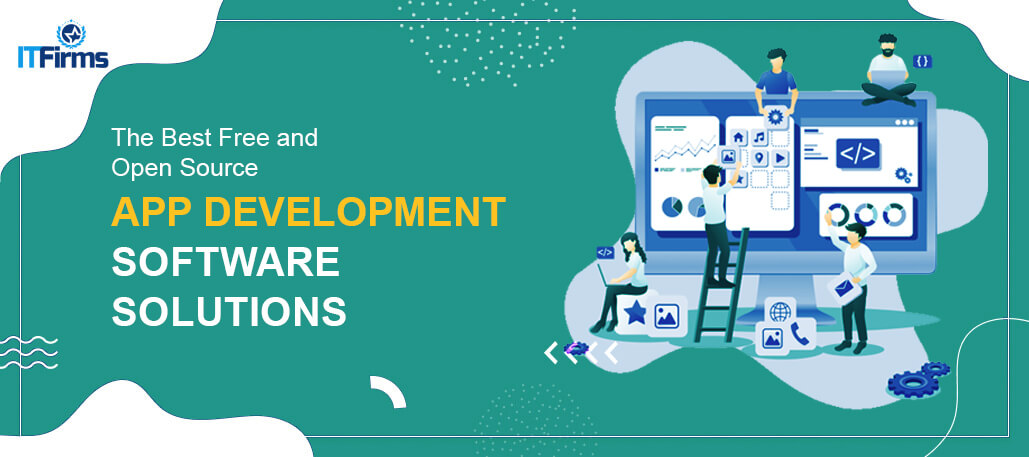 The Best Free and Open Source App Development Software Solutions
Cracking the no-code application development software for specific development needs!
Custom software development refers to the type of application that fulfils all requirements of your business. It can be designed for a single or for a group of clients who need to decide the functionality and the processes the software should possess.
There are different advantages and disadvantages of buying off-the-shelf software packages as well as developing specialized software from a reliable application development software company to comply with your specific business needs.
Benefits of developing customized software include: optimizing the business process, the need to include powerful and trending technologies that disrupt the customized app, this emphasizes your business acumen and sends a strong message to all counterparts that you take pride in your business and are committed to streamlining your process flows and your working model so it can function smoothly. Additionally, being unique, adaptable, secure and cost-effective with an ability to upkeep and follow your business processes over time will help you succeed. Designing followed by development and testing will ensure business growth.
Here is a list of leading application Development software which can be potentially useful for your business application:
Plesk – by Plesk
Plesk eases the workload by helping developers focus on services and revenues. It has one web-based dashboard to automate and manage customers, websites, mail, servers, security and storage etc. It helps manage instances with WordPress Toolkit, plugins and themes, clone and test new features before going live. It can be upgraded in combination with any of the Cloud Provider partners like AWS, Google Cloud, Azure, DigitalOcean, Alibaba etc.
MyGet – by MyGet
This app was developed to do away with the hassles of package management. It gives access controls over your private NuGet, npm, Bower, Ruby, Python, VSIX, PHP Composer or Maven packages, as well as any packages that you use from open-source registries.
TestRail – by Gurock Software
It is a comprehensive Test Case Management system used by QA and Development Teams. It efficiently manages test cases, boost testing productivity significantly and get real-time insights into your testing progress It can be integrated with TestRail with your issue tracker. It is a complete web-based test case management solution to efficiently manage, track, and organize your software testing efforts. It features Centralized Test Management, Easily Track Results, Powerful Reports and Metrics, Seamless integration, Increased Productivity, Scalable and Customizable.
Sympli Application acts as a digital product development collaboration platform that automates the connection between designers, quality analysts, developers, and project managers. This app delivers all design components and assets where it can be used further to quick comment, test. It connects each team member with the collaboration and automation tools that they need to work more efficiently.
Shopney app assists Shopify and Shopify Plus brands to turn their stores into native iOS and Android Mobile Apps bringing the entire eCommerce functionality of your website into your mobile app. It features an easy drag-n-drop editor to create an interactive interface of the mobile app. It has unique features like theme options and in-app chat.
Buddy – by Buddy
Buddy is a smart CI/CD tools that can be used by developers to design. It makes use of delivery pipelines to build, test, deploy software. These include hundreds of ready-to-use actions that can be arranged in any way.
This platform helps businesses to translate their collective Excel expertise into robust web applications, thus empowering them to create secure, responsive, database-driven applications directly from their spreadsheets.
This platform helps development teams to collaborate, review and manage code. It works with Windows, Mac and Mobile Platforms. GitHub is a web-based version-control and collaboration platform, used by developers to create free GitHub apps. GitHub repository facilitates social coding by providing a web interface to the GIT management tools for collaboration.
Azure is a cloud computing-based platform for creating VM and building and running web-based applications, smart-client applications and XML Web Services. It can host existing applications and streamline new application development. The Azure portal lets businesses easily manage their Azure services. The services can be managed programmatically by making use of service-specific APIs and templates.
Bitbucket Software allows planning projects, collaborate, test, and deploy the code. It is a collaborative GIT solution that allows users to review codes with pull requests. Users can get to discuss the source code with developers' inline comments. This application software also provides a multi-deployment option as it can be hosted in the cloud or on-premise.
It is an application development tool that allows multiple selections, split editing, customizable key bindings, cross-platform usage and more. This shareware cross-platform source code editor with a Python application programming interface (API) natively supports many programming and mark-up languages, and functions, that can be added by users with plugins, typically community-built and maintained under free-software licenses.
More software that works on similar lines includes Notepadd++, GitLab (different from GIT), Odoo, Docker and many more. These are free and open-source, works to improve business processes, and can be used according to the type of function required like for sales, accountant, warehouse, HR, Project and Marketing etc.
Key Takeaways: Choosing the best Application Development Software
While the businesses are required to spend their time in defining the exact automation needs and wait till their software is being developed, it is always achievable and convenient to opt for customized software development since it can be customized according to requirements.