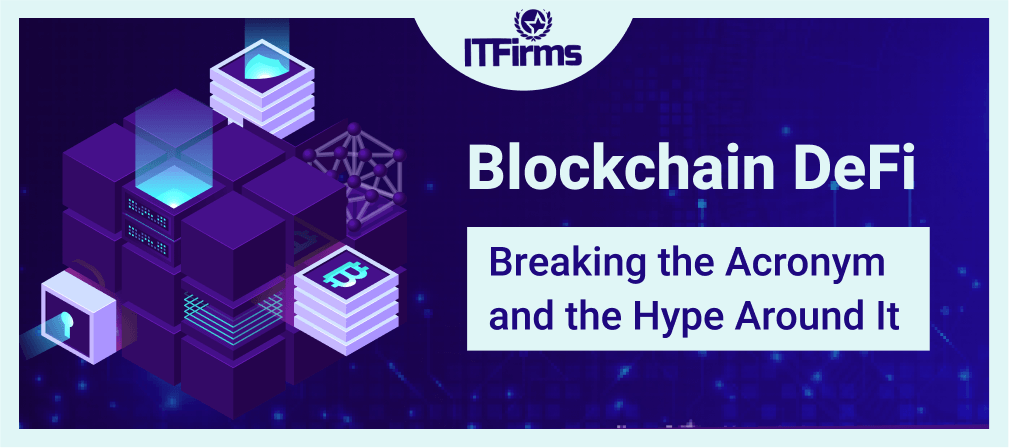 Blockchain DeFi: Breaking the Acronym and the Hype around It
We'll look into the best blockchains for decentralized finance; What is DeFi? Can you use it to earn interest on currency holdings, and the risk involved with it!
Crux: Decentralized Finance (DeFi) makes use of Blockchain Technology to process financial transactions.
Bitcoin is a form of money that isn't controlled by any central bank or government. It can be globally transferred to anyone, from anyone without involving any financial institution. Bitcoin is decentralized money. Transferring money is the first block in the chain. Besides sending money, there are a variety of services that can be used today. For example, Loans, saving plans, insurance, and stock markets are all services that are built around money.
When users engage with DeFi via decentralized applications or dapps, they essentially run on Ethereum Blockchain. They do not have to open any bank account or fill out an application form to access it. DeFi is being perceived as a major shift in the way people deal with finance, expanding access to this world to anyone who wishes to join in.
Decentralized Finance is built on top of Ethereum Blockchain, and is an alternative financial infrastructure. It offers many applications to go with. For example, DeFi can be used to buy Stablecoins. Such transactions take place on decentralized exchanges. These Stablecoins can then be moved to a decentralized lending platform to earn interest.
Smart Contracts are the building blocks of DeFi protocols. These are highly secure server-based web applications. Users (clients) are not in control of the underlying execution environment. Smart Contracts are secure. When the transaction state changes, all activity is tracked and saved in the blockchain's state tree. Smart Contracts are open, flexible, fast, and access rich instruction sets.
The Need to Decentralize The Financial System
Today our financial system and all services are centralized. All financial institutions have someone in charge of tracking and managing transactions and currency exchange.
Centralized Finance (CeFi) has its own risk like mismanagement. But what if we decentralize the entire system as a whole in the same way it decentralizes the money.
That's exactly what Decentralized Finance (DeFi) is all about. DeFi is a term given to financial services that have no central authority and there is no one in charge. These financial apps and protocols are governed by smart contracts*. Developers who create a DeFi app transfer the ownership to users. DeFi then becomes an asset controlled by the community coin or token.
It includes certain cryptocurrencies that can be programmed to perform automated activities – we can build exchanges, landing services, and insurance services that don't have an owner and are not controlled by anyone.
In order to create a decentralized financial system, the first thing we need is an infrastructure for programming and running decentralized services. For Example, Ethereum is used for writing decentralized programs (Decentralized Apps or Dapps). *It is used to write smart contracts that manage any financial service we would like to create. Once we deploy these on the network, we can no longer control them. They are immutable.
DeFi Basic Building Blocks
The decentralized market is still in a nascent stage but it features transparency, and accessibility.
DeFi Building Blocks include:
Token standards,
decentralized debt,
decentralized exchanges,
blockchain derivatives, and
on-chain asset management protocols.
How does DeFi work?
It works in 5 parts:
Lending: Lending out crypto and earning rewards in return
Getting a loan: Fetching flash loans without filing the paperwork
Trading: Transacting crypto assets with peers
Saving: Putting some cryptos aside to earn better interest in future.
Buying Derivatives: Betting on certain assets as stock options for future contracts.
Top Blockchains For DeFi
According to a recent report by the Economic Times, Decentralized Finance (DeFi) market is going to cross $50bn. Many thousands of coins are trading across in this sector. The highest performing coins and Tokens are:
DeFi Coins: These are the best overall DeFi coin to buy
Lucky Block: These are new gaming crypto coins to watch
Mana: These are part of the DeFi project stepping into Metaverse
Uniswap: These are top DeFi projects and liquidity provider
Yearn Finance: These allow earning interest and taking out loans using DeFi.
Best DeFi Coins to Buy in 2022
DeFi coins can be bought from crypto exchanges and brokers. The most popular DeFi coins in 2022 are:
Lucky Block (LBLOCK)
Curve Finance (CRV)
Aave (AAVE)
dYdX (DYDX)
Yearn Finance (YFI)
Maker (MKR)
Compound (COMP)
Uniswap (UNI)
Ankr (ANKR)
Bancor (BNT)
How DeFi is being used?
Decentralized Applications (dapps) and adjoining protocols are being used in
Traditional financial transactions for payments, trading securities, insurance, borrowing, lending etc.
Decentralized exchanges (DEXs) for peer-to-peer financial transactions and letting users retail control over their money.
E-wallets to make investors access Blockchain and cryptocurrency.
Stable Coins – These attempt to stabilize their values by attaching them to the US dollar.
Yield Harvesting enables speculative investors to lend crypto and reap big rewards.
Non-Fungible Tokens (NFTs) – To enable the creation of NFTs of commodities which were previously uncommodifiable.
Flash Loans – To allow cryptocurrency loans that borrow and repay funds simultaneously.
Top Blockchains For DeFi to Build Modern Finance Applications in 2022
Decentralized Applications (dapps) and adjoining protocols are being used in
Ethereum – It is an open-source, decentralized blockchain platform with smart contracts.
Ripple – It is yet another Blockchain platform for currency exchange, real-time gross settlement system and remittance.
Cardano – It is a decentralized and open-source public Blockchain platform that facilitates P2P transactions with ADA (internal cryptocurrency)
Stellar – It acts as a decentralized protocol for creating, sending, and trading in all forms of digital currency enabling low-cost transfers and cross border transactions.
Hyperledger Fabric – It is an open-source framework for Blockchain that offers permissioned fabric networks, and faster transaction processing.
EOS.IO – It is a Blockchain protocol which features smart contracts that eliminate transaction fees and conduct millions of transactions per second.
Corda – It is built in a way to transact directly with smart contract technology.
Tron – It is a decentralized Blockchain platform that is based on Tronix, consensus algorithm, cryptocurrency native to the system, and smart contract functionality.
In Conclusion
DeFi in its essence stands for financial applications that are built on Blockchain Technology. It enables digital transactions between multiple parties. Every transaction is recorded on Blockchain, which is a public ledger for digital assets, including cryptocurrencies. DeFi process involves lending cryptocurrencies, sending cryptocurrencies, and investing in cryptocurrencies.
DeFi Development Services can help you improve lending, borrowing, trading, investment, and risk management. It ensures high transparency and promotes more control using their respective private keys over an immutable, tamper-proof network. ITFirms list a range of top blockchain development companies that are opening up to new financial processes:
DeFi Development company services
Market making Consulting
Decentralized Crypto Banking
Defi Lottery System Development
Derivatives Over Defi Platform
decentralized Fund Management
Defi Insurance System Development
Defi Yield Farming Platform Development
Defi Staking Platform Development
Defi Lending Platform Development
Defi Smart Contract Development
Defi Dapp Development
Defi Tokens Development
Defi Dex Development Like Uniswap
Defi wallet development
Defi Marketing Services
Defi Synthetic Asset Development
DeFi Solutions For Ecommerce
Defi Tokenization Development
Defi Crowdfunding Platform Development
Defi Real estate Platform Development
DeFi ICO Development
DeFi Exchange Development
DeFi Protocol Like Yearn. Finance
DeFi Protocol Like AAVe
DeFi exchange Like 1inch
Please share your suggestions at [email protected]