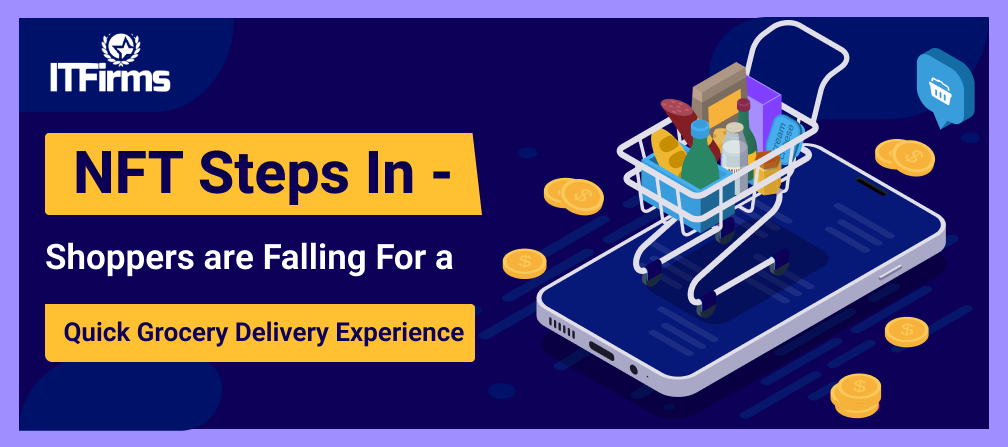 NFT Steps In – Shoppers are Falling for a Quick Grocery Delivery Experience
Quick Commerce was often considered a sign of a 'lazy economy' but with the intrusion of NFTs, it has piqued the appetite of both consumers and investors!
Lockdowns changed the shopping habits, with many waking up to the convenience of app-based deliveries. The promise of instant gratification came along and turbo-charged the market.
ECommerce has never been so interesting as with the introduction to Non Fungible Tokens (NFTs). If you are learning to make huge financial profits from the NFTs, and if you are learning to create, buy, and sell an NFT, you must have an understanding of:
What non-fungible tokens really are?
How can you find them?
How to create your won valuable NFTs?
It is also pertinent to know how to find reliable and safe NFT marketplaces where you can be sure you're dealing with reputable buyers and sellers. You must be aware of how NFTs work and what, exactly, you own when you buy or make an NFT. Which digital properties can be converted into an NFT? Let's begin!
What is NFT?
At the intersection of Blockchain Technology, Smart Contracts, and the world of collectibles, you'll find NFTs (short for Non-Fungible Tokens). These fascinating (and potentially lucrative) new digital assets promise to revolutionize how we buy, sell, and track property. You get a chance to get in the mix and make your own digital commodity moves. For that you must know:
Where to buy and sell NFTs?
How do they work?
How to build your own tokens?
Explore NFT property rights
Access NFT platforms
Learn about Ethereum
Learn about Metaverse
Program smart contracts
Build your own tokens
Find NFT marketplaces
How are Cryptocurrencies leading to the dollarisation of the economy?
Almost all cryptocurrencies are dollar-denominated and issued by foreign private entities, it may eventually lead to the dollarisation of a part of our economy, which will be against India's sovereign interest.
How does e-commerce benefits from the introduction to NFTs?
What about earning a non-fungible token by selling your experience in form of a review or rating after using a product from an e-commerce website?
What do you think about buying a digital property, furnishing your virtual home, selling it digitally and getting paid in NFTs? Of course, you have the option to encash it in real.
What about trying a dress online via VR and buying it? Metaverse can help you test drive a newly launched car by hopping into it at your home.
Scientific Fiction shows like Snow Crash envisions virtual reality, create digital avatars of the actors and explore the online world. It is often a way to escape from dystopian reality.
Adam Bomb Squad NFT collection and Dolce & Gabbana have set a record of nearly $6 million for acquiring a set of digital NFTs. Sara Shakeel, Gucci, Courtesy Of Adidas, Balmain, Clinique, Burberry, Courtesy Of The Institute Of Digital Fashion, Roksanda And Clearpay are other contenders foraying into NFT Marketplace.
NFTs with a great community are the ones that make it till the end. NFTs that are just there for profit margins do not last long because they are there for the wrong reason.
If you own an NFT you will get early access to all the deals.
Tracking the manufacturing process for transparency.
Give a digital item with metaverse along with a physical item.
Verification of physical item on Blockchain; if NFT goes along with it then it proves the point. If sellers have to sell their physical items, they actually have to match their NFTs with them. They get the royalty with the main brand.
Collecting a substantial number of NFTs can also let you enter into space. The streetwear brand Mishka NYC recently entered into space with a collection of 6000+ NFTs (The Keep Watch Crew (KWC)), which is marked by the brand's eyeball logo. Lifetime discounts and access to exclusive NFT and merchandise drops can be some benefits tagged to it.
Which trends root the future readiness of the business?
Leveraging digital technologies like artificial intelligence, Blockchain, NFTs, Metaverse, data, and cloud is important to tap global markets, drive business growth, and overcome structural challenges in the country.
Rapid globalization has led to redesigning the supply chain system for better resilience. There is an enormous opportunity for India on this end as emerging economies will play a major role in driving growth globally.
New-age companies will need to focus on addressing the need for sustainability and minimizing the business impact on the climate.
In which ways do E-Commerce Businesses utilize NFTs?
But will the sparkling light of Digital NFT Marketplace will erode their physical offerings? No, NFTs will contribute to the popularity and will not act as a substitute for physical items anytime soon. But it is an important trend to watch out for.
Shopify is an e-commerce platform that allows its subscribed members to create NFT marketplaces. Various ways in which NFT technology can utilize e-commerce are:
Product Bundles (Along with the chance to instantly gratify your customers, NFTs attached to product bundles fetches the interest of customers in the collectibles that the business is creating)
Digital Duplicates (Companies advancing towards big data have adopted metaverse to offer the facility of digital duplicates in addition to the purchases that their customers make)
Pre-launch Access (NFTs are being used to generate interest around a new product launch. Big businesses like Chicago Bulls have used Shopify's new NFT features to promote their product launch)
Collectibles (NFT collectibles can be created and stored to commemorate special moments. Their value appreciates over time)
Loyalty Programs (NFTs are also being used to create digital loyalty cards for their customers. It enhances customer experience, reduces business cost, and lets customers store and redeem their reward points)
Redeemable NFTs (These can be used for real-world items and experiences)
Abstract: Why integrate NFT with an e-commerce platform?
NFTs tagged to e-commerce purchases can serve as possessional evidence for specific assets like bespoke antiques, bespoke designer dresses, and luxury items, and prove to be very vital to the customer as the tangible product itself.
Please share your suggestions at [email protected]