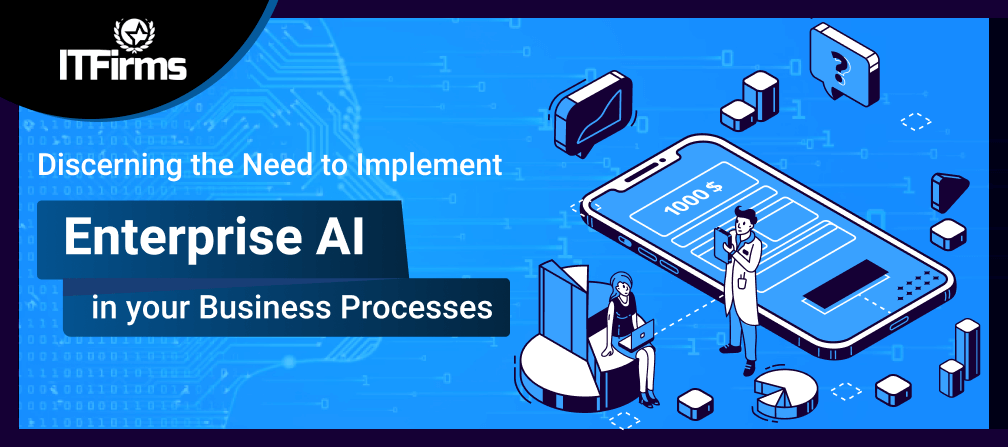 Discerning the Need to Implement Enterprise AI in Your Business Processes
With the emergence of industry 4.0 technologies, businesses are innovating, and making use of AI in multiple use cases to step up with the development!
As we run through the blog, the foreword, features and benefits converge simultaneously. It all accumulates to make the best out of Flutter App Development.
Perennial technological developments facilitate challenges, opportunities, and competition amongst enterprises that feel the need to introduce an ounce of innovation, new products, new services, and overall new ways to accomplish what they have been doing so far. Large Business organizations and industrial institutions fear rapid and sustained impact, generating added value to survive in the face of global changes.
Why do businesses need artificial intelligence?
Companies like IBM have made AI their strategic priority. It lets them modernize their data analysis with their AI-integrated platform from industry leaders. From predictive maintenance for a vast array of industrial assets including aircraft, manufacturing equipment, transmission assets, power generation, oil and gas production equipment (compressors, pumps, valves, etc.) – to inventory optimization, anti-money laundering, fraud detection, securities lending optimization, customer retention, and more. AI helps businesses achieve best practices to get the most out of a service/product and save prices based on customer behaviour and preferences.
Enterprise Artificial Intelligence is the functionality to embed AI into organizational data strategy to perceive and embed human intelligence into machines. It goes beyond self-driving and parking vehicles, digital assistants, vehicle recognition identification, robots, and transportation.
An enterprise AI platform combines an integrated set of technologies to enable organizations to design, develop, deploy, and operate enterprise AI applications at scale.
How does AI benefit businesses (of all sizes)?
AI goes about automating business processes – back-office administrative and financial activities, data analysis, engaging with customers and employees. Organizations need to create a prioritized portfolio of projects based on business needs and develop plans to scale up across the company. AI saves time, and money by optimizing, and automating routine processes and tasks. It increases productivity and operational efficiencies that facilitate faster business decisions based on the use of cognitive technologies.
AI makes data simple and accessible, but it is still in the experimentation phase for many industries. It erects a foundation for business-ready analytics, building, and scaling AI that is transparent and has a coherent step-by-step plan for rolling out AI throughout the organization.
What are the various components of artificial intelligence?
Artificial Intelligence empowers cross-functional teams to monitor, deploy, and optimize models quickly, and accurately. Its value proposition lies in easing any task at hand, making it efficient and powerful. AI applications include packaged applications that solve business problems, prepare data, cleanse data, build and execute models, create consumer use cases for speech, images, and vision, natural language processing, and manage/understand the AI model life cycle.
Artificial Intelligence (AI) offers businesses the potential for a dramatic increase in functionality and profitability, but it can also spark an array of complex ethical, legal, and social challenges. It also poses some ethical issues including competing concepts of fairness and moral reasoning. Also, there can be some social concerns and safety challenges associated with AI, such as potential life and death scenarios in autonomous driving.
Enterprise Artificial Intelligence As An Organizational Asset
From improved customer service, and streamlined operations, to the realization of new business models, enterprise artificial intelligence has the potential to transform organizations.
Enterprise Artificial Intelligence (AI) can be achieved by embedding AI methodology along with human capacities for learning, perception, and interaction all at a level of complexity that supersedes our own abilities. Any company can become an AI enterprise by embedding machine learning methodology into the very core of their business to bring real value.
It outlines a collaborative effort between data scientists and artificial intelligence engineers. While data scientists build machine learning models on IDEs, an AI engineer builds a deployable version of the model built by data scientists and integrates these with the end product. They also secure web service APIs for deploying models if required.
9/10 businesses have investments in AI technologies, but >15% deploy AI capabilities in their work. While the rise of AI will eliminate 85 million jobs, it will create 97 million new ones by 2025. More AI Statistics to swear by:

Source: Dataprot.net
Enterprise AI Use Cases
AI can be assembled in various forms in business management: Spam filters, smart email categorization, voice to text features, smart personal assistants – SIRI, Cortona, Google Now, Automated responders and online customer support, process automation, sales and business forecasting, security surveillance, smart devices that adjust according to behaviour, automated insights for data-driven industries like financial services, or e-commerce.
E-Commerce has absorbed AI in marketing as recommendations and content creation, pattern and image recognition, personalization of news feeds, language recognition to include unstructured data from customers and sales prospects, ad targeting and optimization, real-time bidding, customer segmentation, automated web design, social semantics and sentiment analysis, predictive customer service.
In Conclusion: Summation of Need, Purpose, Benefits, Use Cases of Enterprise AI in Business
Artificial Intelligence companies recommend developers, executives, PR professionals, regulators, and consumers to help them reap the potential of AI in a manner that's worthy of trust and profitable to all. Enterprise AI propagates digital transformation. Every enterprise software application is going to be AI-enabled in the coming times. Just as organizations are not able to conduct their business effectively without a CRM or an ERP system, they won't be able to effectively operate without the use of enterprise Artificial Intelligence capabilities. Therefore, it is imperative to build, deploy, operate, and scale enterprise AI for business survival these days.
Please share your suggestions at [email protected]