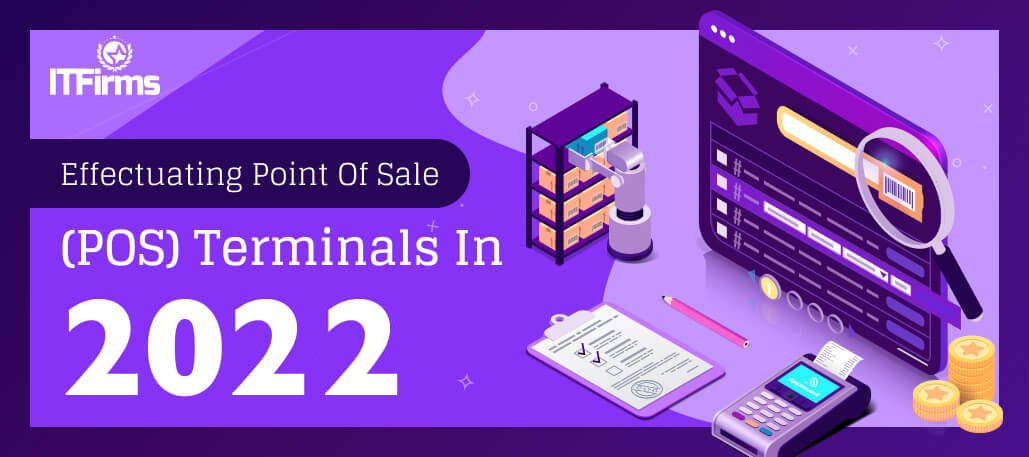 Effectuating Point of Sale (POS) Terminals in 2022
Quickies of Point of Sale (POS) Terminals!
Point of sale terminals does more than just sales. It is the interface between the customer and the business. It makes it easier for the 'business' to analyze data, track inventory, connect with customers, and manage processes and save your time. It includes email marketing, loyalty programs, and other capabilities that streamline processes and save time. Best POS Software provide reliable customer support, reachable around the clock, so even if the business keeps irregular hours or works late, customers receive the updates whenever they need them.
What is a Point of Sale Terminal (POS)?
A POS records the products or services a customer intends to buy, adds up the item's cost, calculates taxes, accepts various forms of payments, and generates a receipt. It adds o to the functionality of the cash register to manage sales data, inventory, customers, and employees. They have three parts: (1) software, (2) hardware, and (3) a credit card processor.
What's trending in Point of Sale?
POS systems should be able to accept mobile payment methods and provide access to real-time data. It will shoot up your business over to maintaining a competitive edge, also improving the customer experience through providing a fast and secure payment method. It also facilitates paying for food and merchandise through contactless payments.
What types of businesses use POS systems?
Every business with customer dealing requires some way to accept and process the payments and help 'businesses' do that. E.g. retail and restaurant establishments.
When do you know that it is time to integrate a POS system?
POS makes the process of buying and selling easy. It saves time by automating business operations, smoothening the checkout experience, and decreasing human errors. It helps with – (1) inventory management, (2) tracking items in stock, and (3) generating new purchase orders. POS terminals assist in tracking sales from both your e-commerce platforms and your physical retail store in real-time or across multiple locations. Reporting in real-time can give insight into which items are your best and worst sellers, help you identify your busy and slow hours, days, seasons, so you can optimize how you staff your business.
Best POS System Examples
| | | | | | | | |
| --- | --- | --- | --- | --- | --- | --- | --- |
| POS System | Best Use Case | Industries Served | Free Trial | Starting Price Per Plan | Third-Party Integrations | Third-Party Payment Processor Compatibility | Customer Service |
| Lightspeed | Retail | Retail, restaurants and golf | 14 days | $69 per month | More than 200 apps | Yes | Phone and email |
| Epos Now | Ease of use | Hospitality and retail | 30 days | $39 per month | More than 100 apps | Yes | Phone, email and live chat |
| Toast | Online Ordering | Restaurants | None | $69 per month | More than 65 apps | None | Phone, email and live chat |
| TouchBistro | Restaurant | Restaurants | None | $69 per month | More than 20 apps | Yes | Phone and email |
| Upserve | POS mobile app for restaurants | Restaurants | None | $59 per month (plus $60 per terminal) | More than 45 apps | None | Phone, email and live chat |
| Lavu | Integrations | Restaurants | None | $69 per month | More than 15 in-house integrations and more than 30 third-party integrations (60 more third-party integrations coming soon) | Yes | Phone, email and live chat |
| Square | Small businesses | Restaurants, retail and appointment booking | 30 days | $60 per month per location (free plan available) | More than 200 apps | None | Phone, email, social media and live chat |
| Clover | POS hardware | Restaurants, retail, service businesses and e-commerce | 30 days | $69 per month | More than 100 apps | None | Phone and email |
| Revel Systems | Customer loyalty programs | Restaurants and retail | None | $99 per month per terminal (minimum two terminals required) | More than 50 apps | Yes | Phone and online support ticket |
| Heartland | Customer support | Home services, liquor, restaurants, retail, service professionals and quick service | 7 days | Custom quote (must contact company) | Yes | Yes | Phone, email, live chat and online support ticket |
| CardConnect | Merchant services | Growing businesses | None | Custom quote (must contact company) | Yes | None | Phone and email |
Exclusive Case Study – Clover POS Terminal
Clover brings in affordable POS software and 'exceptional' POS hardware. Its software pricing plans fit business owners' varying budgets, 'pricing' plans start at $9.95/month, with a 30-day free trial to test it out. Clover's POS supports online ordering and contactless payments. It allows using your third-party 'hardware' (if compatible), or you can purchase Clover's 'hardware' sold through third-party affiliates so you can find the lowest price for your POS hardware. The company offers a Clover station Package for $1,399, or $466 per month for three months; it includes a POS terminal, cash drawer, and receipt printer.
The Clover Station Pro comes with a robust hardware package costing $1,649, or $549 per month for three months, and includes a POS terminal, cash drawer, high-speed receipt printer, and customer-facing screen.
Clover Mini is priced at $749 or $250/three months; also there is a handheld POS solution Clover Flex for $499, or $166 per month for three months.
Clover Go card reader is priced at $69 and is suitable for table-service establishments who are looking for a full-service restaurant POS option, pre-loaded with Clover dining features. The cost of Clover is $69.95/month, and an additional payment processing that costs 2.3% and an additional 10 cents for in-person transactions and 3.5% and 10 cents for manual transactions.
Clover offers many hardware peripherals as well to complete the restaurant POS system. To go with – it adds on the barcode, PIN shields, weight scales, and compatible ones like Mini, Station, Flex, GO, which helps you identify the 'hardware' compatible with the system.
Clover POS system provides users with several POS functions like inventory management (customer profiles, marketing preferences, build customer email lists), employee management, integrations – BigCommerce, Ecwid, Gusto, Quickbooks etc.
What are the different types of POS systems to consider?
Point of sale terminals can be – Cloud-based, Server-based, and Hybrid (a combination of these two types of POS systems). A hybrid POS system uses a local server, but the data is 'backed up' to the cloud. It does not interrupt your business even if the internet drops. 'Businesses' can continue to sell items even if the internet drops and the data back up once the internet connection is re-established.
What is the difference between a POS and an mPOS?
A mobile-enabled point of sale system is called mPOS. It is enabled via a tablet or a smartphone, using a card reader attached to the phone as a terminal. It 'enables' business owners to accept payments anytime, anywhere; POS and mPOS work in the same way and have similar capabilities.
What is point-of-sale 'hardware'?
Point of sale hardware consists of a range of equipment that you purchase for your business. It includes Tablets, touchscreen, computer monitor, cash drawer, credit card reader, receipt printer, barcode scanner, customer-facing screen, kitchen printer, kitchen display system (KDS), Kiosk, handheld POS device, a scale, and thermal printer paper.
How many register terminals does each location require?
The number of registers or POS terminals that a business requires depends upon their specific requirements. One 'business' can have one or more POS systems depending upon the rush and the need to reduce the wait times.
Which POS systems are the easiest to use?
Point of Sale terminals on iPads or Android tablets is the easiest to use. Some of these offer a free trial – to gain additional familiarity.
What is the difference between a POS system and a payment processor?
A point of sale terminal includes both 'software' and 'hardware' that runs on physical machines. It is ahead of just accepting the payments, maintaining customer relationships and inventory. On the other hand, payment processors send information from customers' credit cards or debit cards to your bank, and then the bank facilitates payment. A transaction goes through if the funds are available. Payment processors undergo checks to ensure 'payments' in seconds.
What credit card processors work with POS systems?
Best POS systems integrate with multiple credit card processing services so that you can shop around for the best value. Some vendors offer their credit card processing service and bundle it with their POS software and 'hardware';
If I buy a POS system, does that make me PCI compliant?
PCI compliance involves multiple factors. It includes a POS system and credit card processing service. It either stores cardholder 'data' or if the network and internet connection are secure. You may use your credit card processor to check PCI compliance. For this, you will likely require completing an annual PCI self-assessment questionnaire, and you may need to submit to system scans.
Which POS systems are the least expensive to integrate?
Cloud-based systems are the least expensive as they're simply plug-and-play. It does not require purchasing, setting up, and server maintenance. Also, POS must be integrated with other applications within the organization's technology stack. Failure to integrate the POS system with existing technology like Enterprise Resource Planning (ERP) systems can lead to time-consuming, inefficient processes and create inaccurate results due to error-prone manual inputs.
Is there a free POS system?
Yes, there are free POS systems. Major credit card processing companies like Square or PayPal come with basic POS software. POS providers also offer free hardware, with some non-cancellable contracts. These can be automatically renewable with a 30-day window.
How do POS systems make money?
The companies that provide POS charge their merchants for the POS software and hardware and tack on more fees for additional services. These may also include loyalty programs, gift cards, and integrations with other software. If your business uses multiple POS you could be charged for each one separately.
POS companies may also make money from credit card transaction fees. Even if they don't process payments, some tack on small pre-payment fees.
How important is reporting or analytics for a small business?
POS systems offer extensive reporting and analytics. It helps optimize the business, identifies sales trends, gauges the sales of products, and if you have enough inventory. You can also use it for managing and analyzing staffing and customer management. Such systems can be set up to run reports on best-performing people and loyal customers.
What security concerns should you think about in a POS system?
You must ensure the following points before buying POS for your business:
How does it store your data?
How often do you need to synchronize it with the server to backup data?
How physically secure are your servers?
Are your card-readers EMV compliant?
A POS lets you assign unique passcodes to restrict employee access. It prevents theft and records every transaction in business. It also lets you choose whether or not a manager must approve returns and voids. It also maintains shift reports and blind cash reconciliation to discourage employees from stealing from the cash drawer.
Conclusion: What to expect in 2022?
Cloud-based point of sale systems automates many processes. Although most of the consumers prefer buying online post-pandemic, tableside ordering has also become commonplace. This has made POS vendors recognize more e-commerce and unattended shopping features into their systems. Restaurant POS software is also looking towards incentivizing existing and new customers as many businesses are struggling due to less turnout. POS software is also accommodating self-service features owing to the surge in popularity and precautions. Follow us for more!
Please share your suggestions at [email protected]