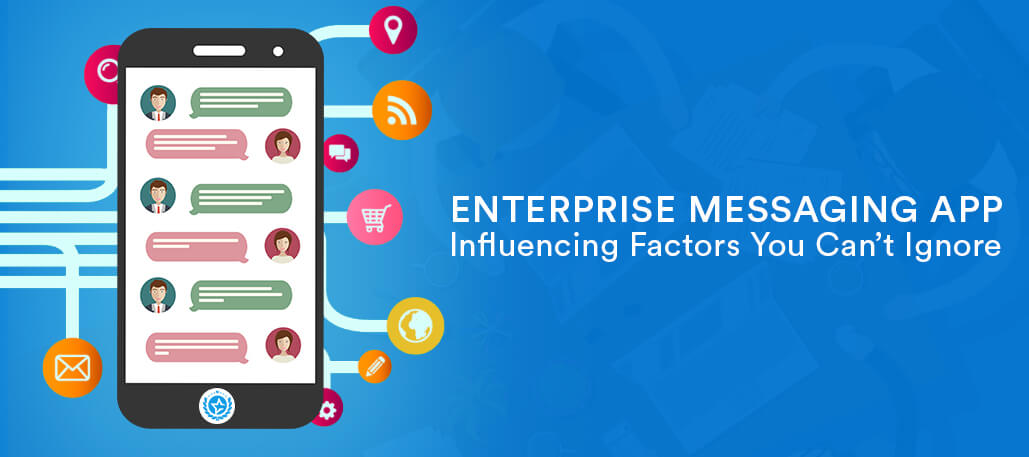 Enterprise Messaging App- Influencing Factors You Can't Ignore
Messaging apps for team collaboration within an enterprise is the new panacea the entire technology landscape is looking at. Earlier considered as counterproductive, enterprise messaging apps are making a move. Organizations are inclined towards building a platform that effectively collaborates the teams within.
The anticipation level is such that 70% to 80% of the internal communication is expected to take place via these apps using mobile devices like smartphones and tablets.
Earlier the organizations were hesitant in deploying enterprise messaging apps due to the risk of confidential information being exposed to outsiders as well as the worry of workers' productivity being lowered was also prevalent. However, conceptions like these are currently being dumped by the companies as they are actively participating in enterprise application development.
The real-time benefits of having an enterprise app are unquestionable and with messaging technology put to an optimum use, it can open gates for new possibilities which were bleak at one point of time.
Companies involving in building enterprise messaging apps for their businesses need to consider these important factors before they take a step forward in the same regard.
1. Encryption
The feature that can't be overlooked at any cost is encryption. With sensitive information circulating within the enterprise, it's necessary to have solutions that are safe and secure. The information gets transferred and stored on the servers, which require a healthy medium to safeguard the same. The company must have full control over the data being transmitted, processed and stored at specific server location with an encrypted password- diminishing the probability of getting breached by the hackers.
The prime goal of an organization is to protect the corporate servers from external breach because a leak in the system is the most undesirable thing for a company, or isn't it?
2. Artificial intelligence
For increased productivity, artificial intelligence can be utilized to perform tasks that don't require humans. The bots can be used to interpret the communication, learn the necessary responses that can in turn help in automating the process. Also, the bots need not be summoned each time as they can automatically be triggered whenever the situation arises. Messaging bots are capable enough to read and understand the human language or the machine-generated text, which further can be analyzed to take necessary actions across integrated systems. They can certainly improve the productivity as the time saved can be utilized in a variety of other ways by skilled employees.
3. Scope of integration
Your application needs to be flexible when it comes to third party integrations. Your messaging app can't rely on in-built functionalities as most of the vendors and companies look outside for CRM, ticketing and email support. There will always be a requirement for third-party API integrations, therefore it is necessary to take note of the same during the enterprise app development process. Your developers should be aware of the fact that in future your app needs external APIs for smoother functioning. Hence, the need of the hour is to build solutions that connect seamlessly with the desired API.
4. Conversation format
Workstream messaging in earlier days worked on the simple principle of basic group chats, popularly known as Internet Relay Chat (IRC). In this, the conversations were presented in a chronological format and new content (messages) got appended to the active stack. However, when the team size and conversations length increased, it became difficult to follow the topic, which raised questions for developers to integrate something that's easy to comprehend and is user-friendly. This gave rise to threaded conversations and workstream messaging app providers like Slack, Spark included the same in their offering list.
5. Discovery of people and content
The communications done is only beneficial when you can retrieve the desired set of information as per your needs- without which it's a waste. The extensive databases attached should have an advanced search option allowing users to search what's desired at that moment of time. For an ultimate product to do rounds in the tech fraternity or at least within your organization, you need to include search capabilities in your app, which can be extended to new heights with time that includes nested search for narrow downing results, extending the search scope to different chat rooms, search filter options, synonym support (means the system should understand that 'photo' and 'picture' are same) and more.
Final Words
Enterprise messaging app can do wonders to your organization's routine processing driving you to new undiscovered heights. It can work across different verticals and for varied use-cases, but only if essential features are included. Take note of the above-mentioned factors when you commit to enterprise application development for supreme results and efficiency. You can get in touch with professional enterprise app development agencies for expert consultation.