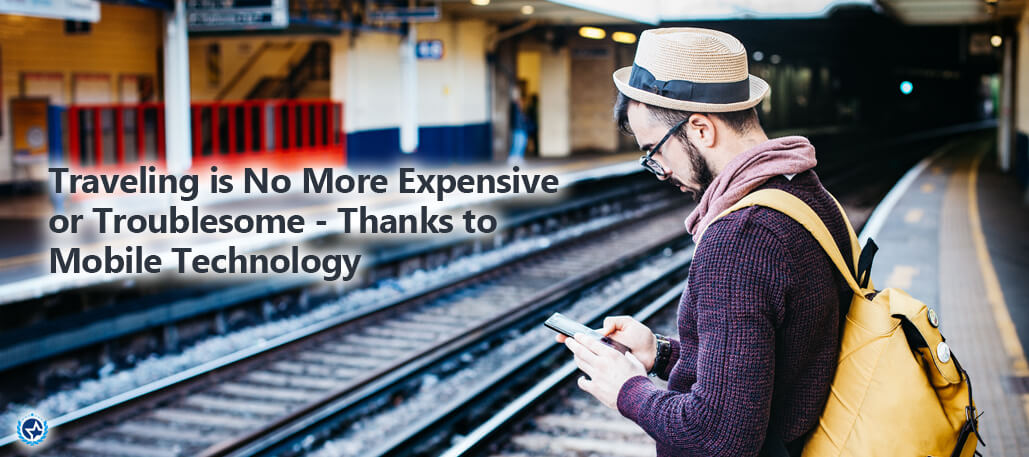 Traveling is No More Expensive or Troublesome – Thanks to Mobile Technology
Gone are the days when travelers had to think twice before planning a trip. In fact, drafting a plan was the toughest task for wanderers with so many questions boggling their mind at once. The things were quite different a decade ago, for example, a limited number of plans that too rigid, the competition was less due to the limited reach of the travelers to nearby agents, package prices were high and a variety of other notable factors.
But, the scenario has completely changed in the past few years or you can say since the evolution of mobile technology and smartphones. Planning a trip has become easier with all the essential procedures done at the comfort of our homes. From booking a hotel down under in Australia to finding a zostel in London, everything has been revamped and that too for the good.
This transformation is a consequence of users opting for easier ways and simple tricks to save on their travel expenses, which was just a presumption a few years back. With a slew of apps at disposal, travelers find themselves at the advantage while planning a trip to a new foreign land.
If you are new to planning trips online and are unaware of the real benefits of the same, you need to explore this,
1. You can grab deals and bypass rigid plans offered by local travel agents
There are multiple online portals that offer some of the best travel deals, which you can get it customized as per your needs and requirements. Meaning no more dependency on rigid plans offered by the travel agents near you. With a click of a button, you can explore the cheapest, trustworthy and customized airfares, flights, flight routes, layovers, hotels and more.
2. Last minute deals can help you book lavish hotels at cheap rates
With apps like HotelQuickly, you can plan a trip spontaneously grabbing the last-minute deals for lavish hotels at cheap rates. This was not the case in the days of past.
3. Carrying a map is old school now
The technology has let travelers remove the map from their carrying list as all the fascinating places can be pinned on the Google maps, which also assists while you navigate through the route.
4. Local transport facility is no more a worry
Worrying about how you'll travel to your hotel once you get down to the airport? Technology has eased this aspect down as well. With on-demand taxi services like Uber and GrabTaxi your local travel gets sorted as they offer services round the clock.
5. Technology demands Internet connection
Today, airports are equipped with Wi-Fi stations that enable your device to connect to the internet and do things by tapping at your smart device's screen. Also, you can buy a local SIM card from the airport itself for simplifying your stay and the journey ahead.
A study suggests that in the UK three out of four people own a smartphone, which means if you are a travel startup or own a travel agency then it's high time to make a move and you should probably need to get in touch with a mobile app development firm and get your business online.
Mobile technology has helped various domains to prosper and travel industry is no exception. The mobile apps continue to thrive the travel domain as we are introduced to new apps on a daily basis. Here are a few apps, which you, as a traveler would love to have downloaded on your smart device.
1. Google Translate
It's one of the helpful apps especially when you are traveling abroad and language is one big barrier. It's quick, handy and offers translation for more than 103 languages via voice, typing and photo (about 30 languages). It also enables users to download 50 languages for offline use.
2. Overnight
If your plan doesn't have a buffer and spontaneous plans work for you then this is the app that you can't overlook. Designed for same-day stays and spontaneous travelers, it offers comfy rooms at reasonable rates. Unlike Airbnb, it is an app that not many travelers know about and offers amazing deals.
3. Skyscanner
As the name suggests, it scans every major airline for data related to price, time and layover. Analyzing the same, it lists options with the best possible combination. You can get flights £100 or less than usual booking portals, therefore it's a big hit. However, for the best deals and bargains, let it lead you to a holiday destination instead you searching for one. You need to be open to new places and dates and let the system find you the best holiday destination this summer. And trust me, you won't be disappointed.
4. Seatsplanet
A carpooling app that is hard to ignore. If you are looking for a reasonable yet efficient transportation medium, then Seatsplanet tops the list. With an easy to use interface, it allows users to explore through available rides, reserve them for future and track them in real-time. Details like car's manufacturer, year of production, occupancy, driver's ratings and more are displayed for the better understanding of the drive.
5. Uber
On-demand taxi service apps like Uber come in handy if you are traveling out of the country or even out of your town. With an exceptional reach and worldwide operations, Uber can be your go-to app for taxi services. The app is quite intuitive and responds to human touch brilliantly. Plus, drivers are certified, reliable and professional.
Closure
One point is clear that mobile is the future and the world isn't taking a step back. The number of smartphones will only increase from now and it'll become harder to engage the younger audience. Innovation will be key in the times to come. Unless you come up with some new refreshing ideas, users won't value your existing procedures for long.
The time is probably right to get your travel business online by gaining insights from an experienced mobile app development firm.