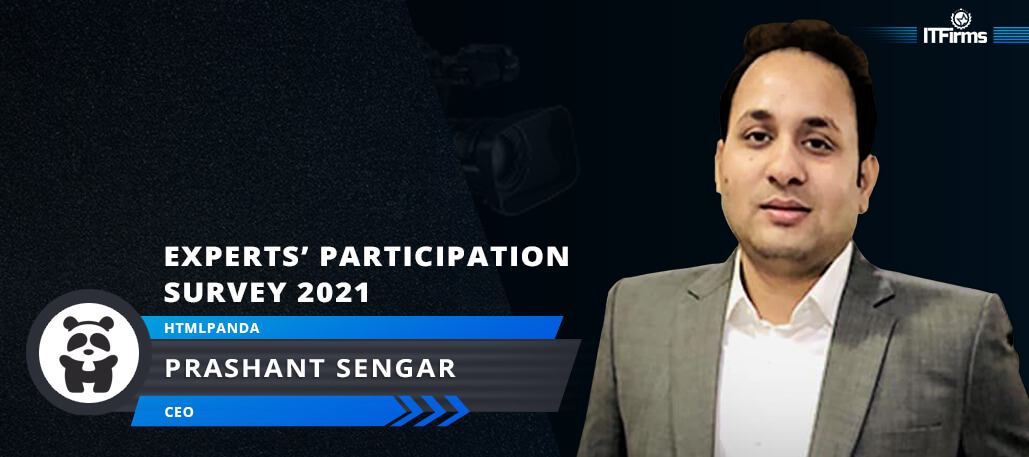 Exclusive Interview with Prashant Sengar – CEO, HTMLPanda
Here is the exclusive interview of Prashant Sengar
–

CEO, HTMLPanda only on ITFirms. In this exclusive interview, he shared his

insights on upcoming tech trends for 2021

and many more things.
Let's check his success story and thoughts.
1. Tell us in brief about your company and the leadership.
HTMLPanda is a full-service web development agency with offices in Boston, Walpole and, NYC, serving businesses of all types globally. Since its inception, the company has been the torchbearer of innovations in the industry. From a business point of view, the company believes in delivering the best services, experience, and promises. That said, HTMLPanda works closely with clients to create purpose-driven, informative, and user-friendly websites that serve visitors properly. The team of highly-qualified developers at HTMLPanda knows how to develop pixel-perfect websites complemented with higher conversion rates.
2. How would you describe your growth trajectory in 2019-2020? Any particular achievement? Any disappointment?
The year 2020 has undoubtedly been an unprecedented year of all times for all of us. However, HTMLPanda looked through the positives and took the opportunity to turn the sulking year into a growth-driving year. A big thanks to our employees and customers who supported us throughout and stayed patient about all the sudden changes.
Talking about achievements, I would say we've been experiencing consistent growth over the last few years, whether it's about customers' satisfaction, timely project deliveries, employees' satisfaction, or increased ROI. Though this year, we achieved momentum, sustainability, and learned adaptability, which resulted in greater achievements.
Ah! Disappointments. Well, I would say the ups and downs are an inevitable part of every business journey. But, if perceived rightly, they can contribute to an individual's growth and maturity. The year 2020 introduced me to some disappointments, but my team and I took them as an opportunity, learned, and grew stronger.
3. Please describe the operational structure of your company- from the moment a client walks in, to the product deployment.
HTMLPanda believes in serving clients in the best possible manner. For us, client satisfaction is above all, and we like to keep it intact. Once a potential client contacts us, we contact them back. Our manager discusses the project in brief with the client, after which we meet the client to understand further and analyze their project requirements, scope, and more. After that, we implement the following process diligently:
Step 1: Understand the business concept and brainstorm.
Step 2: Requirement analysis and strategy development
Step 3: Wireframe and website development
Step 4: Quality analysis and testing
Step 5: Project deployment
Step 6: Maintenance and support
4. What engagement models do you offer? How should a client choose?
From startups to big enterprises, we serve them all. We are full-stack developers and work with a solution-oriented mind to deliver the best to our clients. When it comes to the engagement model, you can't have one that can work for all business types. The "one size fits all" approach doesn't work here. Choosing the right engagement model is always subjective to the client's budget and requirements.
That being said, we usually offer fixed price models for all business types. Before starting out with the project, we connect our customers with highly skilled consultants to evaluate the project needs, business goals, and objectives. This way, we can propose the best-suited engagement model accordingly.
5. What do you as a leader prioritizes – vertical expansion of your business or the horizontal expansion of your expertise and services? How do you balance both?
Business expansion is a well-thought-out and strategic decision to take. While vertical expansion is a priority and a need for every business to grow, a leader must prioritize both vertical and horizontal expansion to grow. Choosing one expansion will be a disrespect to another, no? As the CEO and founder, I personally emphasize both. Time and again, we move ahead, expanding our services to include new and relevant expertise to our offerings. To balance both horizontal and vertical expansion, HTMLPanda invests in R&D of new technologies, and that's how we stay ahead in the game.
6. What is your outlook for 2020?
As I said earlier, the year 2020 has been an unforeseen year of all time, but of all the worsened situations, my team and I looked at the positive sides. As we enter into 2021 this year, we will follow the same approach and see the positive regardless of the situation. Besides, as always, we will continue serving our clients with more positivity and diligence.
7. Any particular technology or industry you would be targeting? How do you plan to prepare your workforce for the upcoming technology upgrade?
HTMLPanda is a leading web solution company that believes in adaptability. We gauge the current market needs, bandwagons, and adapt accordingly.
Talking about targeting technology or industry, well, we have recently started out with headless commerce and lightspeed development services. We believe that the future of e-commerce is headless due to the various offerings it has to offer. Moreover, Lightspeed will be an incredible option for those who are looking for lightning-fast e-commerce development.
Our professionals keep themselves updated through self-education. However, from time to time, we organize training for our team to help them stay abreast of the latest trends and technologies to stay competitive.
8. With technologies like React and Node that can be used for both web applications and mobile apps, how do you envision the development methodology to be in the future?
User intent and behavior are ever-shifting, leading to a change in demand for technologies. HTMLPanda does not deal with mobile app solutions; however, we leverage React and Node.js to make web development faster and efficient than ever. We believe that the approach should be chosen independently varies from project to project. In the future, we will continue to adapt to the technologies best-suited for our clients.
9. Other than technical expertise, what traits you believe are essential for any app development firm to succeed in this rapidly evolving industry?
People today have become way smarter than ever. Every client who hires a potential web development agency first looks for the expertise and technology stack. However, a client looks for so many other considerable things, such as previous work (portfolio), transparency, diligence, professionalism, costing, reviews, and most importantly, experience in the relevant industry. We believe other than technical expertise, understanding clients' needs, delivering quality work, timely delivery, and better reliability matter a lot.
10. How do you assess the role of research agencies like ITFirms in bridging the gap between clients and service providers?
Testimonials speak more powerfully and louder about any company in today's digital world. Research agencies like ITFirms play a crucial role as a link between clients and web development companies. These agencies have helped customers find reliable service providers. In short, I believe that ITFirms is a well-known, trusted resource that connects the right service providers to the right clients and helps them serve each other in a better way.
---
  HTMLPanda
  https://www.htmlpanda.com
  [email protected]