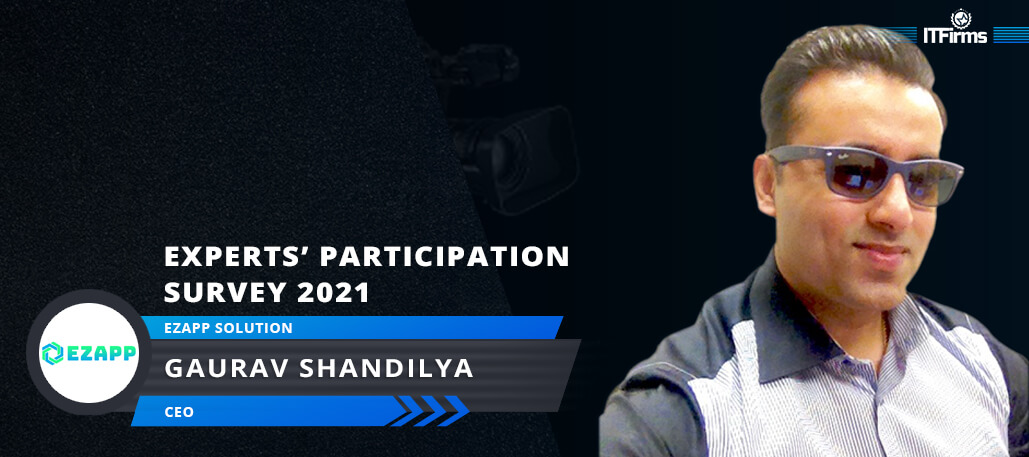 Exclusive Interview with Gaurav Shandilya – CEO, Ezapp Solution
Here is the exclusive interview of Gaurav Shandilya
–

CEO, Ezapp Solution only on ITFirms. In this exclusive interview, he shared his

insights on upcoming tech trends for 2021

and many more things.
Let's check his success story and thoughts.
1. Tell us in brief about your company and the leadership.
EzappSolution takes pride in serving numerous happy customers across various industries, all over the world for over a decade with superior quality technologies and ideas. We are a step ahead when it comes to innovative Web and Mobile Application development and solutions.
EzappSolution is one of the pioneers in the world of information technology and considers our valued clientele's requirement as the top-most priority. Our highly-skilled team of experts provide world-class services and solutions to our customers whilst ensuring high returns on their investments. With ownership and stringent quality control measures we create world-class content, high-quality graphics, superior services and result oriented solutions on time as well as within your budget. Leadership is focused on Customer needs and solving the their problems using right technologies and making the product reality with a low cost budget.
2. How would you describe your growth trajectory in 2019-2020? Any particular achievement? Any disappointment?
Ezapp Solution has made significant growth in Artificial Intelligence Services. Ezapp Solution has built in-house Enterprise applications for CPG Supply Chain Industry supporting:
Automation of Shipment Forecast
Market Mix Sales Forecasting for Sales Optimization
Consumption Forecast based on market scenarios
Demand Sensing
Sales Activation Pricing for Retail Stores and Ecommerce platforms
Trade Promotions and Optimizations for CPG Clients
3. Please describe the operational structure of your company- from the moment a client walks in, to the product deployment.
The Ezapp Solution Client is not just treated as Opportunity. Paradigm of Client is translated to solving problems and delivering tangible solutions beyond the market. Operationally, Ezapp Solution begins software development with a Lean and Agile mindset. We use reusable code libraries, document Best practices, deploy products on Serverless architecture, perform smoke testing and A/B testing. Follow an automated code development approach leveraging Quarks.ai platform for rapid development and make product market fit.
4. What engagement models do you offer? How should a client choose?
Engagement Models: Strategic Reliable Development Model: In this Model we review core Business Requirements, address pain points for scaling the development approach. We help clients to choose the right architecture and tools for scalable Product. Provide Certified Machine Learning Engineers to realize Product vision to Market placement.
Build MVP: Our Experts allow your team to compare your Product performance with Marketplace competition if any. Ezapp Solution ensures, minimum features sets achieves the Problem solving for the end customer so that deploying most economical MVP can have early stage success.
Support Product Scaling: provide Ezapp Solution developed AI tools for marketing to capture growth, retain customers, manage campaigns with AI models to maximize ROI and Increase profitability
5. What do you as a leader prioritizes – vertical expansion of your business or the horizontal expansion of your expertise and services? How do you balance both?
Ezapp Leader's Vision to expand the Services Vertically to ensure Ezapp Solution can dominate the marketplace as a Leader in the Space of AI and Business Analytics.
6. What is your outlook for 2020?
Outlook for 2021 is forecasted for exceptional growth. Market needs are evolving in the space of Artificial Intelligence and Ezapp Solution is ensuring that new products can fit the needs for the marketplace and a sustainable growth can be achieved.
7. Any particular technology or industry you would be targeting? How do you plan to prepare your workforce for the upcoming technology upgrade?
Industry Focus for Ezapp Solution is Supply Chain, CPG, FinTech, Insurance, Ecommerce, Retail and StartUps.
8. With technologies like React and Node that can be used for both web applications and mobile apps, how do you envision the development methodology to be in the future?
Choosing the Node.js for developing web apps and mobile apps is undoubtedly 51% of the developers choice because of its speed and multi-user proficiency. Secondly, since it is majorly based on JavaScript, therefore, making a real-time application becomes easier with Node.js. All-in-all, Node.Js is a combination of library, framework, and other development tools that simplifies the job of full-stack web developer and ensure effortless development. Development methodology will be more driven on code less architecture. Ezapp has built in-house tool that allows it to use repeatable code and reduce code for rapid development with custom APIs. Ezapp Solution typically reduces time to do Code development up to 50% and cost up to 60% in most app developments.
9. Other than technical expertise, what traits you believe are essential for any app development firm to succeed in this rapidly evolving industry?
Traits that are the driving factors to succeed in rapidly evolving industry:
Right Mix of Resources
Culture
Innovative Product suites
10. How do you assess the role of research agencies like ITFirms in bridging the gap between clients and service providers?
We believe that Ezapp Solution can reach to Target audience with the help ITFirms and build the awareness of its Product suites that can significantly make exceptional impact for the growth of the Clients. Ezapp Solution can also build the level of trust and confidence for reliability and quality of Product Development.
---
  EzappSolution
  http://www.ezappsolution.us
  [email protected]