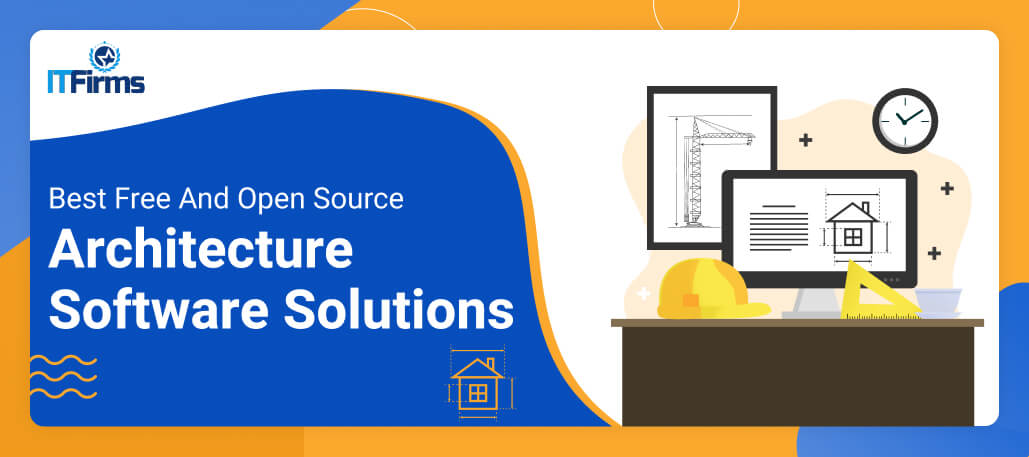 Best Free and Open Source Architecture Software Solutions
Know the features of the best open-source architecture software, which makes them stand out. Reach out to us if you wish to create an architecture solution of your own!
Architecture Software Solutions are the tools used by architects to design the interiors of a home. These are based on smart building technology that makes it easier to create construction drawings, floor plans, 3D renderings, elevations, 360 panoramic etc.
Here is a list of the best open-source architecture software:
Sweet Home 3D is an open-source and free architectural design software. Users can create 2D and 3D previews, decorate and arrange their interiors, adjust the placement of various things in the house or office or the property that they are trying to create. This architectural drawing software allows importing and arranging furniture to create a virtual environment. It brings in one of the easiest and fastest ways to design the interiors of a location and show the 3D view. It lets users create detailed plans for separate rooms and the whole house, place furniture and various objects within, supporting the 3D model files at OBJ, DAE, 3DS format, ZIP files, KMZ files and many similar types. Importing is easy.
Features of Sweet Home 3D
It is a cloud-based and on-premise interior design solution that is useful for creating 2D/3D house plans, update colours, texture, orientation, size of furniture and dragging and dropping things that are required.
Sweet Home 3D helps designers and architects to draw house plans and arrange things virtually within the space.
It allows drawing walls and rooms on one or more levels.
It allows drag and drops doors, windows, furniture from a catalogue onto the plan.
Users can update the colours, textures, orientation of the furniture and rooms.
This software also enables giving a 3D view of all the changes.
It allows for creating photorealistic images and videos with various light sources.
Sweet Home 3D allows importing additional 3D models and exports the plan in various formats.
Blender is a free and open-source 3D modelling software. It is good for creating technical and architectural drawings – modelling, animation, rigging, simulation, motion tracking, rendering, compositing, 2D animation pipeline and video editing. It makes use of NPR techniques and similar procedures to create 2D models and render full projects which look similar to AutoCAD, Revit, ArchiCAD etc. Blender integrates other 3D graphic design programs and pipeline tools. It is normally in form of non-compiled Python Scripts which are essentially just text files.
Features of Blender
This is suitable for high-quality digital animation, VFX, and game design on top of 3D printing.
This software is suitable to be used for commercial as well as for educational purposes.
It comes with the support of external libraries that are helpful in animation.
It comes with a free license and a great set of tools for texturing and lightning.
It has a very intuitive and easy to understand modelling workflows
This architectural software is suitable for small businesses or for individuals that are low on budget.
Its built-in cycles rendering engine gives an ultra-realistic rendering
It also has a feature for storyboard
It is a platform with many components. This software comes with extreme querying capabilities and helps in getting objectivity from bubble-diagramming stages. It is based on building an information modeller.
Features of TAD
This software helps users with iterative design architecture.
It is composed of a flexible design system with add-ons extended functionality.
It is composed of 'Ardela' which is a built-in language for creating architectural designs.
This software comes with robust object orientation, offering a 3D view (draft).
FreeCAD is an open-source model to create 3D and 2D figures. It comes with many components to adjust dimensions, extract design details, sketch geometry, change parameters, design real-life objects of any size, read and write many file formats like STEP, IGES, STL, SVG, DXF, OBJ, IFC, DAE and many others, workable on may platform like Windows, MAC and Linux.
Features of FreeCAD
FreeCAD equips the users with modern Finite Element Analysis (FEA) tools
It also brings in the experimental CFD, BIM, Geodata workbenches, Path workbench, a robot simulation module
It allows users to study robot movements
It is a diagram tool used to create architectural patterns, flowcharts, floor plans, mind maps, project charts, and business visuals. It appears in two versions – online and downloadable editions for Windows desktop. It offers a complete suite of templates, diagrams, symbols to design residential or commercial floor plans, organizational charts, electrical designs, CAD and engineering diagrams, landscape designs, app and suite mock-ups, network diagrams, wireframes etc. It also features easy file sharing and integrations with Confluence, Jira, MS Office, GSuite Apps, Trello, Box and more. It facilitates file storage, sharing, and collaboration and allows importing, editing, exporting Visio files (VSD/VSDX). This tool is available offline and online.
Features of SmartDraw
It can be used to add photos and images
Smartdraw has auto-adjusting to add, delete or move shapes
It has an automatic formatting feature
Smartdraw is available in 100 languages
It has diagrams based on charts
It features collaboration tools
Smartdraw can be used to create and edit diagrams online
It makes use of design themes
ArchiMate Modelling is a free and open-source modelling toolkit to create ArchiMate models, patterns and sketches that can be used by thousands of Enterprise Architects across the world. It provides a low-cost solution for those looking to model interior designs. It is a standard that supports the description, analysis, and visualization of architecture within and across business domains.
Features of ArchiMate Modelling
It supports the ArchiMate® 3.1 language
Dynamic Viewpoints, The Visualiser, Hints View
It works across platforms – Windows, Mac or Linux
It comes with Sketch View
Canvas Modelling Toolkit
It as well features modelling, visualization, simulation and diagramming
SketchUp free architect software that can be used to visualize and create schematic designs to construct documentation, 3D and 2D architectural designs, interiors, landscapes, furniture etc. This architectural drawing software is designed to act like a Pencil tool for drawing more complicated 3D drawings. It can be used to draw plans, elevations, sections, build details and title blocks. It is used to design animations, images, videos, create flyovers, walkthroughs and much more.
Features of SketchUp
Sketchup is designed for web
It comes with unlimited cloud storage
It is supported by a large community
It features a desktop client and is accompanied by 2D documentation
It is suitable for model viewing
It can be used to optimize your workflow and create 3D Warehouse
Sketchup enables making users realize the augmented and virtual reality through designs
It can be used to bend geometry with a single click
It can be used to create photo realistic 3D architectural renderings and custom extensions
This architectural design software can be used to generate cost estimated and cultists by exporting reports directly from the model
Vectorworks is free architecture software, which is good for open-source 2D and 3D modelling, created by Vectorworks Inc. It is an on-premise application providing extensive 2D drafting, BIM and rendering capabilities for your architectural and landscape design requirements. The tools and features aligned to it make it easy to use and flexible. It is good for designing and development presentations and construction drawings. It is good for freelancers, start-ups, SME's and Enterprises.
Features of VectorWorks
VectorWorks can be used for Project Management
It is good for managing tasks
VectorWorks can be used for BIM Modelling
It is good for Documentation Management
VectorWorks can be used for Drafting
It is good for Visualization / Presentation
VectorWorks can be used for 2D Drawing
It is good for 3D Modelling
It comes with a smart options display
quick search
VectorWorks Graphics Module Cache
Smart Markers
Materials
Grade Object Improvements
Structural Grids
Excel Import/Export
3D Modelling Enhancements
Project Sharing Server
Railings and Fences
Detachable Tab Palletes
Duplicate Array and Move by Points
2D Graphics and Presentations
NBS Chorus
Enscape for VectorWorks
Live Data Visualization
GIS Improvements
History-Based Modelling
VectorWorks Graphics Module Improvements
IFC Referencing
List Browser Direct Editing
Great Section Views
Data Tag Enhancements
Selecting The Best Free And Open Source Architecture Software Solution
The choice of a tool to design the architecture/interiors of space should depend upon the value for money, ease of use, customer support, and features. Hope this list helps you in making the best selection. React out to us in case of queries or if you want us to add more to this list.