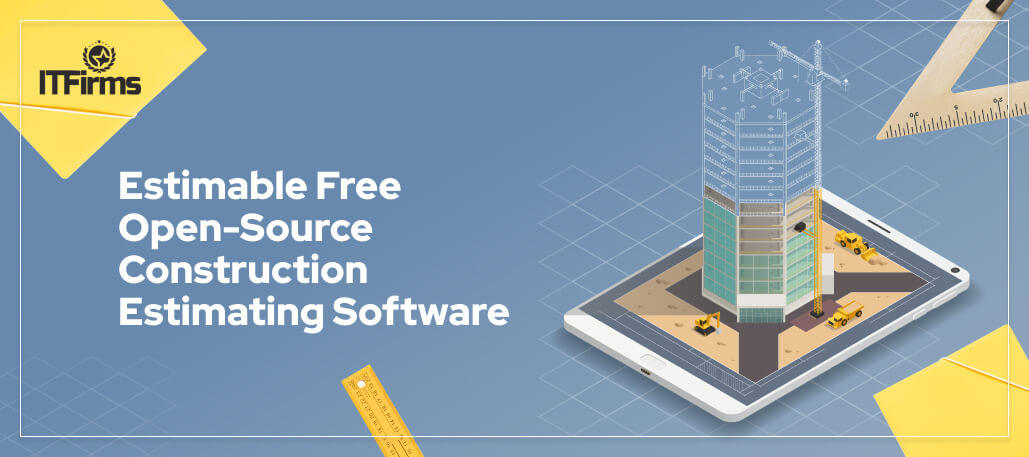 Estimable Free Open-Source Construction Estimating Software
Here is a quick overview of the best free open-source construction estimation software. We'll find out how they work and who needs them!
Construction projects are outlined by labour, materials, services, equipment, and uncertainty. These are the tools that are particularly helpful for business owners, contractors, architects, engineers and other professionals within the construction industry to prepare the cost estimates to determine the labour and material expenses, overheads and profit goals. These help in getting the most feasible idea and evaluating the total cost of the project. Construction estimating software assist in streamlining and automating the process of calculating the total expense of the project by automating the processes and formulations based on the information and data fetched from the database or spreadsheets. This eventually improves the accuracy, speed, productivity and profitability of a construction business.
How does a construction estimating software work?
This software simply estimates the overall costs of construction projects. They are featured by easy payment tracking and scheduling. This increases fluidity and customizes the entire payment calculation. It saves time and a lot of effort, helps connect with the team, centralizes all the tasks. This increases ease of use and allows real-time access to your online database.
Who needs construction estimating software?
Construction estimating apps can help contractors, civil engineers, architects and interiors designers to plan landscape, interior design and other services. Constructions estimating formulas are helpful for businesses dealing in frequent cost-based adjustments and estimates, then estimation software can improve and simplify your workspace.
What are the most important features of construction estimating software?
Construction estimating software free open-source must be able to integrate with the programs already in use.
They must allow importing and exporting data from Microsoft Excel spreadsheets for simpler information sharing.
Such construction cost database apps help estimate the cost of the items once the takeoff information is imported.
It allows contractors and project managers to create a material takeoff and estimate the overall project cost. This way the overall cost projections and procedures are more accurate.
Why is the construction estimating software improvement over manual estimating?
Such software automates the manual calculation of tracking estimates and storing the data in the cloud. This increases productivity and improves communication between the contractors and buyers pretty much.
Venting the 10 Best Free Open-Source Construction Estimating Software List
Cost-estimating software must be able to estimate the cost of the project must be able to estimate the cost of the database, must be able to generate the proposal, must be able to calculate the quantity of the material required, must have a feature to report, must be able to manage the cash flow, track payment of invoices like equipment bills, material cost and labour charges etc. Every construction project is unique with different base requirements, budget, exteriors/interiors, therefore the cost varies accordingly. The software list that we intend to share is illustrative and depicts only the best free and open-source construction software available in the market in 2022.
Assemble Systems provides a SaaS solution that enables construction professionals to condition, query and connect BIM data to key workflows including design reviews, takeoffs, estimating, change management, value engineering and schedule management.
Key Features of Assemble
Stores drawings
Building information
Models and point clouds
It lets construction workers connect, query and condition data for key workflows like estimating, scheduling, finance, bid management, project management and site management.
Procore construction software manages your construction projects, resources and financials from planning to closeout, connects every project contributor to solutions built specifically for the industry for the owner, the general contractor and the specialty contractor.
Key Features of Procore
Project management
Project Financials
Quality and Safety
Design Coordination
Invoice Management
Tender Management
Key Features of CatalystK
CatalystK calculates all types of work estimation like material cost, labour cost, job scheduling, budget planning.
It estimates costs, tracks work and monitors the work done.
It can create customized quotations with images
It allows you to email quotations
It allows creating sales orders
It allows leads and task management
It includes automated sales order invoice mailing system
It can generate reports
Key Features of Estimate
It is a fast and intelligent solution that can maintain assemblies and bill of material (BOM)
It maintains multiple costing standards.
It can manage clients database and suppliers
It can generate a bill of quantity, extensive cost sheets with breakups
It can analyze subcontractor and vendor quotes
It can upload and archive documents that can be referred when required
It has a web interface that is compatible with all browsers
It includes a centralized database for easy backup and maintenance.
Key Features of Stack
It streamlines team collaboration, quantity & material takeoff, and project reporting. It works well for construction takeoff and accurate estimations.
It organizes plan specifications and important documents
It allows accessing documents, project plans, reports, etc., from anywhere
It increases speed and eliminates mistakes in construction estimating and takeoffs
It provides in-depth reporting for each task and project, helping to analyze important details
It keeps team members, contractors, business owners, and stakeholders on the same page of ongoing and upcoming construction projects
Key Features of Methvin
It estimates projects, publishes tenders, and creates a comparison that can help businesses in searching for potential business opportunities.
It automates pre-construction planning accurately
Provides fast and accurate takeoffs for any construction plan
Enables real-time collaboration
Includes integration capabilities providing extra functionality
Provides simple and complex estimation with a worksheet
Includes Gantt scheduler
Make collaboration easier between the contractor and the client
Key Features of Clear Estimates
It includes powerful templates that allow you to get complete estimates within seconds.
It also helps in creating professional proposals with your brand identity. ClearEstimates can easily integrate with CRMs and email marketing tools to provide extra functionality. It can have multiple users and allows for easy collaboration.
Can create accurate estimates in minutes
Includes pre-loaded data including material and labour costs
Key Features of EZ Construction Estimator
It allows you to attach pictures and blueprints in estimates
Suits to new construction estimating or re-modelling bidding
It helps in creating documents and reports
It helps in automatically calculating the floor area, wall areas, and wall lengths
It allows you to break down estimates in small areas
Key Features of iScope
It suits the unique needs of contractors, appraisers, public insurance adjusters, and others involved in estimating losses.
It includes user-friendly controls
It has built-in room lists with standard measurements
It includes customizable policyholder acknowledgment clauses
It can import pictures
It has the ability to ad factoring to the entire estimate
It enables adding task lists
It includes powerful search features
Key Features of PriMus
It is used by project designers, site managers, and construction companies for simplifying collaboration, coordination, and data exchange.
It includes extensive construction cost estimation database
It helps in optimizing work execution costs
It allows you to obtain fast and accurate construction cost estimates
It allows extracting accurate metric data directly from the project's BIM model
It helps in recording daily site reports easily even from mobile devices
Key Features of eTakeoffDimension
It includes simple measurement capabilities
It allows you to share takeoff details, annotations, and issues with project managers and other team members
It allows you to flip/rotate measurements
It facilitates scaling in a construction plan and advanced measuring
It enables annotating drawings with text, lines, shapes, clouds, arrows, etc.
It allows comparing two drawings.
It includes FTP integration to present construction estimation in the form of a website.
Key Features of BidScreen XL
BidScreen XL measures on-screen PDF, DWG, DXF, TIF, and other file types
It works well with vector files and gets exact measurements by isolating layers and simply snapping to the object
It provides new excel ribbon user interface under Excel 2007 and Excel 2010
It measures the cut and fill areas for each cross-section and deliver takeoff volumes from cross-sections
It allows working with actual drawing file with no file conversion required
It can open multiple quantity takeoff files or multiple pages of a file quickly with a single click
Which construction estimating software will you proclaim for your task?
Speed, accuracy, efficiency, streamlined project management, consistency, convenience are all adjectives for premier construction calculation formula apps – (few suggested above). Perfect construction estimation software can help improve the accuracy of the job. It can help constructors, architects and designers make accurate predictions about the type of service and licensing model for the project. The hosting to be provided for the project (cloud-hosted or on-premises service) – a cloud-hosted software might require the subscriber to pay a monthly fee. This might also be a sort of month-to-month plan option or an annual subscription. Those who chose on-premises software need to pay a one-time licensing fee for the construction estimation software. Many vendors offer free trials and money-back guarantees. This might help in understanding the software before paying for it. We suggest, not jumping on to conclusions as yet and taking time to compare the features and price before considering the one for your business.