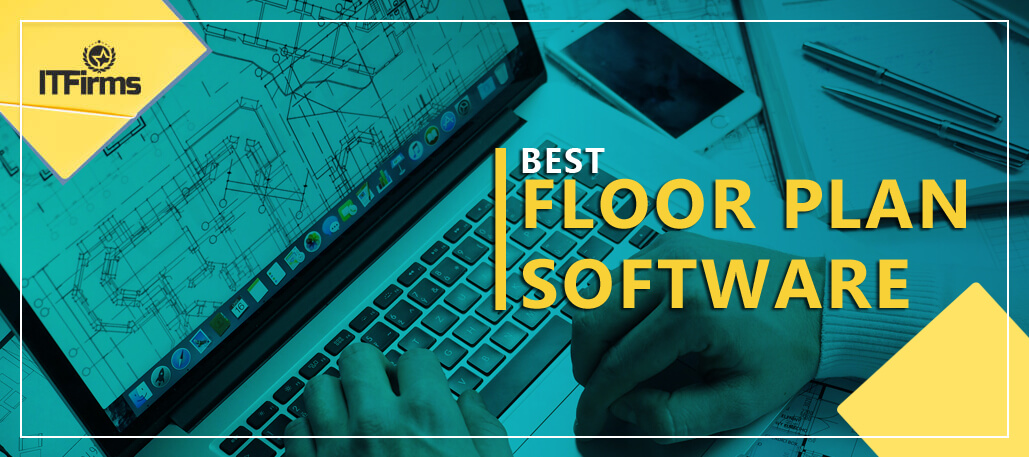 Best Paid & Free Floor Plan Software
For an abundant living space, practical necessities and functional needs have to be combined. So when starting on the design, it is important to define what that story is. It is probable to remodel or renovate the home project in future Increase the property value of the home ahead of a sale or closing on a house that you can't wait to make your own. All this requires some efforts like finding a contractor, finding ways to mitigate costs, tapping and translating Pinterest ideas into reality.
What is the best free floor plan software?
The list of best floor plan software compiled by ITFirms includes tried and trusted advice from the experts, checklists to help you get started, and stunning before and after kitchen, bath and living room transformations for inspiration. So whether you are revamping a space to make it more functional or simply more beautiful, this short descriptive will certainly help you action your interior decoration or help you plan out your flooring.
What Floorplanner is?
This tool helps real estate agents by quickly creating the floor plan, giving a basic understanding. The inbuilt library of objects can be explored for more comprehensive prototypes. The demo is available on their website, to know how the software works.
How is it priced?
The pricing of the Floorplanner is divided into three tiers:
Basic – It is free for one project and $4.99 for each extra project;
Plus – It is 14.95 per year and allows you five projects per year, charging only $2.99 for each extra project;
Pro – It is $29 per month but gives you 15 projects per month, and only charges $1.99 for extra projects.
What Foyr Neo® is?
It is an interior design software that renders floor plan conversions, 2D – 3D conversions. Some features of Foyr Neo® are: 3D Rendering, 2D Floor Plans, 3D Floor Plans, 3D Walkthrough, AI-Assisted Planner, Design Collaboration, Furniture Library, Import from Blueprint, Lighting360-degree visualizer, Measurement Scale, Sunlight
How is it priced?
Starts with ₹ 1999/monthly for single user with basic plan for beginners and personal use.
Provides free trial for 14 Days without credit card or download requirements
What Vectorworks® is?
It is a 2D-3D and BIM software suitable for Windows, and Mac based platforms. It can be used to sketch a model in a fully integrated BIM workflow used for making floor plans, landscape designing, and industrial planning. Some features of Vectorworks® are:
Quick replacement of lighting accessories
Editing accessories from the Lighting Device dialog box
Option to apply a naming scheme to individual PDF page labels
Exporting 3D geometry to Revit
How is it priced?
VectorWorks Architect pricing starts at $3045.00 as a one-time payment.
They do not have a free version but provide 30 days free trial.
What SmartDraw is?
SmartDraw can be used to create scaled CAD drawings. It allows changing scales at any point in time. It provides templates, draws walls and drag-and-drop floor plan symbols. This tool can set the shape and design or line by simply typing into the dimensions label. It allows sharing the plan once ready in PNG or PDF file formats. It can easily be exported to any Office or G Suite applications in simple clicks. Floor Plans can be inserted into reports or presentations easily. It integrates Atlassian's Confluence, Jira, and Trello.
How is it priced?
SmartDraw for Windows Desktop costs $297One-time purchase*No monthly or annual fees.
For 5+ Users from $595 per year, billed annually.
What Sweet Home 3D is?
It is a 3D, free and open-source interior design application for generating quick prototypes for a house floor plan, arranging furniture and viewing the results in 3D. Particularly helpful for contractors, it can help you visualize a space or remodel it. It features blueprint important option, helpful in updating an old design and print/export them as PDF's, videos, bitmaps, vector graphics images.
How is it priced?
This software is available in 25 different languages and can run on Windows, Mac OS X 10.4 to 10.12, Linux, and Solaris. It is a free and open-source, published under the GNU General Public License.
What RoomSketcher is?
This can be used to create detailed 2D and 3D floor plans and walkthroughs that are ideal for showcasing a property. It allows uploading a blueprint or existing floor plan and let expert illustrator draw up the floor plan for you.
How is it priced?
A free version is available but the VIP version of the app costs $49 per year, including 20 credits for creating additional products. Pro version costs $99/year and it comes with 55 credits. It includes features like personalized floor plans, a discount on floor plan services and the ability to draw from a blueprint.
What Floor Plan Creator is?
This tool helps create and share floor plans quickly and easily.
It is Fast and Precise: It can be used to move rooms and symbols with a mouse or set their sizes and distances numerically when high precision is required.
It has Multi-Platform: Use your mobile device on location and complete the work on your computer at the office.
It also features 3D mode: See your project in 3D, as many floors as you need. The camera can be freely positioned.
More features include User-defined dimension lines to show and modify distances and sizes.
Import the existing plan and use it as a template.
Native Android version and HTML5 version available that runs on any computer or mobile device.
Cloud synchronization to automatically backup and share plans between devices.
User symbol library, where you can storerooms, symbols (also grouped) and labels for quick reuse.
Projects can have multiple floors with rooms of any shape (straight walls only).
Automatic calculation of room, walls and level area; perimeter; counts of symbols.
Symbol library: doors, windows, furniture, electrical, fire survey.
Export plan as an image, PDF (print to scale), DXF, SVG.
Generate Wavefront .obj files, which can be imported into most 3D rendering programs and game engines.
Projects can be shared with other people to work together.
Supports metric and imperial units.
Android version supports Bosch (GLM 50c, 100c; PLR 30c, 40c, 50c), Hersch LEM 50, Hilti PD-I, Leica Disto, Mileseey, Stabila (LD 520, LD 250 BT), Suaoki and CEM iLDM-150 Bluetooth laser meters.
The log of changes is secured in a file.
How is it priced?
It is free for 1 project. The application charges 632.43 per extra 10 projects pack and the images can be exported in low-resolution PNG and JPEG formats.
Standard Plan charges 450.44 (Indian Rupee) per extra 10 projects packs,
High-resolution PNG, JPEG and SVG can be exported, DXF export to CAD programs, PDF export – print to scale, Wavefront .obj export, User library of symbols at 450.44 (Indian Rupee) per year.
Pro Plan features Unlimited projects, High-resolution PNG, JPEG and SVG export, DXF export to CAD programs, PDF export – print to scale, Wavefront .obj export, User library of symbols, Your logo on exported files at 632.43 (India Rupee).
What Homestyler is?
This tool helps to create 2D and 3D floor plans. It has a furniture library that features real furniture products, painting and flooring and the models. It gives easy walkthrough and ability to experience the design through HD photo realistic renders and panorama.
How is it priced?
Freemium – It's a best free floor plan software.
What HomeByMe is?
It is a free tool for online 3D planning, can transform a 2D plan into a 3D project for realistic images carte and a panoramic 360-degree image. The software enables the user to create a detailed floor plan and then test different furniture styles and decoration elements.
How is it priced?
It comes with a pro annual subscription that is $720 and allows you to create up to 120 projects and 120 realistic renderings.
What ezblueprint is?
It is an easy-to-use floor plan drawing solution used by various professionals for office and home layouts. This includes the ability to automatically generate rooms from any shape, edit different types of walls, trace over floor plan images, modify door orientation, and use custom objects and symbols. The software program also offers advanced features that are ideal for creating and sharing complex floor plans. Drawings can be exported as PDF files, embedded onto Microsoft Word documents, or published on websites. It automatically Generates Floor Plans From Lines And Objects, Tracing Feature, Add Dimension Lines, Wall List Editor, Automatic Distance Adjusting, Create And Use Custom Objects To Enhance Floor Plans and Share Floor Plan Drawings.
How is it priced?
The pricing starts at $47.98. It is not free. It does not offer a free trial.
What PlanningWiz is?
It is a web-based floor planner that allows the creation of simple and comprehensive 2D and 3D indoor and outdoor designs. It has an intuitive interface that enables users to preview all kinds of floor change and create professional floor plans with the help of experts.
How is it priced?
Prices start from $10.90/month. It offers a free trial and is subscription-based.
What Roomle is?
It is one of the best floor planner apps for designing and refurbishing furniture industries. It majors in 2D and 3D modelling and can be combined with various applications
How is it priced?
Roomle is priced at $5700.00 per year. They do not have a free version. They do not offer a free trial.
What Planner 5D is?
This tool takes a single click to create photorealistic projects.
The software enables you to capture professional 3D visualizations of your design without any special 3D modelling skills.
All snapshots are rendered directly on the Planner 5D server.
This delivers technological cutting-edge and eliminates the need for additional software downloads.
This tool provides a plethora of interior design ideas.
It features over 20 categories of the trendiest and latest one-off creations and design masterpieces compiled in one place.
Its Augmented Reality (AR) Ruler tool provides an easy and efficient way to create intriguing floor plans.
The tool works in unison with the iPhone/iPad camera to convert the floor you are standing on into an interactive floor plan.
It analyzes the scenes captured by the camera to establish the horizontal planes such as floors and tables in your room.
How is it priced?
Planner 5D is free software.
What Seamless 3D is?
Design Automation, Direct Modelling, Graphic Design, Procedural Workflows, Collaboration, Data Management, Flexible Modelling and Parametric Modelling.
How is it priced?
This tool is free.
What Cedreo is?
The only 3D home design software to create conceptual designs in just 2 hours
Cedreo is a 3D home design software for home builders, contractors, remodelers, real estate developers and interior designers.
It allows you to create a complete conceptual design presentation in just 2 hours including 2D and 3D floor plans and interior and exterior photorealistic 3D renderings.
With Cedreo, you streamline your sales process, reduce the cost of the pre-sale phase and improve your client's buying experience.
You can easily and quickly handle the design in-house to stay ahead of your competitors and save external design costs.
You will create stunning photorealistic 3D renderings to help your clients envision the project before it is built, facilitate communication and sell faster.
How is it priced?
Cedreo pricing starts at $79.00 per month, per user. It does not have a free version. Cedreo offers a free trial.
What Space Designer 3D is?
This is one of the best floor design plan software that offers annotation tools, group selection, background upload, multiple textures, and items movement in 3D mode. It hosts all projects in the cloud and requires no plug-in installation for access across any device. Additional features include Smart Wall Technology, 3D Visualization, Immersive Experience (high-quality furniture and realistic shadows and lighting), Optimized for Mobile Devices and Embeddable 3D Models.
How is it priced?
It offers a free trial. One Time Plan: $9.90 per floor plan. Unlimited Plan $19.90 per month. Pro $49.90 per month.