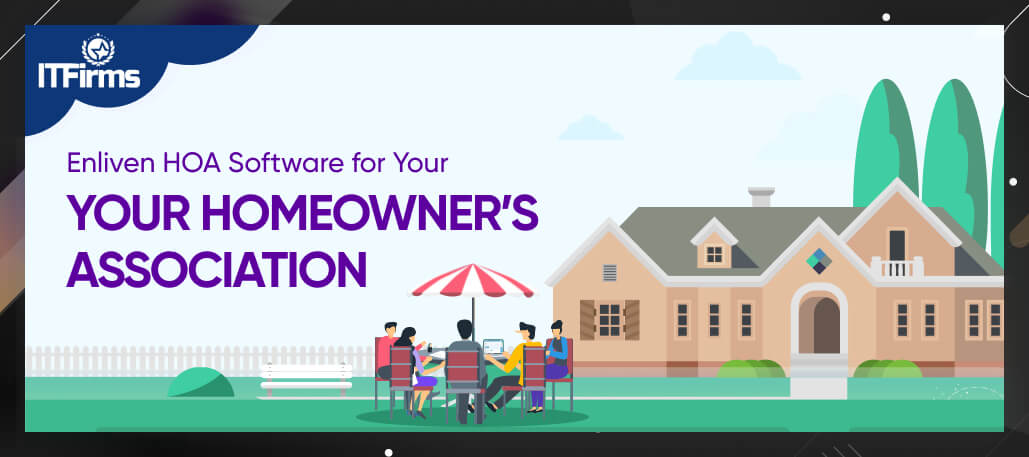 Enliven HOA Software for Your Homeowners' Association
HOA software are the cloud-based solution that features tools to manage communication, maintenance, and structure-property management business. Learn what colligates!
Imagine you're going for a land purchase. A team of associated experts come together, meeting each other for the first time, and coordinate their actions to make it happen for you. Your outcome is utterly dependent on how well they work together. You start to think that they are only human, and your collaboration will absolutely make or break a project together. In general, a lot more flexible configurations of a team and teamwork on the fly helps quickly get up on speed and get the necessary work done.
What is a Homeowners Association?
A homeowners association (HOA) is a planned community of people to assist people who wish to purchase the property. The members of HOA jurisdiction (people who buy land with the help of HOA) have to pay HOA fees. Alternatively, some HOA is restrictive of how people use their properties.
HOA consists of a community's residents. These comprise single-families, multiple-unit-buildings or neighbourhoods. It has a board of directors or governors elected to oversee the HOA's rules and regulations.
How does HOA help?
HOA assists people in buying a home within a community where there is HOA. It typically has rules in a document called a declaration of covenants, conditions, restrictions (CC&R's). These set conditions for owners about the maintenance of their properties.
HOA may impose fines on non-compliant homeowners. Its' conditions sometimes include structural restrictions – its CC&R document outlines the penalties for violating the guidelines set forth. Such penalties range from fees to forced compliance or litigation in some cases.
What's the difference: Homeowner Association vs. Community Association vs. Property Association?
HOA's operate by state laws. They focus on shared goals, brainstorms options, make decisions, and move forward. Some states also consider condominium-based HOAs – known as "condominium communities" as property interests of these organizations differ. The designation "community association" serves as a broader term for HOA's, condominium communities, and co-op boards.
HOA differs from property owners association (POA) as HOA refers to a group of people who look after the well-being of their community and real estate values of the property in their community. POA might include anyone interested in volunteering for this work. They might not own a home in that community, whereas HOA includes people who own a home in that community;
Advantages and Disadvantages of Homeowner Associations
The Homeowners Association (HOA) provides regulations and guidelines for its members. Such standards imply rules like cleanliness of the property, condition of the property, and any due repairs.
Advantages:
Also, HOA management provides additional services to its members in exchange for their HOA fees like landscaping, parking lots, and facilities like swimming pools, tennis courts, or party spaces. Often HOA fees also cover the cost of trash collection and snow removal.
HOA's self-govern, enforce community rules and protect property values, services, amenities, and facilities.
Disadvantages:
They often have to set fees, set dues, mark assessments, impose restrictive regulations, operate inefficiently, and manage ineptly.
The high cost of association fees can cause their prospective buyers to rethink.
HOA rules can be restrictive for some 'homeowners' who may want to customize their properties.
HOA's can wield significant legal and financial power on the property owners in their zone.
How do HOA's earn?
HOA's collect monthly or annually HOA fees, typically $200 – $400/month. But, they can range from $100 – $10,000. These fees also contribute to the association's reserve fund for 'reservation projects' or emergency use.
HOA also imposes special assessments for homeowners when the association lacks sufficient reserves to pay for unexpected repairs on common areas, such as sidewalks or parking lots.
HOA's can impose fines on homeowners who break the rules or damage the common areas.
HOA's can also place a lien on a property if a homeowner falls behind on their dues.
What legal powers does an HOA have?
Individual HOA's have legal powers at different levels. They can enforce community policies like (1) smoking, (2) keeping pets, (3) rentals and can also decide budgets for building and charge monthly or one-time fees to their members. If a member refuses to pay these fees or to comply with the community policies, there's a lot that an HOA can do. These penalties can include monetary fines, restrictions in community privileges and even litigation.
What is an HOA Software?
HOA software automates everything discussed above. These are cloud-based solutions to handle a large amount of scattered data judiciously and offer – (1) accounting, (2) property management, (3) amenity bookings, (4) calendars, (5) announcements, (6) resident portal, (7) parking, (8) communications, (9) resident data management, (10) work order and rule violations management, (11) integration with accounting partners, (12) knowledge base, (13) document library, (14) customizable forms, (15) help view status certificates receive community (16) updates, (17) online payment processing, (18) website management, (19) work order management, (20) member communities, (21) event management, (22) calendar management, (23) committee management, and (24) member directory, (25) track maintenance requests, and (26) community websites in a single platform. These offer the friendliest, user-friendly tool packed with features to ease decision-making for homeowners association (HOA) and satisfy customers who wish to purchase the property.
Why is a Digital HOA Solution necessary?
Many residential colonies have an associated Homeowner's Association (HOA) structure to help maintain a clean and cohesive atmosphere in the neighbourhood. HOA can spare the homeowner from some responsibilities. They can as well come off with obligations for homeowners. An HOA solution helps manage such tasks efficiently.
Features of HOA Software:
Collaboration Tools
Access Controls/Permissions
Document Management
Meeting and Social Event notices
File Sharing
Third-Party Integrations
API
Document Storage
Contact Management
Reporting & Statistics
Billing & Invoicing
Portfolio Management
Data Import/Export
Email Marketing
Activity Dashboard
Mobile Access
Accounting
Reporting/Analytics
Tenant Tracking
Maintenance Management
Online forms and applications
Creation of payment portals
Communicating to residents via their preferred method (Text, Facebook, Email, etc.)
Custom websites
Ease of access to information
Technology Trends HOA Should Follow in 2021
Scale up your amenities. Have a clubhouse, pool, gym, or extensive common areas, party halls and always be on the lookout for how you can better them off;
Top Outstanding HOA Homeowner Association Software Options
Based on PHP, JavaScript, HTML, Bitrix24 is a free collaboration platform that offers free inventory management in CRM. It comes with instant WhatsApp for messenger-based sales, and scrum for streamlined project collaboration. It enables using self-hosted version to run on the server, giving complete control over data, source code access, and additional tools, such as helpdesk, and e-learning with integration, and customization options.
Urbanise Strata platform is a cloud-based system to manage apartment buildings, large housing communities, and large commercial towers. It features intelligent automation, streamlined processes, and a scalable model.
It lets you manage your entire residential portfolio on one intuitive platform. It streamlines processes and smart automation, enabling you to focus on communities, and deliver an outstanding resident experience.
It is a property management solution that lets real estate professionals manage property portfolios, including leasing, operations, and accounting.
Trusted by over 32K organizations, wildapricot enables you to manage your contacts, process payments, send out emails, register event attendees, create a website, and do many similar tasks. It features a friendly interface assisting in small associations, non-profits, state and local chapter organizations, managing memberships, websites, events, and more all-in-one places.
It is a web-based, fully integrated end-to-end platform that helps manage operations, execute leasing, run analytics, and offer innovative tenant, resident, and investor services. It supports multiple browsers, and mobile devices, and provides instant access to data.
It is a property management software that offers tools for landlords to easily manage properties and tenants. It is a complete management solution for professional property managers. It features tenant screening with instant credit, eviction, and criminal reports on your tenants. It supports multiple platforms and is suitable for businesses of all sizes.
It is an umbrella solution to manage HOA 100% online. It offers 30 days free trial, no credit card is required and can be cancelled anytime. It comes with pricing plans to suit the small, medium, large, and enterprise organizations.
It offers tools to property managers to be more productive, responsive, and efficient. It equips self-managed associations in record keeping and improving operations for concierge staff, and residents.
It is a property management software that features Automated Rent Collection, Partial Payment Tracking, Global Search, Tenant Screening, Lease Management, Automated Reminders, Online Maintenance Requests, Online Rental Reservations, Rental Listing Syndication, Lease Generation, Move-in Move-out Wizards, Debt Collection, Legal Management, Tenant Portals, Owner Portals, Vendor Portals, and Document Management.
This property management software helps manage all properties from one device, streamlines workflows, view daily, weekly and monthly activity calendar, centralize communications with residents, participants, and landlords. It also let's manage and report on corporate and property finances, and operations. It controls data, and feature access for all users at the property and menu levels.
Front Steps is a comprehensive home-owners association software solution that closely connects entire community inside one single platform. It is a highly integrated platform that enables better cashflow, auto locking, validation files, approval workflows and override. It lets buyers search through a full database of current listings on the website and leverages a host of CRM tools. Offers next level experience, and develops customer relationships.
It is a rental property management software that helps in leasing your property, managing work orders, automating accounting, and growing portfolio from anywhere with ease. It works well for residential, commercial, student housing, community associations, and affordable housing.
Conclusion
HOA solutions provide tools such as – (1) CRM, (2) document management, (3) tasking, (4) time management, (5) project management, (6) user profiling on social media, (7) making decisions about maintenance and upgrades that essentially help homeowners associations to manage their people. Follow us for an update on more such relevant topics.
Please share your suggestions at [email protected]