How to Build a Music App: A Complete Guide to Creating Your Own Streaming Service
"Want to build a music streaming app like Spotify? This comprehensive guide will walk you all through a step-by-step guide on how to make a music app."
The popularity of music streaming apps like Spotify, YouTube Music, Apple Music, and plenty of others have changed the way people listen to music. It is no longer necessary for users to visit websites to download the song, store it on local storage, and then play it. It is as simple as opening the music app and searching for the song they want to listen to.
The market for music streaming apps is showing positive trends. According to Statista, the revenue of music streaming apps is valued at US$30.33bn in 2022. It is expected that the market will reach US$43.63bn by 2027 with a CAGR of 7.54% .
Being inspired by the success of the music streaming apps received so far, many startups are considering grabbing this opportunity.
This blog post will provide you with all essential knowledge regarding music app development including, features, and revenue in addition to a step-by-step guide on how to make a music app.
So, let's get started.
Market Overview of Streaming Music Apps?
As said, music listening apps are getting popular and creating impressive revenue opportunities for startups.
Let's develop a better understanding of the market of music streaming apps:
By the end of the year 2022, the revenue of the music streaming apps is expected to hit US$30.33bn.
During the forecast period of 2022-2027, the market is expected to grow with a steady CAGR of 7.54% resulting in generating a revenue of US$43.63bn.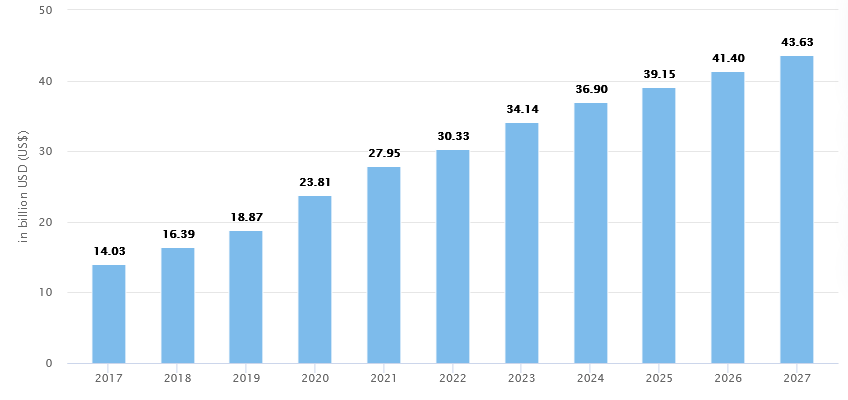 Image credit: Statista
The average revenue per user also showed a positive trend. In 2021, the average revenue per user was estimated at US$36.0. By the year 2027, the average revenue per user is expected to grow to US$40.28.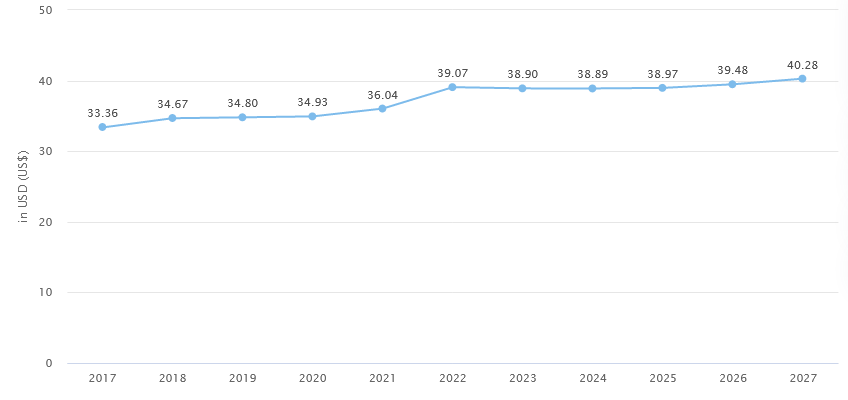 Image credit: Statista
The user base of the music listening apps is also growing. There were around 775.6 million users. By the year 2027, this user base is expected to hit 1,083.1.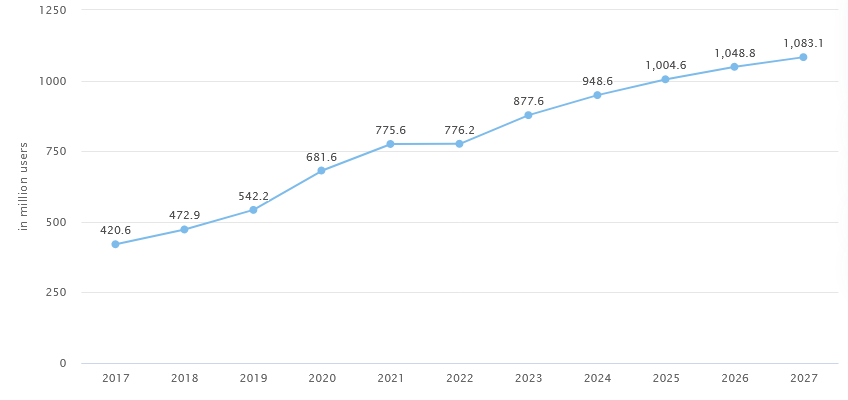 Image credit: Statista
The United States is by far the leading country in terms of revenue generation. The USA in the year 2022 generated revenue of more than US$11,040.00 million revenue. China with US$3,527 million in revenue is the second most promising market for music streaming apps.
According to MIDia Research, Spotify is the market leader in music streaming apps with 523.9 million paying subscribers.
Must-Have Features for Music Streaming Apps
After learning about the market growth of the music streaming apps, now, it's time to make you familiar with a few of the must-have features that you should integrate with your music app:
Signing Up and Registration
This is one of the basic features you need to integrate with your music streaming app. It allows the users to register themselves on your application. It is beneficial to add multiple sign-in options such as email, phone, and social media to allow users to choose the most preferred one for them.
Catalog
You can add a catalog that displays the list of all the music your app has to offer. By making use of emerging technologies such as machine learning and AI, you can even build a catalog that speaks the personalized recommendation to app users.
Search
This feature comes in handy when a user is looking for a particular music track. You can either let users type in track information or you can add a voice assistant to make them search for songs by voice.
Playlist
Not every song featured on your app excites the users. They always want to create a library of the songs they wish to hear in a loop. So allow your music app users to create their own playlist which consists of their favorite songs.
Well-Designed Music Player
We can't imagine a music app without a music player. You also need to create a music player which allows users to listen to the music in the background without interrupting their other operations on the phone.
Play Offline
You can also allow the users to download the music they like, so they can experience uninterrupted music even at a time when there is no internet connection.
Push Notification
Push notifications are meant to keep the users up to date with the news related to the music app. This will improve the engagement rate.
Social Media
A lot of people love sharing what they are listening to on social media. Therefore it is a worthy decision to include a social media share button to enable users to share their favorite music with their friends.
Offer Recommendations
The best way to keep the users glued to your mobile application is by offering them recommendations of songs that match their tastes.
In-App Payments
The ultimate goal of music app development is to make revenue. Therefore it is a must for you to integrate a payment gateway with your mobile application to allow users to make payments of subscription fees seamlessly.
How do Music Streaming Apps like Spotify Make Money?
Music streaming apps like Spotify follow the different types of monetization models. Here is a rundown of the most common type of monetization model you can adopt to generate revenue from your music app:
In-App Advertisements
This is one of the most effective models when you want to offer all your app services to your users at no cost. You can place paid ads on your application. Every time these paid ads are seen by the users, you will receive some rewards.
Subscription-Based Model
You can suggest a monthly or yearly subscription fee to your users. Before they move to the paid subscription you can offer them a free trial for a few days. After the free trial ends, you can start charging the subscription fee on a monthly or yearly basis chosen by the user.
Paid Content
You can offer most of the tracks free of cost, but you can set some prices on a few specific tracks. The user needs to pay the amount to unlock the paid track.
How to Make a Music App?
With the help of a reliable music app development company, the process of music app development becomes much simpler. Here is a rundown of the different steps involved in making a music app:
Finetune Your Music App Development Idea
The development of great things starts with great research. Before working on the development of the music app idea, it would be in your interest to do some market research to stand out your app from the crowd.
Finding the Music App Development Company
When you have the vision of what to build and how you are going to target your audience. The next step for you is finding a reliable music app development that can help you realize the reality of your dream.
Round up a selection of the best mobile app development companies and go through their past project to evaluate their skills. If possible, pay attention to the project that is relatable to your requirement.
Schedule an interview with the app developers and ask them the questions you have related to your vision to make sure they are the right choice for you.
Design the Music App
When you have hired the right team of mobile app developers, the next step for you is to start working on the design part of the music app. Make a list of the features you are going to include in your app and let's start interpreting your mobile app idea into reality.
Designing a website should be primarily focused on making it visually appealing, while at the same time making sure that it has a smooth navigation system. Every feature of the mobile application should be straightforward, so the user can access it without facing any difficulty.
Develop the Music App
This is the stage where a team of mobile app developers will start working on writing codes to fuel life in your music app development idea. Make sure while writing the code for your application, that your chosen developers are following the best security practices.
Keep yourself in the loop with the progress of the development to make sure all your development goals are achieved successfully.
Test and Launch Your App
After the successful development, test your mobile application thoroughly to make sure it is free from bugs. Once testing is accomplished, the next step is to launch your app on Google Play Store or App Store.
How Much Does it Cost to Make a Music Streaming App?
If these reasons that we have listed here do not seem enticing, you'll still find the presence of multi-tenant cloud app architecture backed by Software as a Service (SaaS) cloud-based applications like Dropbox, Slack, Salesforce, and Google, leading the market. top cloud computing companies and cloud computing consultancies like Acropolium are inclined to strengthen the process.
The cost of music app development is determined on the basis of the following factors:
Mobile app development platform
Features you have selected for your app
App development company you have chosen
Getting a license for your app
Since all of these factors vary from one project to another, it is hard to determine the cost of music streaming app development. Schedule a meeting with your app development and discuss your project requirement with the company. By considering your scope of work, the company will provide you with the estimated cost of music app development.
Final Take
This is how you can set your foot in the rapidly growing music industry. If you are facing any difficulty while choosing the app development company, you can consider checking out ITfirms list of the top mobile app development companies.
Frequently Asked Questions
How to choose the right music app development company?
Pay attention to the portfolio of the previous project
Client reviews are the best way to judge the skills of the company
Learn about the post-development support plans
Experience
What are the most popular music streaming apps in 2022?
Spotify
Apple Music
YouTube Music
Amazon Prime Music
Pandora