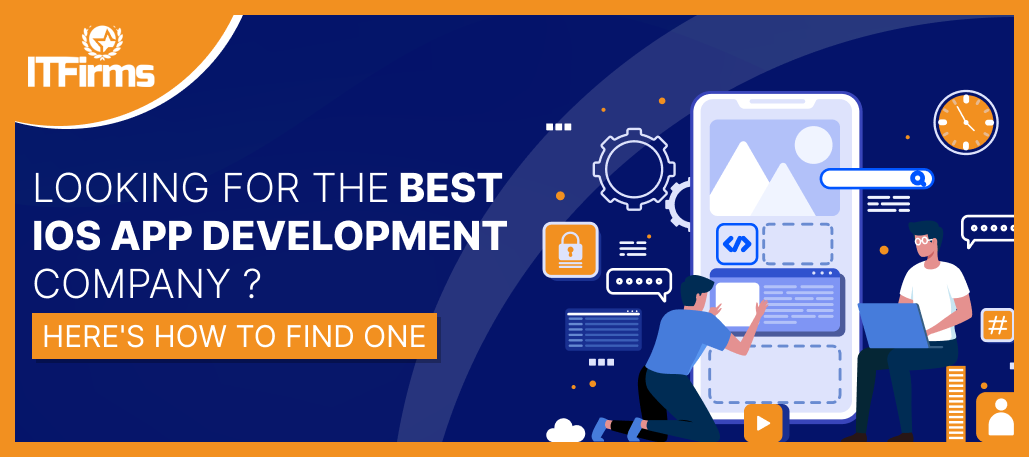 Looking for the Best iOS App Development Company? Here's How to Find One
Looking for the best iOS app development company? Here we have references to a few of the most experienced iPhone app development companies to ease your search.
Despite having a great iOS app development idea, you won't be able to bring it to life without a talented team of iOS app developers.
According to EvansData, there are 2.8 million iOS developers worldwide. So how will you select the best team of developers that aligns with your business goals? That seems like a difficult task, doesn't it?
If you fall prey to the wrong iOS app development project, you might fail to unlock the true potential of your app idea.
So, what are the best strategies you can opt for to choose the best iPhone app development company? This blog has an answer to your question.
Here ITFirms is going to present you with simple tips that will help you pick the best company. Before that, let's learn why you should hire an iPhone app development company.
Why Should You Hire an iOS App Development Company?
Here are a few reasons why you should hire an iPhone app development company?
1. Access to Dedicated and Focused Developers
When you hire a company over a freelancer, trust, dedication, and focus are assured. Freelancers are often found working on multiple projects at the same time which results in poor development results. However, in the case of companies, the assigned team will be dedicated to your project only which means you expect the results you admire.
2. Project Manager to Keep You in the Loop of Your Project
Whenever your contract starts with an app development company, they assign you a project manager who will serve as a bridge between you and the team working on your project. Project managers are also responsible to keep the client in the loop with the progress of the project which seems hard with freelancers.
3. Strong Adherence to Deadlines
Meeting deadlines is one of the biggest issues with freelancers. When you are working with the company, you will be assured that all your project deadlines will be met professionally, setting you free from development-related worries.
4. Support System
iPhone app development companies have dedicated teams to resolve the queries of their clients. So whenever your project needs assistance you can get it.
How to Choose the Best iOS App Development Company?
Here are a few things you should consider while hiring an iPhone app development company:
1. Make a List of Specialized iOS App Development Companies
The very first thing to do is make a list of the app development firms that have specialization in iOS app development.
ITFirms can recommend you the best iOS app development companies. Go through these companies and make a list of those you believe would be a great fit for your project.
2. Pay Attention to the Companies Website
The website speaks to the expertise of the company, therefore, you should carefully analyze the website of the company.
Pay attention to the user interface and user experience of the website to see how well versed they are in delivering an optimal user experience for you are looking for your iOS app idea.
If a website gives you a terrible experience while browsing, then it would be in your best interest to remove that company from your list.
3. Portfolio Speaks Louder than the Words
As said, choose the company that has specialization in iOS development. For this purpose, checking the portfolio is the best thing you can do.
Go through the projects completed by the company earlier and see how well these projects are doing. You should also check out whether the chosen company has developed an app that relates to your project requirement. If so, then you are good to go with the company.
4. What is the Structure of their Proposal and How does it Take Into Account Your Project Details?
Once you have connected with a suitable mobile app development firm, you should ask them to provide you with the proposal document which contains the company strategies to help you achieve your business goals.
At this stage, you should also prepare a list of questions that hit your mind when you think of developing an app. Ask these questions to the company and see if they can provide you with satisfactory answers.
If the submitted proposal doesn't seem satisfactory, feel free to move to another company and follow the same path with them. By doing so you will be able to land up with a company that can help you achieve all your goals more efficiently.
5. Security of Your iOS App Idea
Your mobile app idea is unique and intellectual property, it should be protected from being leaked. There are many instances when the replicas of the app are published on the app store before the original app is developed. Such instances are the biggest threat to the credibility of your app. Therefore the chosen iPhone application development company should measure the necessary steps to protect your intellectual property.
If possible choose a mobile app development agency that has a strong reputation in the market and is ready to sign an NDA with you.
NDA or non-disclosure agreement makes sure that your app idea is completed safely with the company you have chosen.
6. Check Client Testimonial
This should be placed in the second or third spot in our tips. The reason why I have explained this at this step is that checking client reviews earlier might lead you to a biased decision. Following the above-mentioned steps will ensure you make a decision based on the credibility of the company.
As the final step of your selection, read the previous client reviews about the company and see how satisfied they seem with the services of the company. Instead of reading reviews on the company, you should pay attention to reviews shared on third-party platforms.
7. Be Precise With Your Budget
When signing a contract with the app development company asks them to provide you with a complete project cost breakdown document. It would be best if you can get the price according to every stage of development and mention all the things included under this cost.
By doing so, you can avoid going over budget and miscommunication with your development partner.
Final Take
The success of your project greatly depends on the choice of an iOS app development company. Therefore you should pay your utmost attention to choosing the best one.
I hope after reading this blog, you are confident enough to choose the best company for your project. We have shared the reference of a few top iPhone app development companies in the blog, if none of them failed to impress you, then you can find a few more references on ITFirms.
If you are running an IT company and want to get listed your company on ITFirms, reach out to us.
Please share your suggestions at [email protected]