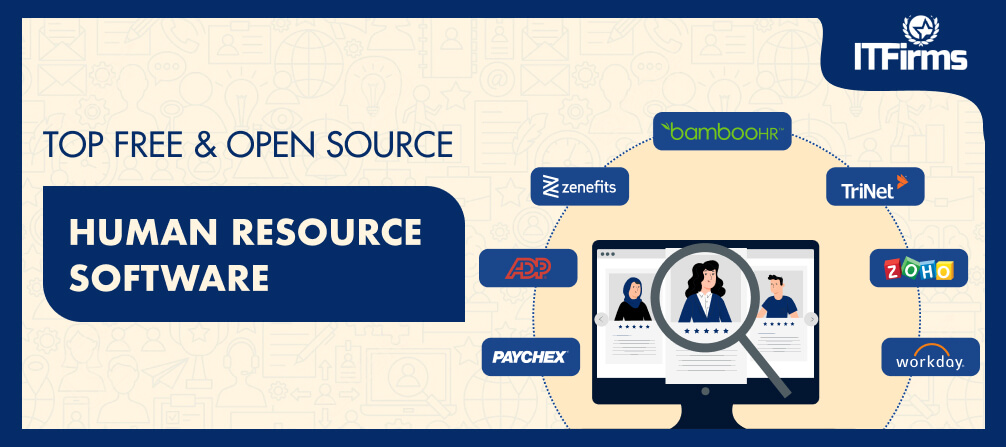 Top Free and Open Source Human Resource Software
Pin the right Human Resource Software for onboarding potential candidates in no time!
A substantial human resource software can impact every member of your organization, including the potential hires. It can either be on-boarding, managing benefits, time-off requests, attendance management, leave management, time tracking, learning management, analytics, reporting, CRM, virtual on-boarding, payroll management, your next Human Resource Software will become an integral part of your company's day-to-day operation.
But what if you are on a budget, and cannot expatiate a high fee for every user just yet? Here's a list of premier HR software solutions that are operationally free and open-source. They do not offer free trials but fulfil a variety of purposes. HR management software manages and organizes human resource information systems (HRIS) or Human Resource Management System (HRMS) in one place. It streamlines various HR management systems and handles many tasks under a single time frame. It also comes with additional integrations such as applicant tracking, corporate learning management kits, and retention mechanism.
Employee management
Leave management
Time and Attendance
Payroll
Recruitment
Expenses
Employee self-service
Staff training
Contract management
Social Network
Appraisal
Core Features of Human Resource Software
As illustrated above, decent human resource software tracks time to monitor work hours, productivity and efficiency of employees. Payroll management calculates accurate salaries and wages. Document management organizes employee records, keeps them safe and stores them in a centralized place. Leave management manages custom leave policies. Self-service module for employees tracks service requests, updates their profile. Centralized management includes core workforce analytics such as retention rate, engagement levels etc. HRMS accounts for smart and quick enrolment to employee benefits. It also contains multiple benefits like a commuter, health, retirement, insurance, managing and automating recruitment and on-boarding with automated systems and digital tools. It also caters to managing employee appraisals, performance, engagement, compensations, and succession planning.
Benefits of Human Resource Management Software?
Although features, applications and benefits of HRMS merge and occasionally combine to give mixed results, it is evident that the HR system is the heart of any organization. If it operates seamlessly, all other functions go hand in hand. It, therefore, impacts year-end profits. This additionally combines a lot of analysis, right decision-making to make the working environment look productive, cost-effective, and worthy of investment.
Prerequisites for selecting The Best Human Resources Software
Before selecting any human resources management software, you must consider these factors:
Identify your needs & consider your employees
If you're facing issues while dealing with employees?
What is your budget?
How Does Business Human Resources Software Work?
Features in Human Resource Management System
It consists of the following modules:
Payroll Management
Employee Self-Service
Time and Absence Management
Talent Management
Training
Leave Management/Absentee Management
Employee Management
Applicant Tracking
Benefits Management
Recruiting
On-boarding
Employee scheduling
Employee Engagement
Compensation Management
Performance Management
Time & Attendance Management
Learning Management
Workforce Management
Automated Notifications
Defined User Roles
Employee Database Management
Analytics & Reporting
What Are The Benefits of Human Resource Management System Software?
Disadvantages:
Employee Retention – It helps retain and engage employees, track essentials to ensure that employees get what they deserve.
Hassle-free Recruitment Process – It will assist you in rolling your recruitment process by automating the process like application storage, sorting resumes, mining applicant's contacts
Effective Workforce Management – It channelizes communication, reducing any chances of missed communication.
Unlimited file sharing – The HR team can access the working materials through a common database, search the files from any device and enable them to share unlimited files between them.
Searching Files – The files can be searched from any device.
Overall, HR management tools – Improves efficiency and productivity of HR teams. It improves the employee experience, easily manage employee' leaves and absentees, is helpful for data analysis and decisions, improves regulatory compliance, improves communication, improves data security, improves custom reporting and analytics.
What should you consider while selecting the best HR Management Software?
There are a few factors that organizations need to consider while picking their HRMS:
It should align with the standards – Labour laws and tax standards.
It should be customizable and scalable to merge with your current and forthcoming processes.
It is resourceful and easy to use with multiple easy-to-do functions for every module.
Not every HR software is expensive, but many pocket-friendly options are available.
It should be scalable to integrate add-ons, and get an open API system and connect with all the usable apps.
Additional points to consider:
User-Friendliness
Pricing
Features offered
Features necessary for your company
Computability with other system / Third-Party Integration
Data Security
Access & Portability
Customer Support
Training Sessions by the vendor
Software review and rating platforms
What are the types of HR software?
Core HR
Human Resources Management Systems (HRMS)
Human Capital Management (HCM)
Human Resources Information Systems (HRIS)
HR Administration software
Talent Management Systems
Popular HR Management Software
ADP
BambooHR
Rippling
Zoho Recruit
UltiPro
Paylocity
Gusto HR
Workday
GoCo
CakeHR
Dayforce HCM
Zenefits
Paycom
TriNet
Paychex
SmartRecruiters
Is there any free HR software?
There is plenty of HR software:
OrangeHRM
Bitrix24
WebHR
Factorial
Zoho People
IceHrm
Freshteam
Rise Lite
How Much Does HR Management Software Cost?
The approximate cost of HR Management software depends upon features and HR software packages and the price may vary from $0.83 to $4.16 per employee per month or around $10 To $1000.
Free and Open-source Top HR Software
IceHRM is a simple, free, powerful open-source human resources management tool to help HR managers with recruitment, and engagement efficiently.
Main Features of Ice HRM
Employee Management
Leave Management
Time and Attendance Management
Payroll Processing
Recruitment Management
Expenses Management
Employee Self-service
Staff Training
Jorani comes with an efficient workflow for leave, and overtime requests. It has built-in reports. It is distributed under the GPL v3 license.
Main Features of Jorani
Employee Management
Leave Management
Time and Attendance Management
Employee Self-service
Contract Management
Recruitment Management
Open HRMS is an HR Management software that can handle all aspects of the HR process, from recruitment to retention. This software can handle a large volume of data efficiently to maximize productivity. Automating HR tasks allows HR to devote more time to the organization's goals.
Main Features of Open HRMS
Automate employee recruitment process, record management, employee onboarding, and so forth.
Ability to customize according to the HR preferences to allow them to work with more ease.
Provide insight into employee performance, analysis of leaves and absence.
Employee engagement
It is a free and open-source HR management software that comes with a fully-featured performance appraisal module that enables HR people to assess employees for a particular period. It also comes with talent acquisition, leaves management modules that are refined and constructed efficiently.
Main Features of Sentrifugo
Employee Management
Leave Management
Employee Self-service
Performance Appraisal
Talent Acquisition
Interview Scheduling
Time Management
This HRMS plan is free for up to 50 employees. It offers quite a few features for HR and recruitment.
Main Features of Freshteam
Reduces recruiter workload by 75%
It cuts down on new hire on-boarding queries.
Securely stores all employee data and files.
It tracks and reports time-off and absence.
Paperless new hire on-boarding.
Powerful recruitment automation.
Data-backed HR decision-making.
Employee time-off tracking, employee database, and self-service.
Shorter time-to-hire.
This HR management software is built to manage hourly workers and track their work. It is used for hiring, on-boarding, HR and compliance, health and safety checks and labour cost controls.
Main Features of Homebase
Post jobs
Track applicants
On-board new employees with ease
Create and post a job in just a few clicks
Find the right candidate for your business.
New hire paperwork goes paperless.
This HR management software is not free. It features many plans with competitive prices.
Main Features of UZIO
It is an HRIS software.
It enables hassle-free, efficient, accurate and automated management and processing of employee pay-cycle and tax filings.
Employee Time tracking
UZIO automates paper-based administrative tasks.
Offers legal protection and compliance
On-boarding and off-boarding
Time-off tracking
In-sync with benefits
Automatic salary changes
Uzio legal
Access to comprehensive benefits
40(K) plans synced with Payroll
Direct deposit
Hassle-free tax administration
BambooHR is an HRMS that features all major – prevalent features useful to run an organization. It has many perks and flexible pricing.
Main Features of BambooHR
Paid time off
Payroll management
Time-tracking
Bitrix is a popular vendor in human resource management, which features many features that are free and paid. They also offer the same plan for several other business apps.
Main Features of Bitrix
Collaborations
Chat
HD Videocalls
Calendar
Customer Support
Feed
Knowledge base
CRM
Contact Center
website Builder
online Store
Marketing
Drive
Online documents
Tasks & Projects
Sales Intelligence
Company workspace
Business Process Automation
Administration
Oddo comes with CRM, eCommerce, accounting, inventory, point of sale, project management etc. It is easy to use and is integrated.
Main Features of Odoo
It is an app for every need
Boost your sales – CRM, POS, Sales
Integrate your services – Project, Timesheet, Helpdesk
Streamline your operations – Inventory, MRP, Purchase
Build stunning websites – Website builder, e-commerce
Manage your finances – Invoicing, accounting
Amplify your marketing – Email marketing, Marketing automation
Customize and Develop – Studio, oddo.sh
HRnest comes with excellent support, options for customer feedback, customizable product offerings to fit particular needs of their clients, manage employee absences, and personnel files. Additional features include:
Main Features of HRnest
Leave management (all types of absences, all forms of employment)
Work Schedule (many ways to record working time, working time schedules and overtime control)
Personal File (monitoring the expiry of contracts, the validity of health and safety tests, support in on-boarding, and document management)
It flexibly understands your business, finds an iteration of its solution that fits you. Its offerings are globally recognizable.
Main Features of Orange HR
People Management (HR Administration, Employee Management, Reporting)
Culture (Performance, Career Development, Training (LMS))
Talent Management (Recruitment (ATS), and On-boarding)
Compensation (Payroll, PTO/Leave Management, Time Tracking)
SnapHRM is cost-effective HR suite that offers self-hosted and cloud software options.
Main Features of SnapHRM
Employee database
Leave/Time management
Time and attendance management
Payroll management
Recruiting management
Self-service portal
Expense management
Award/appreciations management
News/notices
Events/Holiday management
Assets Management
Document/Letter Management
System Administration and User Roles
Mobile and Desktop applications
In Conclusion: How to know which HRMS suits your business?
We hope that this list of top HRMS helps decide which software to choose for your next development project. Software development companies follow these Human resource software to make it easier for the HR manager and the employees to understand the process, save time, and be efficient. Please share your suggestions at [email protected] and Follow ITFirms on Facebook for more relevant updates!