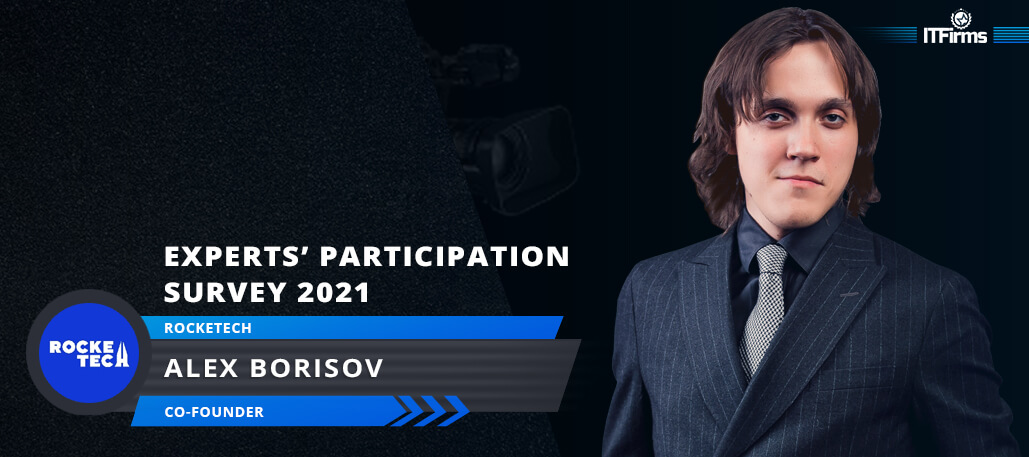 Interview with Alex Borisov – Co-Founder, Rocketech
Here is the exclusive interview of Alex Borisov – Co-Founder, Rocketech only on ITFirms. In this exclusive interview, he shared his insights on upcoming technology trends for 2021 and many more things.
Let's check his success story and thoughts.
1. Tell us in brief about your company and the leadership.
ROCKETECH is a software development company that is focusing on building complex IT products from scratch and supporting it afterward. We are partnering with founders and making great innovative IT products.
2. How would you describe your growth trajectory in 2020? Any particular achievement? Any disappointment?
We grow very rapidly because for years before we have foreseen this situation and we've been building the company in complete remote format long before the lockdown situation.
Also on the market appeared many founders who wanted to come into the IT market with trustable partners.
3. Please describe the operational structure of your company- from the moment a client walks in, to the product deployment.
Usually, we start from a discovery sprint where we understand the needs of the Product owner, design architecture, evaluate possible risks, prepare backlogs of features, estimations, and PBRs. After everything is ready we are allocating the team and making delivery every week on sprint basis.
4. What engagement models do you offer? How should a client choose?
We don't work with a fixed price model because from our experience that lasts for years we have 0 successful completed projects using this model. We have classic time & material models of work. When we are allocating developers under the management of CTOs, Founders, Product owners, depending on the complexity of companies. Mainly designed for projects where there is a need to speed up development or reduce the costs of development in the begging.
The second option is a dedicated team. When we allocate a full team and cover all needs for development from scratch. We are working here with a Product owner that is coming from the customer side and providing for him Business analysts, SCRUM masters, developers, QA testers, DevOps, UX/UI designers, and everyone who is needed to make the project done. We are opening everything for Product owners so they have access to the code, all deliverables, Jira, quality standards, HRs, financial dashboards, development dashboards, and many more.
5. What do you as a leader prioritize: – the vertical expansion of your business or the horizontal expansion of your expertise and services? How do you balance both?
We have fixed our core expertise here in our 12 industries and now we are expanding the only deep quality and more precise experience in that industry. So we balance it together with strong founders that trust us and give us very challenging IT products.
6. What is your outlook for 2021?
IT market is going to grow up next and I think it will be faster than it used to be. I don't think that borders will be open so coronavirus effects will go on and some countries will be closed still. It's a difficult moment for many businesses, but it is the right moment to start the digital transformation.
7. Any particular technology or industry you would be targeting? How do you plan to prepare your workforce for the upcoming technology upgrade?
We are always up to date and ready to make changes. But these changes don't happen every month or week. We don't support young technologies which have a lot of problems at scale or has a lot of limitations or If you have problems with a developer you can't replace him. We prefer to use a good tech stack that will continually work at 10k active users, 100k active users, and even with 1M active users which of course meets the needs of the business.
8. With technologies like Machine Learning and Artificial Intelligence (AI) that can be used for both web applications and mobile apps, how do you envision the development methodology to be in the future?
We believe in a dedicated team model of work. When there are a complex task and a strong delivery team.
We focus on technology too but our core expertise is Management because we believe that customers that come to us are looking for effectiveness or smart burn of their money. This can be achievable only with a strong executive team and the management model itself.
9. Other than technical expertise, what traits you believe are essential for any app development firm to succeed in this rapidly evolving industry?
We focus on SCRUM as a key to project success. No juniors on the team. Full transparency with what we do and how we do with Product owners. Honest and long-term relationships. All this together with our partner way of working let us disrupt the market and build up innovative products.
10. How do you assess the role of research agencies like ITFirms in bridging the gap between clients and service providers?
You have a nice communication platform. We are very happy to explain how we are working what we provide, which is our specialization and all this is giving value for CTOs, Founders, Product owners, and many more. Thank you for such a nice interview, it was a pleasure!
---
Rocketech
https://rocketech.it/
[email protected]