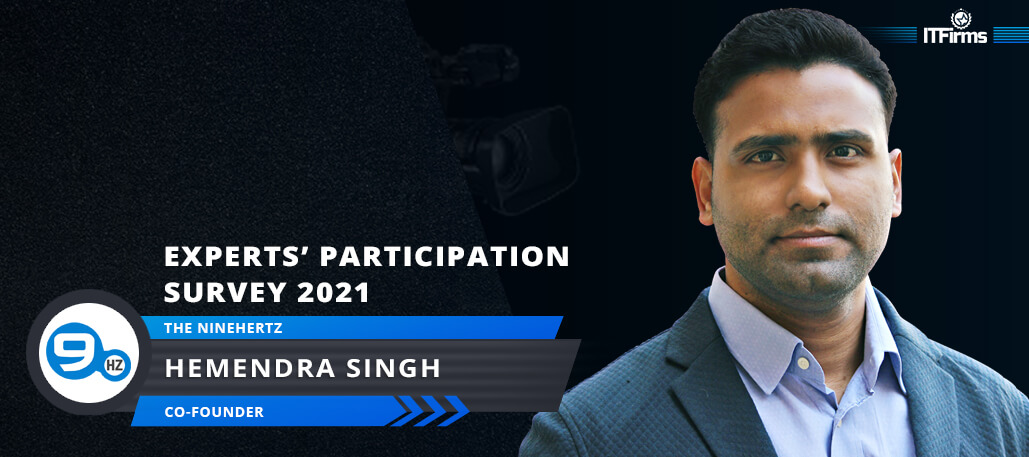 Interview with Hemendra Singh – Co-Founder, The NineHertz
Here is the exclusive interview of Hemendra Singh – Co-Founder, The NineHertz only on ITFirms. In this exclusive interview, he shared his insights on upcoming technology trends for 2021 and many more things.
Let's check his success story and thoughts.
1. Tell us in brief about your company and the leadership.
The NineHertz is a reputed name in the web and mobile app development sector globally as the company believes in serving best-in-class, cost-effective solutions with advanced technologies. Thanks to our team of highly talented, skilled and experienced professionals, we can turn any of our clients' ideas into reality. Also, their dedication towards community and emerging technologies keep them proactive to learn something new and of the next level.
The NineHertz has been serving the IT sector for more than 12 years in 20+ countries like the USA, UK, Australia, Dubai, and others. We have completed 1789+ projects and successfully delivered to 450+ clients worldwide, credit goes to our 575+ dedicated professionals under a roof.
We will continue to serve our distinct development services including React Native development, AngularJS development, Android app development, iOS app development, Unity game development, etc. to different industry verticals with similar dedication in the future.
2. How would you describe your growth trajectory in 2020? Any particular achievement? Any disappointment?
In 2020, when the world was facing the fatal COVID-19 outbreak, me and my team members were busy working on particular tasks from the comfort of the home. We were constantly in touch with our clients and fulfilling even their minute requirements. If I talk about the growth trajectory, not only our revenue increased but also the team expanded during this pandemic. Our great achievement was that we came out stronger and became a reliable brand for serving our duties up to the mark working remotely. We don't say this, these are the feedback from our customers and representatives.
3. Please describe the operational structure of your company- from the moment a client walks in, to the product deployment.
From the moment a potential client walks in via any mode of communication (phone, email or Skype). Our team begins the process that follows the mentioned below methodology to bring the client's dream idea into reality.
Ideation: First of all, ideation takes place wherein it is checked that the idea is realistic or has the potential to resolve users' issues and mark its presence in the market. To perform this step, we adopt several measures including market research, estimation for achieving definite objectives within a set timeframe and study competitors as well.
Designing: Once we get to know about the features, budget, target audience and timeline to build the app, our team of creative UI/UX designers started working on the visualization and conceptualization of the app's functionality and its UI.
Development: Thereafter, our developers take over the process and start writing code for application following an agile development methodology. Since we ensure that the developing application doesn't get heavier and increase loading time as it results in users' irritations and leads to uninstallation from the devices.
Testing: Once the development has been done, testing is the vital step to follow before launching any application on the Play Store/App Store. To ensure the deployment of a bug-free application, we perform rigorous testing at different stages including multiple sets of testing like functional testing, performance testing, device-specific testing, usability testing and more.
Launch: Eventually, the process reached the most-awaited phase for every seeker looking for an enterprise solution; the launch of the application. However, several factors are considered before the launch of the application in the marketplace.
Post-Launch: The process does not end here because we ensure that your application becomes a hit in the market. Therefore, Post-Launch is there to monitor the app performance, user insights, reviews and response to update the app timely and accordingly.
4. What engagement models do you offer? How should a client choose?
At The NineHertz, we offer four types of engagement models to our clientele. They can adopt any of the stated below models depending upon their need to use our developers in their projects. The working hours may vary from one engagement model to another. While the provision of monthly billing is identical for each model. Let's have a look.
Full-Time Hiring: This engagement model enables clients to utilize hired developers for 8 hours/day, 5days/week and these developers work only for the dedicated clients.
Part-Time Hiring: it is beneficial when businesses prefer hired dedicated developers as the better half of their business. In this engagement model, applicable working hours are 4hours/day, 5days/week.
Hourly Hiring: When clients need to focus on the work for limited hours of the day. They can choose hourly hiring as the service is available 5 days/week.
Contractual Hiring: This engagement model is completely based on your terms. You are free to take work from hired developers whenever you need it. Offered working hours: 8hours/day, 5days/Week.
5. What do you as a leader prioritize: – the vertical expansion of your business or the horizontal expansion of your expertise and services? How do you balance both?
As a leader, I do not focus on a single aspect as in my opinion it can't help us become a market leader. Therefore, I always prefer to maintain a balance between both vertical expansion of business and horizontal expansion of expertise and services.
Our focus on the former made The NineHertz a global entity for delivering development services to more than 20 countries including the USA, UK, Australia, Dubai and others, over a decade. While the latter makes us a reliable companion with a workforce having expertise in ongoing technologies and all set for the emerging ones in the near future. Also, it boosts professionals' career and makes them an asset for the company with hands-on experience on the updated systems and new technologies.
Therefore, maintaining a balance between both- the vertical expansion of business and horizontal expansion of our expertise and services pave our way to success and growth.
6. What is your outlook for 2021?
As we know, the year 2020 was tough for each and everyone but thanks to our management team we managed to convey our services throughout the year working from the comfort of our home. Not only did we increase in terms of the team but also witnessed a hike in revenue. Now when everything is back to normal, obviously our goals, possibilities and strategies accordingly have changed and we are looking to expand clientele, projects, services, team and revenue as well. The NineHertz is stepping ahead full of energy, enthusiasm and a positive attitude in the year 2021.
7. Any particular technology or industry you would be targeting? How do you plan to prepare your workforce for the upcoming technology upgrade?
The NineHertz is an IT consulting firm that offers a variety of web and app development solutions for different industry verticals. Therefore, I am not focusing on any particular technology and industry.
As a leader, I believe in going with the latest trends and technologies that are ever-evolving. Our workforce is highly talented, skilled and experienced, they keep on upgrading themselves with the latest trends and updates in technology. That's how we fulfil the distinct and specific requirements of our clients.
As of now, the technologies or platforms which are highly preferable and in demand are React Native Development, AngularJS Development, Cross-Platform Development, Android App Development, iOS App Development, Unity Game Development, etc. and one of our major focuses.
8. With technologies like Machine Learning and Artificial Intelligence (AI) that can be used for both web applications and mobile apps, how do you envision the development methodology to be in the future?
Emerging technologies like Machine Learning and Artificial Intelligence are the future of the IT industry. The implementation of these cutting edge technologies in web and mobile app development will not only simplify the development methodology but also enforce the development of smart customer-centric mobile and web apps. The applications are enriched with enhanced user experience, effective search results, visual and auto-recognition, improved security and other vital features/functionalities to improve user experience to the next level.
9. Other than technical expertise, what traits you believe are essential for any app development firm to succeed in this rapidly evolving industry?
Keeping our clients and employees happy/satisfied is one of the essentials for any app development company to succeed in this ever-evolving industry. Therefore, we, at The NineHertz, try to convey 100% satisfaction to our employees and clients. If our employees are happy with their professional and personal growth working here, they will try their level best to deliver the best-in-class web and mobile app solutions within the given timeline. This is what every client seeks from its app development partner and makes them happy and satisfied.
10. How do you assess the role of research agencies like ITFirms in bridging the gap between clients and service providers?
In my opinion, the research agencies like ITFirms are playing a vital role in bridging the gap between clients and service providers. Nowadays, the competition is at its peak in the market and those offering services at cheaper rates dominate the market. On the other hand, the agencies like ITFirms are assessing client's requirements to the core and assigning them the best possible service providers to complete their projects.
---
The NineHertz
https://theninehertz.com
[email protected]