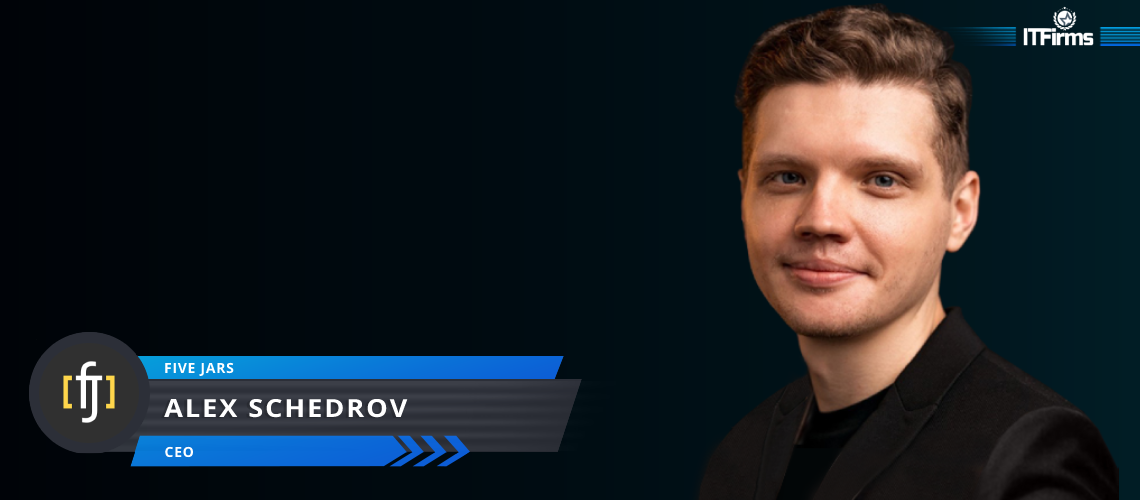 Interview with Alex Schedrov – CEO, Five Jars
Here is the exclusive interview of Alex Schedrov – CEO, Five Jars only on ITFirms. He shared his insights on upcoming technology trends for 2022 and many more things in this interview.
Let's check his success story and views.
1. Tell us in brief about your company and the leadership.
Five Jars is an international Drupal, Web Development, Web Design, and Strategy company led by leaders with 10+ years of experience serving mid to enterprise clients in health & fitness, media, art & culture and NGO markets.
2. How would you describe your growth trajectory in 2021? Any particular achievement? Any disappointment?
2021 was a successful year for the company, we can say about the following achievements:
Increased team by 50% in comparison to 2020;
Increased revenue by 30% in comparison to 2020;
We successfully improved many processes and created dedicated marketing and sales teams;
We opened offices in New York and Los Angeles and now can meet our clients there;
Average clients retention becomes 3.5 years;
Launched more than 15 new projects for our customers from the USA;
Started to work with Fortune 100 clients from the USA;
Built strategic partnerships with such companies as Platform.sh, ActiveNet, TractionRec.
3. Please describe the operational structure of your company from the moment a client walks in, to the product deployment.
At the very beginning, we are having several calls with our client to clarify the scope of the project, as well as the time frame and budgetary constraints. Our sales and analyst teams understand that the customer can change the scope of work after this introduction call. Moreover, after a successful first meeting, discussions of the preliminary project requirements begin. Our team prepares after every call, a preliminary estimate of the project timeline and budget. After each call with the client, we go back to the documentation and make changes to create the most accurate estimate for the specific project. Our team implements the following steps after the successful signing of the contract:
Strategy. Our team delves deep into our client's industry and plans a solution that will help them reach your next business goal.
Design. Designers create an intuitive and highly user-friendly design for your web application.
Development. We build your product using cutting-edge technologies so that users would have a high-quality web experience.
QA. We test that the final solution works and looks awesome on all kinds of devices: desktop, mobile, and tablet.
Release. We do everything necessary to deploy the website for users and content managers.
Maintenance. After the release, we will allocate members of the team to monitor the application and address any issues.
4. What engagement models do you offer? How should a client choose?
We organize our work using Agile & Scrum and provide regular status calls/reports for customers and allow in our practice Fixed Price as well as T&M. The Fix Price model revolves around careful planning and the definition of milestones in sequential order before the actual development starts. It is best suited for projects with a clear execution plan, an abundance of project documentation and a carefully defined roadmap.
The T&M method does not throw a client into unpredictability, as it might seem. Although there is no fixed final amount in the contract Five Jars still provides a client with an estimate of the hours of work required to complete the project. Detailed terms of cooperation and penalties in case of violation will be specified in the contract. Our team values T&M for the flexibility and transparency of the payment method.
The selection of the correct pricing is directly related to the selection of the development methodology and must be consistent with the requirements and objectives of the project, as well as the overall costs incurred by the developer.
5. What do you as a leader prioritize: – the vertical expansion of your business or the horizontal expansion of your expertise and services? How do you balance both?
Our main development tool Drupal is great for certain industries (such as non-profit, art and music, culture, health and fitness, etc.) and this allows us to focus on studying them. Our team started as development experts, and now we have become full-fledged partners and consultants who understand the specifics of industries and business tasks as well as clients.
6. What is your outlook for 2022?
This year started for Five Jars with the war, so we had to adjust some of our strategic plans. Part of our team is located in Ukraine, so the main priority now is their safety, as well as business performance in a force majeure. We have developed a management system that allows us not to lose productivity (link to post).
Our focus is on the growth and diversification of our industries, clients, and services. We aim to shift the work volume by bringing more clients from the Nonprofit, Education, Art & Culture, Media, Enterprise, and Health & Fitness industries focusing on long-term collaboration. We will extend the sales and marketing team and launch new outreach campaigns and sales processes. As a part of the diversification process, we'll build a tangible, solid presence of Five Jars Corp in the United States. We aim to build a friendly and warm work environment with perks, benefits, and financial incentives we deserve. Alongside, we want to invest in education and events. "Created by Five Jars" has to become a synonym for "High-quality product". "I work in Five Jars" has to become a synonym for "I have the work of my dream". Five Jars is among the world's best international Digital Agencies and Products Creators.
7. Any particular technology or industry you would be targeting? How do you plan to prepare your workforce for the upcoming technology upgrade?
The Five Jars team grew out of specialized conferences of the Drupal community, so we continue to be active participants in events such as DrupalCon and DrupalCamp. Moreover, if any employee from a developer to a manager wants to expand his skills, we are ready to pay for his training, as well as sponsor the relevant communities. Five Jars developers are core contributors to the Drupal and JavaScript community as we believe that collaborating with other developers not only creates the most favourable environment but also fosters the technology stack itself to become as efficient as possible. We are convinced that collaborating publicly allows us to demonstrate and showcase our expertise while also testing our solutions through an open community. While not every project is born to become a publicly available repository, we are proud to give back to the Drupal and JavaScript community.
8. With technologies like React and Node that can be used for both web applications and mobile apps, how do you envision the development methodology to be in the future?
We all can see a strong movement towards getting things unified as much as possible. These technologies definitely get us closer to a more efficient way of developing applications when a single code base defines everything: web apps, mobile apps, apps for TVs, API. It makes the whole presence ready quicker, more consistent, and more affordable. You won't need a big team of people specialized in different technologies. It's beneficial for developers too. Now with a strong Javascript basis you have opened doors to different platforms and learning mobile development is easier if you have had experience in the web and vice versa. It implies finding a developer is easier, and growing talents is cheaper.
9. Other than technical expertise, what traits do you believe are essential for any app development firm to succeed in this rapidly evolving industry?
Empathic – we look at each problem through the eyes of the customer and try to create solutions that help clients reach their goals. Results-driven – we produce solutions that give real, measurable results. Transparent – when working with us, you know exactly where your money goes. We organize our work using Agile & Scrum and provide regular status calls/reports for customers. Responsive – we're on 24/7. If anything happens, one of our representatives will be available to help you solve the issue or answer the inquiry.
10. How do you assess the role of research agencies like ITFirms in bridging the gap between clients and service providers?
The B2B sector has a long deal cycle and deep research of contractors, so being in the ratings and being highly rated by experts is very important. ITFirms is one of the most mentioned resources by our clients, and we are very pleased to be part of the ITFirms ranking.
---
Five Jars
https://fivejars.com
[email protected]