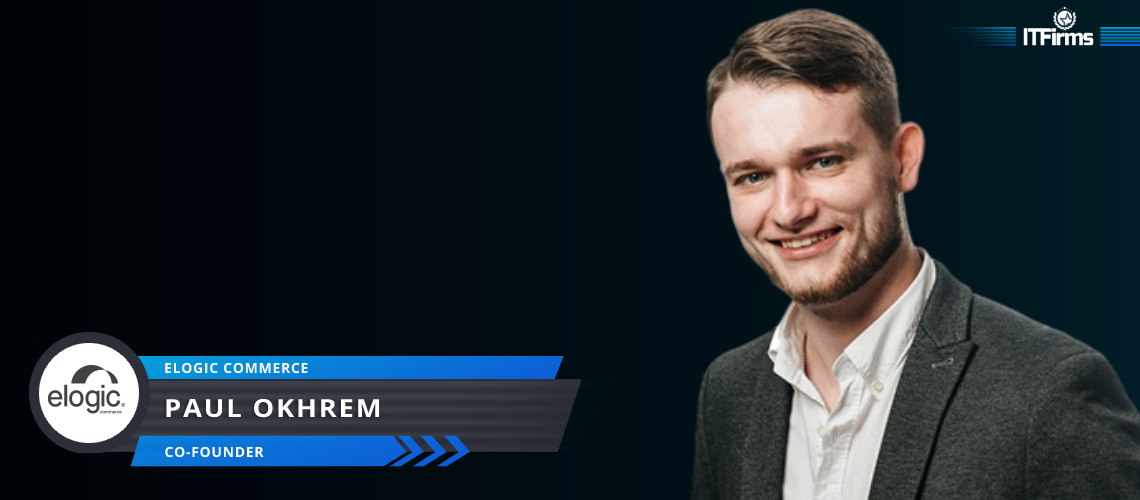 Interview with Paul Okhrem – Co-founder, Elogic Commerce
Here is the exclusive interview of Paul Okhrem – Co-founder, Elogic Commerce only on ITFirms. He shared his insights on upcoming technology trends for 2022 and many more things in this interview.
Let's check his success story and views.
1. Tell us in brief about your company and the leadership.
Elogic Commerce is a full-cycle ecommerce development agency helping retailers build, optimize, and design their online stores. Leveraging its expertise in Adobe Commerce (aka Magento), BigCommerce, and Shopify Plus development, the company has served 150+ customers across North America, Europe, Australia, and MENA region. Our seasoned team consists of over 100 ecommerce consultants ready to tackle projects of any size, ecommerce model, or operational domain.
Our mission is to deliver solutions that become an essential part of our client's success. Be it for a complex integration, migration project, or mere ecommerce consultation, we strive to create a valid tech product for e-retailers to keep growing and increasing their ROI.
2. How would you describe your growth trajectory in 2021? Any particular achievement? Any disappointment?
2021 was a great year for Elogic Commerce. We forged new strategic partnerships with such leading ecommerce solutions as commercetools and Sales Layer as well as added Shopify and BigCommerce development to our services. Our team increased by 50% in comparison with 2020. Our SEO rankings got a significant boost too, so any internet wanderer looking for the best Magento development company can now find Elogic in top search results.
3. Please describe the operational structure of your company from the moment a client walks in, to the product deployment.
All projects at Elogic start with a deep discovery phase. We set a kick-off call with a client, gather functional and non-functional requirements for the future store, and identify their business needs and objectives. The BA team analyzes the obtained data and advises on the best tech solution for a client. Our goal is never to complete the project; instead, we invest in finding the right solution to a client's problem and helping them reach their business objectives.
Once the contract is signed, we proceed to the planning stage of the project development. The client gets a detailed ecommerce website scope of work, organized deliverables in a work breakdown structure (WBS), and a clear project budget and timeline. The risk mitigation form is prepared at this stage as well, so our client stays informed of the potential risks and ways to overcome them.
We also sign the NDA to protect the privacy and confidentiality of our client's business details.
After agreeing on every nitty-gritty detail of the project, the client proceeds to the implementation stage of the project. A custom design is being developed and presented with all prototypes and wireframes. Store features are customized and/or built from scratch. Third-party systems and modules are integrated. The process is never chaotic but rather iterative. The client receives a comprehensive report once a fortnight; each development sprint ends with a demo where a client can introduce changes and provide feedback on the deliverables.
Before code deployment, the project goes through the testing and quality assurance phase. Our vetted engineers test the website for bugs and fix all technical inconsistencies. They also ensure that the final ecommerce website meets your initial business objectives and requirements.
Finally, project launch! After all the testing and fixes, the ecommerce website is released, and online shoppers can successfully place orders and complete purchases on the website. But our collaboration doesn't end there.
The solution implementation is only the beginning of the journey followed by ongoing development and store maintenance. That's when we analyze real customer shopping behavior and take all the necessary measures to improve store functionality and increase conversions.
4. What engagement models do you offer? How should a client choose?
We offer two engagement models: hybrid (per phase/project) and time & material (per hour). The client can choose based on their own preference.
It should be noted that the hybrid engagement model is most common for design and development projects (like building an ecommerce website from scratch or replatforming/migration projects). The time & material model is a popular choice for such services as ecommerce developers for hire, ecommerce consulting, and ecommerce support and maintenance.
5. What do you as a leader prioritize: – the vertical expansion of your business or the horizontal expansion of your expertise and services? How do you balance both?
Both. Horizontal: Elogic already holds a 100% ecommerce focus, and we continue expanding our service offerings in this industry from design, development, and optimization to ecommerce consulting. We also build on our expertise in other complex tech integrations and diversify the selection of ecommerce platforms to meet our potential clients' needs, especially in the enterprise sector.
Vertical: We want to cement our position on the global market and build a tangible, solid presence in the American, European, and Middle East markets. My ambition is to open a few delivery centers around the world and, thus, reinforce the goal of Elogic becoming the biggest ecommerce development agency globally.
6. What is your outlook for 2022?
2022 began with a scenario that was hard to predict or even plan for. Over years, we have built an extensive network of delivery centers across East Europe and now, some of our team members were closer to the war than we might have imagined. Our management team had to respond immediately, ensuring the safety of our staff and top team performance, like we always do. It was surely not an easy task, but we emerged stronger than ever.
Despite the unfortunate beginning of 2022, I am quite positive in my outlook for the rest of the year. We plan to focus on company growth and service & client diversification. We are actively integrating ecommerce strategy consulting in our service offerings, and our clients can already sign up for it on a time & material basis. I am also thrilled to announce that we shall add a Salesforce unit to our company and meet the increasing market demand for this ecommerce sector. Our team puts an extra effort to recruit and retain seasoned software engineers and offers only A-players to augment our clients' staff to achieve their business objectives.
The Elogic Academy will also undergo several transformations, including the updates to the study program, added gamification of the courses, and new ways to improve the results of the graduates and retain them after the internship. We will create value in the dedicated teams we offer for outstaff: the clients shall come to us not for human resources but for unmatched quality services.
7. Any particular technology or industry you would be targeting? How do you plan to prepare your workforce for the upcoming technology upgrade?
Elogic Commerce is a full-cycle ecommerce development agency, and we will continue focusing our efforts on this industry. The company primarily sprang from Magento (aka Adobe Commerce) development but is now deepening its expertise in other ecommerce platforms, including but not limited to Shopify, BigCommerce, Salesforce, and commercetools.
We welcome software engineers from all walks of life (or should I say, walks of ecommerce development) and encourage them to hone their skills. In fact, the company offers a Magento internship program, where my colleagues and I are mentoring future front-end and back-end developers and offer the possibility of employment to those who successfully complete the course.
8. The market is filled with multiple eCommerce development platforms; which one do you think is the best?
I have always been a fan of scalable and composable ecommerce platforms. But the choice of a specific solution should depend on the size and ambition of the business itself. For instance, at Elogic, we differentiate between platforms for mid-level to enterprise companies (such as Adobe Commerce, Salesforce Commerce Cloud, and commercetools) and for small to mid-sized businesses (Shopify, BigCommerce, etc.).
B2B platforms deserve special attention too. They might be quite scarce, but I always recommend BigCommerce for small merchants and Magento for mid-sized and enterprise-level stores. Magento has everything a mid-size to enterprise company might wish for. And I can vouch for its stable performance and speed if a merchant takes good care of it and follows coding best practices.
9. Other than technical expertise, what traits do you believe are essential for any app development firm to succeed in this rapidly evolving industry?
It's hard to stand out from the immense competition with only expertise. Our job at Elogic is to provide our clients with a smooth, pleasant customer experience — just like the one they want to see for their customers.
Our competitive advantage rests on two more pillars except for deep technical expertise: deep dive into the client's business needs and transparent project management.
First, we take a vested interest in one's business vision, objectives, and requirements and ensure we gather all the required info during the discovery phase of the project. It's thanks to the comprehensive and individual approach to each merchant that we strive to exceed our clients' expectations (and in 92% of all cases in 2021, we did!).
Second, we understand that time and money are some of the most valuable resources in project development, so we take responsibility for optimizing it. No overhead costs. No missed deadlines. No ambiguity in the project deliverables. Our clients always stay informed on the project updates and get answers when there are questions — on time.
10. How do you assess the role of research agencies like ITFirms in bridging the gap between clients and service providers?
B2B clients go through a complex cycle of sales, including numerous review platforms to discover the right vendor for their needs. ITFirms is one of them bridging the gap between companies looking for tech partners and the top-rated agencies providing development services.
Research agencies help clients sift through the best in a large pool of tech companies, and I truly appreciate that ITFirms lists Elogic among the top ecommerce development agencies.
---
Elogic Commerce
https://elogic.co
[email protected]