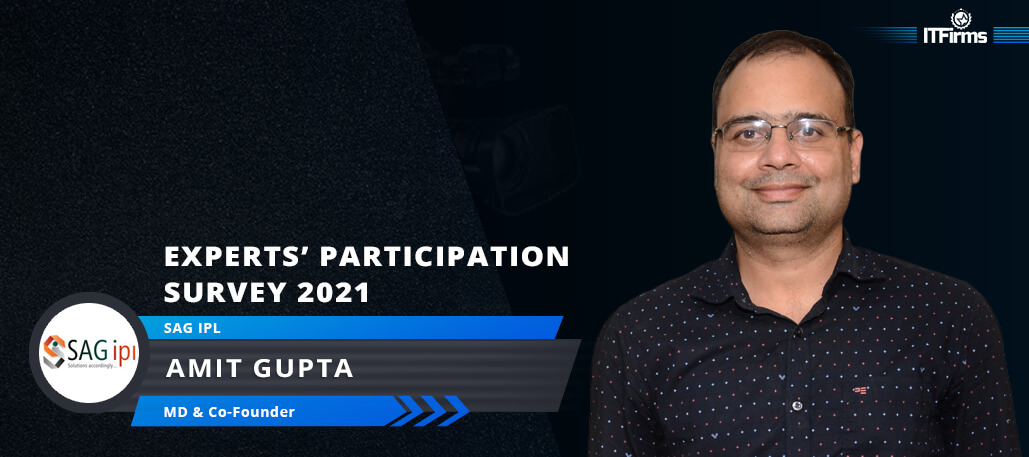 Exclusive Interview with Amit Gupta – MD/Co-Founder, SAG IPL
Here is the exclusive interview of Amit Gupta
– MD/Co-Founder

, SAG IPL only on ITFirms. In this exclusive interview, he shared his

insights on upcoming tech trends for 2021

and many more things.
Let's check his success story and thoughts.
1. Tell us in brief about your company and the leadership.
SAG IPL was founded in the year 2010 as the IT subsidiary of SAG Infotech Pvt Ltd., a Jaipur (India) based accounting & taxation software Provider Company. SAG IPL provides a variety of high-end software and web/mobile development services and digital marketing services to its clients located in 30+ countries. The company has a team of 200+ full-time professionals, as of November 2020. Mr. Amit Gupta, founder and MD of SAG IPL, is a Chartered Accountant by profession and a businessman with a vision to make SAG IPL one of the leading software consulting firms in the world. The core management of the company includes dedicated HR professionals for different departments along with department managers (head) to oversee day-to-day operations and manage clients. The major departments/teams in SAG IPL include software developers, designers, digital marketers, web developers, content writers, and support.
2. How would you describe your growth trajectory in 2019-2020? Any particular achievement? Any disappointment?
So far, 2020 has been one of the good years for SAG IPL. Despite the COVID-19 outbreak, we have been getting constant leads and new clients throughout the year, and most of our existing clients continue to use our services. I guess that's the benefit of being a reliable and highly trusted IT company in India. As for the achievement, it's worth noting that we managed to increase both our revenue and profits during the year despite the pandemic.
3. Please describe the operational structure of your company- from the moment a client walks in, to the product deployment.
A potential client can contact our Sales Team via phone, email or Skype for their consulting/service needs. Depending on his/her requirements, we will connect him to the right department. Our manager will discuss the project in brief with the client over the call or Skype, after which we may have a face-to-face or video meeting with the client to further understand & analyze their project requirements, scope, etc. Based on our initial project analysis, we'll give a quote to the client. If they like the quote, they can hire the team or individual developers/designers/marketers as per the need. Then, our team will start working on the project. The project manager will keep the client updated with the project progress and status and accept any suggestions or feedback. Once the development and testing are done, the final product is delivered to the client or deployed on their preferred server.
4. What engagement models do you offer? How should a client choose?
At SAG IPL, we have multiple engagement models to meet the needs of different types of clients. A client can choose from the following models:
fixed price (project-based)
full-time talent
dedicated resource
Custom (as per client's own requirements)
For instance, if a client only needs one developer, they can hire a full-time talent from us.
5. What do you as a leader prioritizes – vertical expansion of your business or the horizontal expansion of your expertise and services? How do you balance both?
Both. From time-to-time, we expand our services to include new & different but relevant skills to our offerings. For instance, we have been providing blockchain development & marketing services for the last three years. At the same time, we also plan to expand our services to more regions/countries around the world. We already provide services in more than 30 countries from our dedicated offices in India, the UK, the UK, Canada, and the UAE.
6. What is your outlook for 2020?
We are quite positive and very hopeful for the coming year. At the rate we are growing and the business is expanding, we hope to serve many more clients in more countries in 2021 and beyond.
7. Any particular technology or industry you would be targeting? How do you plan to prepare your workforce for the upcoming technology upgrade?
We are always looking to upgrade ourselves and our systems to the latest technologies. As of now, our focus technology is blockchain, among others. Over the past couple of years, we have somewhat mastered blockchain through hours of research & development work. Now, we have a dedicated team of blockchain developers and marketers. We are also on the constant lookout for the best blockchain talent to add to our team.
8. With technologies like React and Node that can be used for both web applications and mobile apps, how do you envision the development methodology to be in the future?
The technology paradigm is shifting at a higher speed than any of us would have imagined a few years back. Nevertheless, we absolutely love the fact that we now have access to technologies like React and Node that make the development process faster and more efficient. Also, we expect the agile development methodology to reach new heights in the future.
9. Other than technical expertise, what traits you believe are essential for any app development firm to succeed in this rapidly evolving industry?
While technical expertise and skills are the first things a client will look in a potential developer, in my opinion, other traits that also matter when choosing an app development company are honesty, transparency, flexibility, cost, and their experience in the relevant industry. These are the things that decide whether or not the company will survive or succeed in the long term. More than anything, a developer should be honest both with his client and himself.
10. How do you assess the role of research agencies like ITFirms in bridging the gap between clients and service providers?
I believe research agencies like ITFirms are an important link between clients and development companies. In the past couple of years, these research agencies have immensely helped clients in their search for good and reliable service providers. Without them, it will be nearly impossible to trust an agency for delivering good services.
---