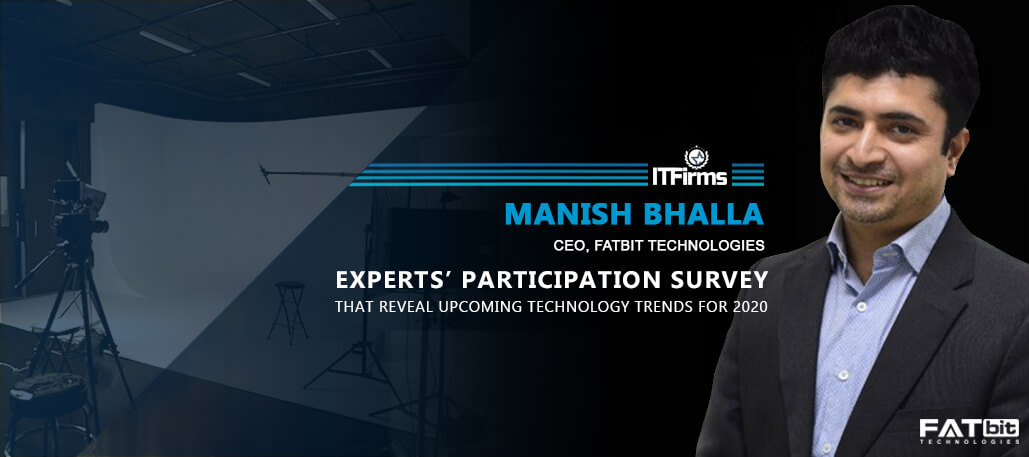 Interview with Manish Bhalla – CEO, FATbit Technologies
Here is the exclusive interview of Manish Bhalla
–

CEO, FATbit Technologies only on ITFirms. In this exclusive interview, he shared his

views on upcoming tech trends for 2020

and many more things.
Let's check story behind his success.
1. Tell us in brief about your company and the leadership.
FATbit Technologies today is among the leading software solutions providers, committed to delivering high-performance growth solutions to start-ups, SMBs as well as large enterprises. Withholding our values of integrity, customer service, quality, and affordability, we are known for serving our clients with a smile.
Since its inception, in 2004, it has been augmenting industries with e-commerce solutions, business consultation, and a wide range of digital services and total technology partnering like UI/UX design & optimization, web & mobile app development, digital marketing.
Feature-rich e-commerce solutions like Yo!Kart, Growcer and Yo!Yumm, launched to decrease time to market (TTM) by saving 1000+ development hours, improve business efficiency.
FATbit is a representation of its leadership, young, dynamic and agile. With growth the management has become decentralized, allowing enough space for new suggestions and ideas. An experienced and proficient ascendency has been the key to an exhilarating journey.
Our vision is to become the [Samsung] of our industry in the next 10 years. Our focus is on PERFORMANCE.PRECISION.PERSISTENCE.
2. How would you describe your growth trajectory in 2019-2020? Any particular achievement? Any disappointment?
2019-20 has been a year of internal growth for FATbit. A relatively stable year in terms of growth, maintaining the momentum, and enhancing the company's portfolio. Talking of achievements, there were no major or significant breakthroughs to mention, but we did escalate our existing product offerings, with two new online store variants lined up for release.
Tribe – 100% FREE Yo!Kart single store variant and Yo!Chat – 100% FREE LiveChat solution for your website, are two in-house products being geared up to capture major segments of the e-commerce industry. These solutions will accelerate businesses and fit pockets perfectly.
Disappointments are a part of every business journey. Internal and external disappointments contribute to the growth and maturity. 2019-20 was a year of some internal delays. Since new business coming in kept resources engrossed, commercial projects took priority over in-house development, delaying the launch of these two products.
3. Please describe the operational structure of your company- from the moment a client walks in, to the product deployment.
FATbit is one of those development companies that entirely operates on an agile approach. Once a client is on-board, the FATbit team enriches the product/solution development at every step.
Proficient planning and execution forms the backbone of successful deliverables. The entire development process for the client is backed with sound market research, and domain expertise, so as to add value to the product/solution, leading to impactful outcomes.
Agile development processes contribute immensely to solve the unpredictable challenges with an evidence-based empirical approach. Such an approach helps adapt to changing market conditions and leveraging evolving technologies. Being agile also aids for a better interaction with the clients, helping understand their vision behind their projects.
A significant part of the FATbit operational structure is the business analysis component. This defines the problem statement into definite aims and objectives for a holistic view.
The consultation service bridges knowledge and information. With their subject matter expertise, our consultants solve challenges identified by clients.
4. What engagement models do you offer? How should a client choose?
Engagement models at FATbit are simple and well-defined. Deciding on which model to move ahead with, client requirements, customization requests and the complexity involved, are considered vital. Different models of engagement are:
Hire a dedicated developer – Depending on the level of competence required, clients can hire either a dedicated individual or a team of developers for a particular project. This kind of an engagement is on a monthly basis.
Requirement based – In cases where the problem statement requires analysis and research before beginning the actual design or development, the engagement is purely based on the requirements shared. Such type of engagement is billed per milestone calculated on an hourly basis.
Product based – There are fixed price turnkey solutions, these ready to deploy eCommerce solutions reduces the initial investment in the technology and time to market as well. These solutions are also customizable and are worked on as per client requirements on an hourly rate basis.
5. What do you as a leader prioritizes – vertical expansion of your business or the horizontal expansion of your expertise and services? How do you balance both?
Business expansion is a strategic decision and every step taken ahead contributes to this, either horizontal or vertical.
As the CEO and founder, I feel we would currently like to move ahead by capitalizing on our existing strengths. So, a horizontal expansion by adding depth and proficiency to what we do best is the plan for the near future. We look forward to adding more detail and cognizance to the existing line of solutions. Solving more pain points and meeting more market demands through them will be the preference for now.
In line with changing trends and upcoming technology upgrades, a vertical expansion can always be on the cards and improvisations can always be part of the expansion plan.
6. What is your outlook for 2020-21?
2020 was a precarious year. With businesses struggling to stay afloat, FATbit delivered commitments and continued to enhance products and services. As we progress into 2021, we look towards expanding our task force.
As the year 2020 comes to a closing and we enter into 2021, the vision is set for the major industries we cater to. With the recent pandemic changing industrial landscapes, major offline to online transitions happened across the grocery, food and education businesses. We plan to continue contributing to these with our e-commerce marketplace solutions.
The vision is also to gear up and upgrade the expertise and proficiency already on the bench. We plan to expand our resource strength by 25-35% in the coming year. This will play a significant role in taking up more such challenging projects and continue meeting client expectations the way we have always been.
7. Any particular technology or industry you would be targeting? How do you plan to prepare your workforce for the upcoming technology upgrade?
FATbit has been providing solutions and services for startups as well as for enterprises since the very beginning. The approach internally has always been to work towards client satisfaction and creating their success stories.
Strategy-wise, preparing the workforce is a continuously evolving agenda. Working on in-house products, their constant improvement, upgradation, aligns resources for a common vision and mission, helping to deliver performance.
Keeping the team motivated, ameliorated and primed to handle everyday work challenges is our key drive. We understand the importance of up-skilling to sustain within a dynamic tech industry.
Having said this, we also feel that a good way forward is to get on-board, a brain pool and skill sets that keep us aligned with the advancements in technology and future trends from the time they set foot as a part of the FATbit team. This perspective allows us an edge above, in a competitive environment along with giving us the confidence to propel the team towards new challenges as well.
8. Other than technical expertise, what traits you believe are essential for any app development firm to succeed in this rapidly evolving industry?
A rapidly evolving industry signifies the appetite and scope for better products and technologies. This gives technology developers signs to keep on their toes with new propositions that meet clients and their customers exactly where they are in their respective journeys.
Any app development firm today focuses towards achieving high on user journey and experience. UI-UX have thus become an integral and critical part of application development. Yet, there are traits that are essential for any app development company to harbor in order to stay ahead.
As mentioned above, the user journey contributes to a significant proportion of the opinion built by app owners and consumers. Skill sets do play a part in bringing out a beautiful picture, but it's the thought behind the picture that helps connect to the audience. So, the creative intelligence behind creating a user journey is what will distinguish an outstanding app from the ordinary ones, and it is this quality process that makes the difference.
A futuristic thought today is bound to become a trend tomorrow. This is what draws the differentiator. Experts play their part in providing insights implemented into concepts, building advanced outcomes and features for an app capable of sustaining competition tomorrow.
A parameter that essentially enriches this whole app development is the project management that goes behind it. Right set of processes and methodologies whether being followed to create an application that stands the test of time is a huge responsibility. People can duplicate technology and skills, but a fool-proof process enriches a product in another dimension, and that is exactly what is the essence.
Apart from these, what consumers desire is stability and scalability. An application that doesn't run out of trend and is capable of upgrading with changing times and their needs. This stability and adaptability is of paramount importance, and those providing this, are on the path to success by all means.
9. How do you assess the role of research agencies like ITFirms in bridging the gap between clients and service providers?
Businesses prosper when testimonials say more than any other source of information. Agencies like ITFirms with their intricately drafted questionnaires place the vision and offerings of dynamic CEOs/founders in a way that those surveying to connect to technology partners spot theirs easily.
Through this platform and the way the information is presented helps connect the service providers to the seekers on a clear thought, with preliminary doubts clarified. It is a good way to build a basic rapport before a professional discussion entails.
---
FATbit Technologies
https://www.fatbit.com
[email protected]