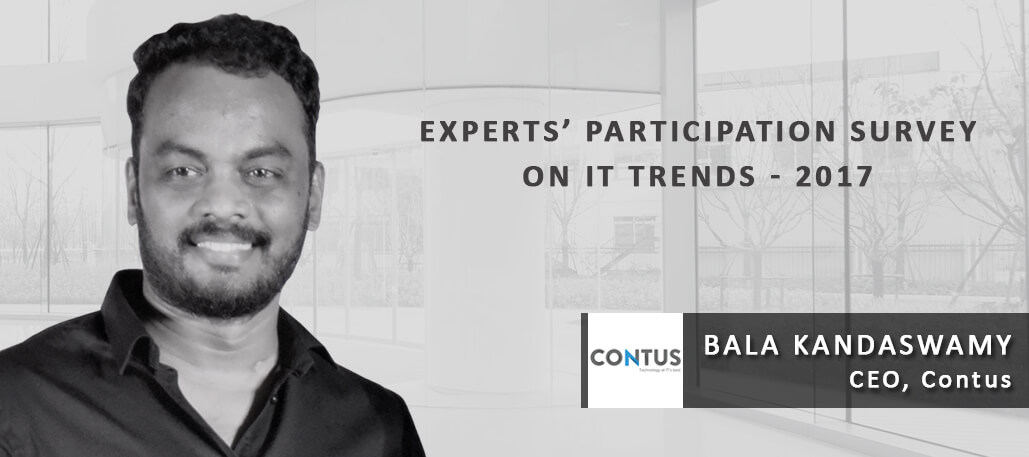 Interview with Bala Kandaswamy – CEO, Contus
Few lines about the CEO of Contus
Bala Kandaswamy is the CEO of Contus. He takes care of the core management, tech strategy and personally leads the Enterprise Mobility team at Contus. Until Contus happened, he was an expert recruiter who added skilled workforce to global brands in the IT space.
1. Give us a brief introduction about your company.
Contus is a Digital Transformations company that leverages Social, Mobile, Analytics and Cloud (SMAC) technologies to help enterprises solve their toughest business problems. As a digitally inspired company, Contus delivers strategic IT consulting, solution engineering and software development services for enterprises ranging from startups to established global organizations.
2. What are the services you offer to your clients?
Our service offerings include:
Enterprise Mobility
eCommerce Development
Internet of Things
Cloud Solutions
Web Application Development
3. In this intensely competitive era, what technologies, services and project model can give you an edge over your competitors? 
As a Digital Transformations company, we help enterprises map their Digital Transformation Journey from concept till market.
Our capabilities and source of strength are detailed as under:
| | |
| --- | --- |
| How Contus contributes | Contus' Capabilities |
| Setting the Digital Direction | Insider knowledge about 40+ industries |
| Nurturing Digital Transition | Inherent expertise in more than 40+ technologies |
| Achieve Digital Scalability | Leveraging cloud to help enterprises scale rapidly |
| Empowering Digital Innovation | Continuous revamp & upgrade leveraging DevOps |
4. After service is a necessary part of development. How do you provide customer support to your client? 
We are available to our clients at all times (24*7) through all virtual communication means. The tools and modes we use for communication and collaboration are detailed as under:
Virtual Collaboration
Skype
Teleconferencing
Video calling
Email
5. Give your opinions on how far this app revolution can make a difference in the technology world? 
We are rapidly progressing towards a future where mobile-first will be the default strategy of enterprises. Even users prefer to get their routine tasks done using a mobile device than a personal computer or a laptop. Ease of access, convenience, cloud connectivity, security all will make mobile apps the centerpiece of the tech world. Moreover, the growth of tech companies like Facebook, WhatsApp, Instagram, Amazon, Google and many others are grounded on the mobile app revolution.
6. What latest technologies and tools you're planning to implement for mobile app development?
At Contus we are passionate about experimenting emerging and mainstream technologies that can be problem-solvers as well as a tool for delivering engaging customer experience. To achieve that we use core mobility technologies like Augmented Reality, Internet of Things, BLE, Wearables, DevOps, etc. we develop mobile apps for all range of mobile operating systems including Android, iOS, Windows and cross-platform.
7. What's your approach to creating interactive and addictive UX/UI of mobile apps and websites?
Our focus is to develop habit-forming apps. Apps that customers can use easily and voluntarily without any difficulty. We do in-depth research and analysis of user behaviors, draw empathy maps that indicate pain areas in mobile app usage and draw conclusions from them to design mobile app interfaces that users can use habitually without any effort. Further, whenever required, we also incorporate gamification into the mobile app usage so that users derive a sense of satisfaction and engagement from the continuous usage.
8. What are the challenges you see in the outsourcing industry and how much you're prepared to face those challenges?
There are three main challenges that Contus, as part of the outsourcing industry is facing. One is the change in foreign trade and immigration norms. The norms are rather uncertain and there is a lack of clarity as to how it will change in the future. This makes us wary of further investment in growing sectors in selected parts of the world.
Secondly, automation is fast outgrowing the pace of consumption. Keeping the workforce updated with evolving automation practices is indeed a challenge. Also, most enterprises in the outsourcing industry are being reactive to challenges than devise proactive solutions that will sustain profit margins even during uncertain times.
9. Mention the ways you use to introduce new updates to your team.
We have regular team huddles during which discussions about ongoing projects, their statuses, and future plans are discussed at length.
10. Nearly 70% users engage in wearable tech. What's your step to enter into this revolution?
Contus has already gained entry and established a presence in the wearable tech industry. We created two wearable apps grounded on the healthcare industry. The wearable apps were engineered to send automatic emergency alerts to specific contacts set by the user. Health diagnostics, push notifications and geofencing are the other highlights of the wearable apps we created. Further, Contus is presently working on developing wearable apps that will connect to connected cars for controlling interior cooling, infotainment, and other smart car features.
11. Define your future prospective and vision regarding new technologies like wearable and IoT apps?
Contus is fully geared to take on the tech innovations that are happening right now across the world. We ventured into wearable technologies and IoT app development when the industry was in its nascent stages. This helped us gain ground and also streamline our processes for maximum productivity. Our future plans are to help enterprises transit and mature into Digital Enterprises through an adoption of these technologies. We have already engineered customer-built solutions to facilitate the transition in a short span of time.
12. Mention the name of some of your successful projects?
We are proud to have been the choice of IT vendor for several global brands like Accenture, World Bank, Dr.Reddy's, Daimler, etc. We have also helped several entrepreneurial pursuits become successful business models and brands with the help of technology. Blue Sense is our latest completed project which is a connected car in-vehicle infotainment system that allows passengers to control the car's infotainment system from their smartphones. Similarly, we have also developed parts planning systems, inventory management system, eCommerce solutions for the brands mentioned above.
  Contus
  www.contus.com
  [email protected]