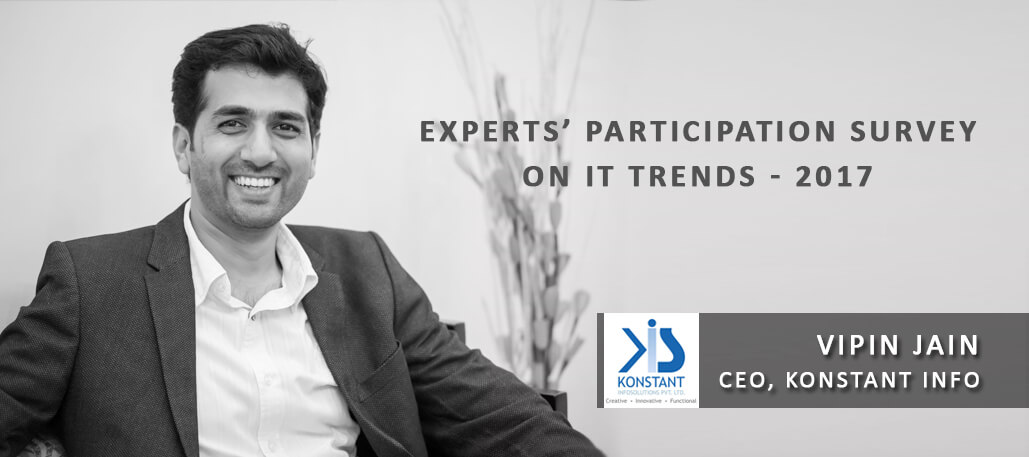 Interview with Vipin Jain – CEO, Konstant Infosolutions
Few lines about Vipin Jain – CEO of Konstant Infosolutions
Beginning my career with Konstant Infosolutions in 2003, I have led various leadership roles. I'm thrilled to be here and content to see where Konstant stands today- as one of the world's finest IT services companies. I am exceptionally proud of the team we have at Konstant- the efforts they make everyday to keep the clients content and provide a winning service to them, contributing their inventiveness in developing captivating experiences for their customers/users. As the Chief Executive Officer (CEO) at Konstant, my strategy is to continually inspire my team through frequent interactive and tech-based one-on-one sessions and break up the barriers they are facing while working on the project. I am also involved directly with our clients to personally connect with them and advise them if they are caught up anywhere with the team and the project.
1. Give us a brief introduction about your company.
Konstant's sole aim is to bring new approaches to clients, the customers, the company and the world at large. We ought to become #1 Offshore Development Company across the globe.  Ranked among top mobile app development and web development companies worldwide, Konstant Infosolutions has matured into a more professional, more dynamic and more futuristic company in these 14 years of existence. Besides web and mobile apps, we have embraced new development technologies like wearables, Internet of Things (IoT), Cloud, On-demand, Cross-platform, Enterprise software and everything latest. Konstant has been fortunate in serving some top clients in the market like United Nation (UN), NASSCOM, Volkswagen, Wonder Cement, The Wall Street Journal, RawBank, Stanley Connect, ThomasVille, Nestle and various promising startups and enterprises.
At Konstant, the best that we and our team have applied so far is that we never lose sight of our core purpose- to deliver reliable and state-of-the-art solutions businesses and people need in this digital panorama. This has made us build a focused portfolio of high quality projects that have long-term value.
2. What are the services you offer to your clients?
Delivering 5X faster than our competitors, we deliver custom, bespoke services and solutions in mobile app development, web development, IoT development, Cloud computing, enterprise mobility, on-demand, E-commerce and Magento development, wearable development and everything digital. Besides development services, we also offer quality offshore staffing to let you hire dedicated iOS and Android app developers, hire PHP developers, hire expert designers and for various other technologies. Our specialized services in app prototyping and software maintenance and support are our competitive strengths.
3. In this intensely competitive era, what technologies, services and project model can give you an edge over your competitors? 
Like I said, our expedited and cost-effective deliveries make us stand out from our competitors no matter what technology or industry we cater to. One thing that I have realized in this industry is that there is no single model for success; one has to keep evolving with time and also change gears as per client's requirements, scope change and transformations in people's choices. It's more of how we adapt to the new, transformative technologies like Internet of Things, iBeacon, Cloud, Hybrid app development, Xamarian and PhoneGap, and we include them in our development.
Some of the brand-new frameworks that very few agencies like us have espoused with the right skills are NativeScript and React Native for hybrid app development, that will definitely help us outplay our competitors.
Also, our engagement models differentiate us from others as they are too flexible, where the clients are free to choose from the different hiring options, highlighting their needs and requirements, because at the start and at the end of every day, we just focus on delivering the highest quality product to our clients and their users. Further, we keep a strict check on enhancing our cyber security measures that we take during coding, integration and project development process.
4. After service is a necessary part of development. How do you provide customer support to your client? 
To stay agile is our regimen- be it any process- communication, development, support and maintenance. Our team takes the ownership and accountability of their work and come what may, we are ready to pan out our client's queries and issues, post deployment- anytime they come to us. We know how to fill the void – and we do that with our expert team and their quick problem resolution tactics. If a client asks us to do something that truly don't cost us a lot in time and income, we go that extra mile to make them content, because customer satisfaction is the driving force.
5. Give your opinions on how far this app revolution can make a difference in the technology world? 
Ah, a tricky question, though. I mean like each one of us can really see within ourselves and our daily routines to get the answer. We are so addictive to smartphones, smart technology and smart apps that there is no looking back.Each new morning when I come to office, I feel more optimistic about mobile technology. There are new launches, new app releases by tech behemoths like Google, Samsung, Apple, assimilating every feature, every activity in just one single device. For most of us, mobile devices have replaced some or all of other machines, and apps are the ultimate rulers wherever we go, whatever we do- just few taps on the screen- and it's done.
6. What latest technologies and tools you're planning to implement for mobile app development?
While mobile app development continues to remain our focus, our plans for including new technologies and tools will revolve around Internet of Things, AR/VR as highlighted by Apple Inc. for their next iPhone 8, Unity technologies for game app development, iBeacon, wearable and location-based services, Hybrid app development using more rewarding ReactNative and NativeScript frameworks, Big Data analytics, Enterprise apps and micro-apps, progressive web apps, M-commerce, Swift for iOS app development and Rapid app development.
It's like every modern technology that will help our client's businesses and users connect more will be in our top list.
HTML5, CSS3, JavaScript, Magento, PHP will always remain our front runners.
7. What's your approach to creating interactive and addictive UX/UI of mobile apps and websites?
The foremost thing that our designers and developers do while developing an addictive, interactive UI/UX design is to gain actionable insights into user's minds and understand the purpose of the app. Until and unless you thoroughly understand the target audience and the single problem that the app owners wants to solve, you can't design an experience. Our designers have a great acumen for color schemes, themes, imagery and tonality. They keep refining their designs to execute better design decisions. We do brand connectivity with our aesthetics and aim to deliver strong value to the user. On top of everything, we feel that simple always engages and stays for long.
Speaking of technology, we have our team adept in all leading, core tools including Photoshop, Adobe Illustrator, Marvels, Coral Draw.
8. What are the challenges you see in the outsourcing industry and how much you're prepared to face those challenges?
See, preparations are on a treadmill every time. I mean with a dynamic industry like IT outsourcing, you have to be ready for any challenge any time. And fortunately, we are psyched-up with the right resources, right infrastructure (hardware and software) and right expertise in place.
The major challenge in this industry is the ever-changing customer preferences and while outsourcing development services, sometimes it's the unrealistic expectations of our clients from our team to confront problems before they arise. Though most times, we are proactive in informing our clients at each phase of development, but sometimes things are unforeseen.
9. Mention the ways you use to introduce new updates to your team.
This field is all about updates and upgrades. If you are not updating the technology, the programming language, the tools and frameworks, the methodology, the strategy as per the new versions of Operating Systems (OS), new devices, new platforms, you are out of the race. And our team understands it the best. So, we really don't have to keep pushing them.
We do organize in-house training for them on monthly basis so that they get to share their expert opinions and have open discussions outside their departments and incorporate new ways into their working style. As the CEO, I keep encouraging my team to join webinars, read magazines, watch latest tech interviews to become more technically sound and knowledgeable individuals.
10. Nearly 70% users engage in wearable tech. What's your step to enter into this revolution?
We've already taken care of that. Recently, we have developed a wearable app SemaConnect. We are looking for more projects in wearable app development from our existing and new clients as we have an expert team ready to develop some amazing wearable experiences.
11. Examine the success and failures that your developers are facing while wearable app development?
Our success is like we have developed it and delivered it to the client to all their satisfaction- so we are successful in developing a wearable app.  The challenge is to develop battery friendly apps since they are feature-rich, they undeniably consume more battery. Also, developing an app for a smaller screen is always a challenge.
12. Define your future prospective and vision regarding new technologies like wearable and IoT apps?
Mapping out my IoT vision, I'd say I am overwhelmed with this connected robotics and its adaptability in day-to-day life activities. Some of our clients have proposed thrilling ideas of IoT apps, we're bracing ourselves for this new paradigm. I foresee our developers taking a completely new road to this new universe, with best of their talents and intelligence.
13. What is your go-to market scheme at a global level?
Underpinning our company's long-term performance, we are moving towards a more united and decisive management, along with effective corporate stewardship. We want to be in a constant state of innovation and enforce trust and personal responsibility in all our relationships- be it with clients, employees or third-party vendors.
By delivering more cognitive solutions and connecting with more clients, we look forward to superseding as a top globally recognized IT services company.
Technology wise, we are constantly progressing by including breakthrough, cutting-edge tools, programming languages, and making the team capable of handling every challenge that comes their way. We are waiting for some more exciting projects in wearable, IoT, AI, beacon and chatbots.
  Konstant Infosolutions
  www.konstantinfo.com
  [email protected]