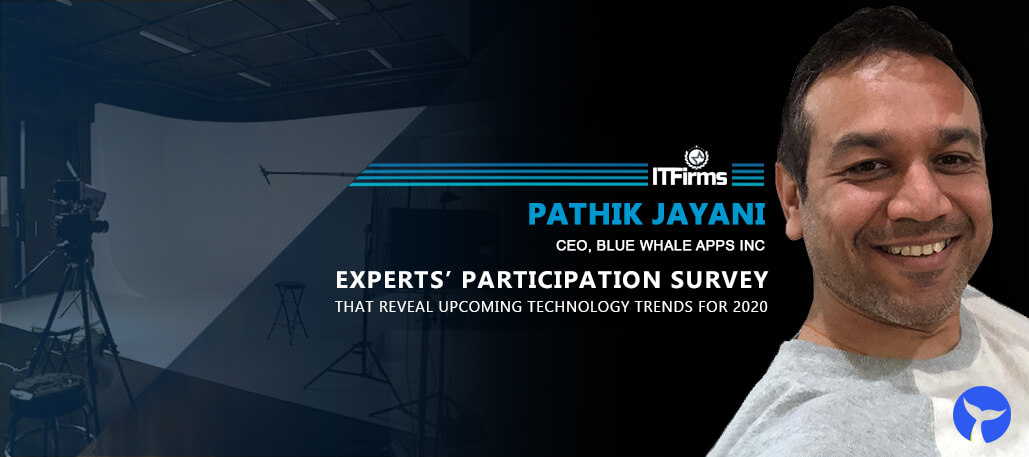 Interview with Pathik Jayani – CEO, Blue Whale Apps
Here is the exclusive interview of Pathik Jayani
–

CEO, Blue Whale Apps Inc only on ITFirms. In this exclusive interview, he shared his

thoughts on upcoming technology trends for 2020

and many more things.
Let's check his success story and views.
1. Tell us in brief about your company and the leadership.
Blue Whale Apps is a digital innovation agency based in Washington D.C, New York, and Florida. Since our inception in 2006, we are dedicated to providing full-cycle software development and digital transformation services to private businesses, public organizations and government agencies.
From designing intuitive web interfaces and developing best-selling mobile apps to providing app marketing and digital transformation engineering services, we create values for businesses across the entire product lifecycle. Over the years, we have partnered with enterprises, digital service agencies, entrepreneurs as well as government bodies to build applications and products across a multitude of devices and touchpoints.
We combine proven methodologies, user-centric strategy, domain knowledge, and emerging technologies to tailor innovative and future-ready solutions that help our clients re-imagine their customer experience, generate revenue streams, and streamline their business operations. We are best at conceiving a simple solution for business problems using latest technologies at an affordable cost. Our experience is our strength.
2. How would you describe your growth trajectory in 2018-2019? Any particular achievement? Any disappointment?
It feels good to be recognized as a leader in 'Mobile App Development' categories for three years in a row by Clutch, thank you to all customers for their trust in us to deliver. We did enjoy 150% of year over year growth from 2018-2019, all thanks to Blue Whale Team for their dedication and adhering to our Customer first design centric approach. We are going to continue to strive for excellence in customer service and be a great partner in their long-term success.
3. Please describe the operational structure of your company- from the moment a client walks in, to the product deployment.
About 8 major steps that guarantees success for any project:
Discovery: Discover who is client, what business values they represent and how they want to be represented. Discovery phase is important to share mindsets of the project team.
Identify the Goal(s): First step is to identify the clear goal. Discuss the scope and understand clear deliverables.
Identify the "success": Define what customer calls a success for them. Documenting and having clear understanding is crucial for successful completion of the project.
Strategize: Develop a strategy to achieve "success" that aligns with client's business proposition(s). Develop the metrics to measure the "success".
Sprints: Dissect the bigger goal into smaller sprints where the success can be measured.
Iterate the process of "Implement, test and verify the solution" as it is developed.
Measurement: Measure the deliverables with respects to the measurement metrics identified in "Strategy" phase.
Celebrate and Support and Improvement: Do not hold back and celebrate. No matter how small the task is, celebration is equally important. Support client. Quick learning session on what went wrong if any and improve.
4. What engagement models do you offer? How should a client choose?
We offer
Fixed price model: The project cost is fixed once the scope is locked down.
Pros: No surprises from pricing standpoint, payment based on milestones
Cons: Scope has to be locked down before starting the project, change in a scope could delay
Time and Material: For the projects with unknown scope, e.g. maintenance and support projects
Pros: Scope lockdown is not necessary, use the resources at your will and when you need
Cons: Cost could add up pretty quick if resources are not managed properly.
Dedicated Team: For supplementing your own team with additional temporary resource. This option is for on-going project or completing project in a short burst.
Pros: Greater agility with short term investment, scalability without hiring full time resources
Cons: not really any.
5. What do you as a leader prioritizes – vertical expansion of your business or the horizontal expansion of your expertise and services? How do you balance both?
Technology industry is very agile. It changes frequently than majority of others. So, as a technocrat, we need to understand where the market demand is and adapt the strategy based on varying supply and demand.
It is also imperative to gain expertise in a vertical if your revenue stream from this vertical out paces the other. This is also true if the business is more geared towards supporting old/existing customers and supporting their products.
Ultimately picking the one that offers clients best value should be the choice.
6. What is your outlook for 2020?
The latest surge in demands for technologies like ML/AI, AR/VR and IoT is driving our revenue high for last 2 years now. We are expecting to continue seeing more opportunities for near future. However, the current pandemic at hand is definitely going to slow us down and clearly affect our bottom line for the current year. We are expecting to survive but future is hard to accurately measure the exact effect. We are hoping to pick back up from wherever we are going to be left off from.
7. Any particular technology or industry you would be targeting? How do you plan to prepare your workforce for the upcoming technology upgrade?
We are definitely planning to expand our workforce and hire more data related folks, especially data engineers. We are expecting to have more hires who can work with Machine Learning and data analytics.
We also want to either train existing staff OR hire a few resources for support flutter and DevOps given both of these skill sets are more in demand.
8. With technologies like React and Node that can be used for both web applications and mobile apps, how do you envision the development methodology to be in the future?
React (along with React Native) has much favorable demand than other UI technologies out there for now. We have added a few resources on React last year and we will continue to train/hire more that can support React and Node.
9. Other than technical expertise, what traits you believe are essential for any app development firm to succeed in this rapidly evolving industry?
App development marker has become very competitive lately. Increased competition also has affected the margin and hence a bottom line. However, we as business should be ready to see this as an opportunity to become efficient with our operations and effective with our marketing dollars spent. There are a couple of ways to position in this rapidly evolving industry
Real Value: We need to be ready to go above and beyond and deliver a real value to the customers. This is not new but now it is more important than ever before.
Value added benefits: Offering more value-added benefits to each deal is generally going to be rewarded in a long run.
Innovation: Being innovative with approach, technologies and methodologies with each project that can aid customers achieve their business goals should be a norm now.
Focus Group: One of the things I wanted to mention here, where I see a real difference, is to have a master class of your own. It is nothing but a group of mentors who can help you stay focused, be more competitive and guide you in difficult times. It will take some leg work for sure to come up with, but I recommend this to anyone who is willing to try and do something new. This will go a long.
10. How do you assess the role of research agencies like ITFirms in bridging the gap between clients and service providers?
Firms like ITFirms are well positioned to fill the gap created by such a rapid growth the technology industry has observed. Having the true insights on industry and your competitors, it helps businesses make decision that would be very difficult to make without it. Data is the real gold, more the better. Being said so, I would say trusted insights provided by ITFirms are invaluable for the success of any IT businesses.
---
Blue Whale Apps
https://bluewhaleapps.com
[email protected]