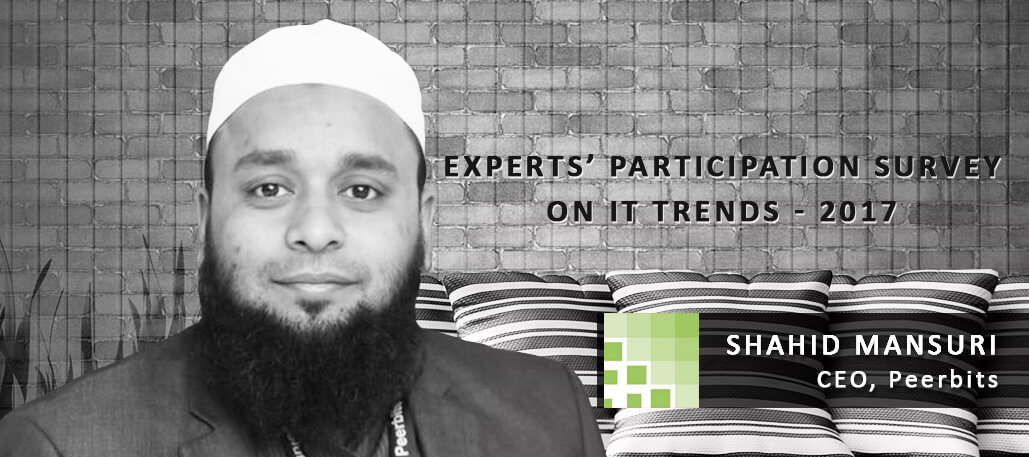 Interview with Shahid Mansuri – CEO, Peerbits Solution
Few lines about Shahid Mansuri – CEO of Peerbits Solution
Shahid Mansuri is the CEO of Peerbits Solution, a mobile app development firm located in India.
Shahid Mansuri cofounded Peerbits with Nasrullah Patel and Ubaid Pisuwala in 2011. The mobile application company, today, have offices in United States, United Arab Emirates, India, Colombia and Saudi Arabia and employees close to 100+ designer and developers.
1. Give us a brief introduction about your company.
Peerbits develops consumer centric and enterprise targeted mobile applications. In the last 5 years, we have delivered close to 300 projects in the form of various mobile and web apps. Moreover, we create customised web solutions on platforms like Ruby, .NET, PHP, Java and Python.
2. What are the services you offer to your clients?
We primarily offer mobile application development as a service and many other services that revolves around it or are part of it: Tech Consultation, UX Strategy, Prototyping, Visual Design and Branding, Xamarin Development, Enterprise Development, web development, IoT, Wearable, cloud integration and migration, QA, and Analytics.
3. In this intensely competitive era, what technologies, services and project model can give you an edge over your competitors? 
Technologies like IoT, chatbots, wearable apps, machine learning help and end-to-end development services right from building app strategy and development to deployment and lifecycle support are essential. Agile methodology is a blessing to mobile app development.
4. After service is a necessary part of development. How do you provide customer support to your client? 
Post project delivery, we offer dedicated service delivery manager to our clients. Every app carries 3 to 6 months of warranty and bug fixes. A client can request an on-premise development team of individual to take care of their app.
In addition, we also provide phone, Skype and email support.
5. Give your opinions on how far this app revolution can make a difference in the technology world? 
The app revolution will only go stronger from here thanks to newer technologies that work around smartphones: IoT, AR and VR. The future of apps is around hardware and software integration, even inter app communication to the life of their users better.
6. What latest technologies and tools you're planning to implement for mobile app development?
'Liferay' and 'big data' are two of the tools and technology that enterprises prices and we are planning to implement. We believe in adopting technologies as they come. As a technology firm, our clients expect us to be on the forefront of technology.
7. What's your approach to creating interactive and addictive UX/UI of mobile apps and websites?
A lot of providers believe they can make a proof-of-concept first, and then focus on design. At Peerbits, we believe in the opposite—design-led engineering. We look the users' perspective when developing an app. Users' perspectives are built from app personas.
An app should make their life easy. Context awareness is easy to get by when designing UI/UX. An app should return maximum functionality in minimum touches and time.
8. What are the challenges you see in the outsourcing industry and how much you're prepared to face those challenges?
Rising competition from Asian and South American countries is among the biggest threats. They are ready to develop apps at dirt cheap rates. However, they fail to deliver quality that the client requires. So they are often a one time job and client often returns to a sensible development agency.
9. Mention the ways you use to introduce new updates to your team.
For updating team, we use weekly team meetings, a monthly newsletter and a bi-annual Peerbits magazine. Moreover, whenever an app developed by us go live in app stores, we email the team.
10. Nearly 70% users engage in wearable tech. What's your step to enter into this revolution?
We have developed a couple of wearable apps.
11. Examine the success and failures that your developers are facing while wearable app development?
One of the biggest failure with wearable apps is dependency on a mediator (compatible smartphone or a tablet) to connect to a server over the internet—indirect API calling. On top of that, wearables lack a keyboard input and have to rely on voice input.
Among successes, you don't to pull out a phone to check notification thanks to notification mirroring on most application. They can double up as a fitness device and allow third party integration.
12. There's a boom in native apps for wearable devices, what's your move to this technology?
We have recently delivered a project Fishency. Fishency is available on both smartphones and smart wearable and is targeted to hobby fishers. The wearable app with the help of BLE interfaces with the smartphone app. whenever a person doubles taps the wearable app screen, the location gets added to smartphone app as a fishing location. One 'double tap' equals to one fish captured.
13. Define your future prospective and vision regarding new technologies like wearable and IoT apps?
IoT are converting every solution in a smart solution. Smart automotive to smart home, they all are going intelligent. Enterprises love the amount of data they are generating together with wearables. Perhaps, the race is no more about applications or technology but data. Take a look at Data Mining.
14. What is your go-to market scheme at a global level?
We have a team of marketing and sales people who carries the inbound and outbound marketing for any app developed. We create case studies for every app developed and publish whitepapers and press released. Peerbits team has been a regular part of global tech events like CeBIT and GITEX.
15. Mention the name of some of your successful projects?
While we are the reason for more than 300 apps on various app stores. There are three I would like to mention here.
Fishency: I mentioned above. Bluecheck, an app that connects to medical peripherals through BLE.eModal is a app for shipping industry.
  Peerbits Solution
  www.peerbits.com
  [email protected]