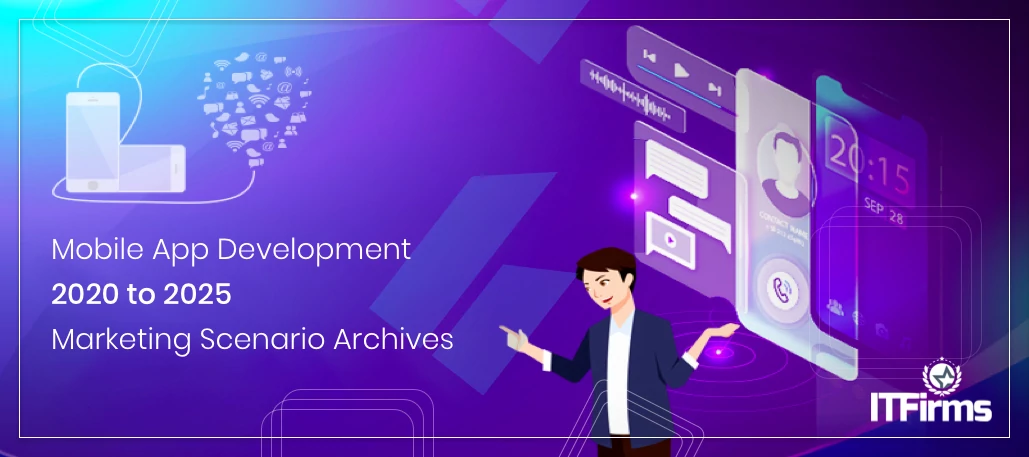 Mobile App Development 2020 to 2025 Marketing Scenario Archives
The past decade was considered the biggest for mobile yet. Read the industry's leading report on the state of mobile to uncover key trends and insights for upcoming years!
Reading Help: We discuss the driving factors for mobile app development, marketing strategies, market competitors and upcoming trends in 2020 and onwards here.
Mobile applications are not restricted to big-name brands like Walmart, Starbucks, Nike, Bank of America or likewise. An increasing number of small to mid-size businesses. Are following the mobile trend, knowing that an effective mobile strategy involves more than just a mobile-friendly website. Mobile Applications are a way for the customers to reach the business and vice versa. These are essentially like billboard signs that can be stylized, can be made functional, interactive, shocking, or informative.
But the most important thing that a business love to have is a mobile app with all the requisite features to promote their business, while at the same time is well branded and beautifully designed. The more often a business can get customers involved with your app, the sooner they will be inclined to buy your product and/or service. This is known as an effective frequency in advertising – popularizing your brand so much to make it noticed is what will highlight your business.
It can be easily noticed that almost every small business – be it Local Auto Repairs, Site building, and web design, Personal Trainers, Arts, Entertainment, and Recreation, Accommodation and Food Services, Health Care and Social Assistance, Secondhand (Online) Stores, that coffee shop in the corner, Pet sitting, beauty spa downtown, cafés or real estate, etc., with which we usually interact in day to day life have their dedicated mobile app. These companies are ahead of the game when it comes to taking their marketing to the next level.
Here is a list of premier reasons why anyone would want to build their mobile platform:
To be visible to customers at all times
To create a direct marketing channel – by providing general information, prices, booking forms, search features, user accounts, messengers, news feeds, and much more.
To be valuable to their customers – instead of sticking to the old point collection card, how about digitalizing that loyalty program you have in place.
To build brand and recognition
Improve Customer Engagement
Stand Out From The Competition
To Cultivate Customer Loyalty
Build a brand and recognition
Stand out amongst the competition
Improve customer engagement
Stand out from the competition
Cultivate customer loyalty
According to IHS Markit (Nasdaq: INFO), a global leader in critical information, analytics and solutions, the global smartphone installed base is estimated to grow to 6+ billion smartphones by the end of 2020. The evolution of usage of mobile devices is directly proportional to the increasing use of mobile applications which has so far become the biggest technical phenomena. Marketing growth is widespread with >50% of apps having more non-organic installs than organic.
Prevalent Statistics in Mobile App Development Market
Number of mobile app downloads worldwide in 2019 – 204 billion
Revenue generated via mobile app downloads in 2019 – 462 billion USD.
Mobile apps are projected to generate more than 935 billion U.S. dollars in revenues via paid downloads and in-app advertising by 2023.
ITFirms identified a few factors for booking mobile economy:
Key indicators to explore the market trends that one needs to watch in the coming years:
Rankings of the top apps and companies across markets and categories
Mobile Shopping to know how mobiles have transformed the retail industry.
Fintech to learn from the adoption of finance and mobile banking apps.
Mobile Gaming to uncover platform strength.
Mobile Marketing to see how mobile advertising is on the rise and leading growth in digital ads.
The growing number of mobile applications is in direct proportion to the growth of mobile devices. This is so far the biggest technical phenomenon in current times. Smartphones with featured applications have now are capable of boosting businesses of all sizes. A typical case to this can be messaging and communications app like Line and Whatsapp that grew from five billion users in 2016 to 7.5 billion users by 2020.
According to Mobile App Usage Report by Statista (updated till August 2019) as compared to integrated software systems on computers, each mobile app typically offers specific functionality. Taking a cue from gaming and entertainment, Apple users account for 25% of active app usage. Edit and video players, communication, tools and travel and local are amongst the leading android app categories globally. While mod-core games, ride-hailing/on-demand taxi, sports, and video apps were trending categories before last year generating 21.3 billion app downloads on Google Play Store (35% more than 2018), this trend is going to witness nearly 64% rise by 2023.
According to App Annie, the global app store consumer spends increased by 75% since 2016 and the app market size reached $101bn. It is not only the percentage of uploads and money invested on the mobile app that is growing but also the average time of the app usage.
Quick Look at the Mobile Application Development Trends/Apps 2020
Internet of Things in Apps
Blockchain in Mobile Apps
Bots/Chatbots
Artificial Intelligence (AI), Augmented Reality (AR) and Virtual Reality (VR)
Personalized Mobile Apps
Voice-Based Searches
Mobile App Security
Cloud-Based Mobile Apps
Wearable Devices
Beacon Technology
Enterprise Mobile App Management
Mobile Wallets Payments, banking and finance apps
Predictive Analytics
AMP and EMM
5G Wireless Services
Retail shopping apps
Video streaming apps
Restaurants and food delivery apps
Gaming apps
Social and messaging apps
Travel, transportation and navigation apps
Health and Fitness apps
Conclusion
The app economy is growing so fast that it is on the radar for every serious app developer or marketer these days. For a mobile application and he simultaneous business to be more successful, the latter needs to ensure that the business app is required and they do have a solid plan for its use. Some key pointers that businesses should be considerate about should be:
the reason behind building a mobile app,
the goal that the mobile app is going to fulfill for the business,
the clear solution to a problem that the mobile app brings across,
Is the app conveying the customer's mindset?
is the mobile app benefitting the customers?
does the app has interactive and easy-to-follow functionality between users and the brand?
can the mobile app be accessed offline?
Best app development companies build mobile applications keeping limitations and features of the mobile devices in mind. This kind of growth in mobile app development will lead to heightened competition in the market making the path towards app marketing profitability harder to conquer. The only app marketer who will rely heavily on data will be successful.