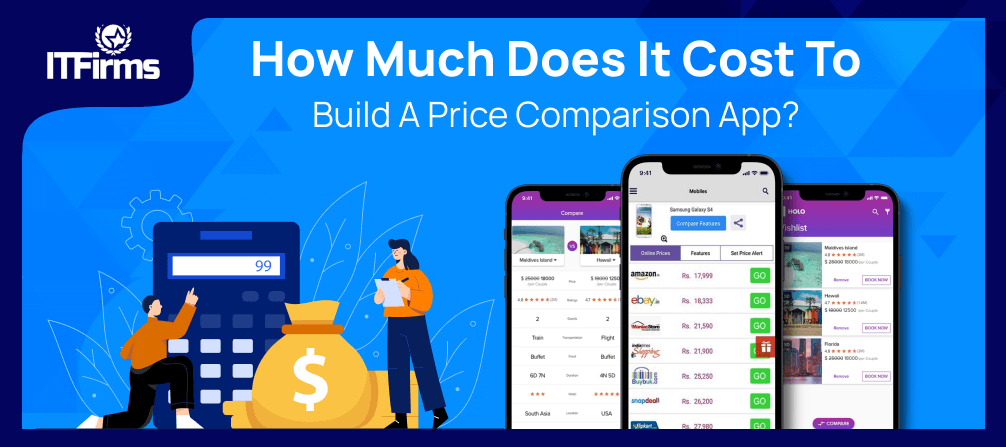 Price Comparison App – Features and Cost
Any purchase begins with a product search. One solution that combines this feature is a price comparison web app. Know the features, cost, examples, and monetization here!
A price comparison app that is suitable for you depending upon your specific shopping habit, with so many places to shop from, with a variety of options and companies offering enticing offers, shopping isn't easy as it seems to be. Price comparison applications compare prices across various comparative degrees, simplifying the tech jargon for buyers and sellers, by letting them save time in describing their offerings and recommending which one is the best. These let you search for smaller brands with similar offerings as the prominent ones but at an economic price. Lowest prices, coupon codes, and recommendations.
Features in a Price Comparison App
App engagement is directly proportional to the features that it offers. If it can satisfy your customers and they can use it easily, it will increase business engagement. We are listing the features that you as the admin of the blog would need to understand and explore:
Search and Filters: Keyword based search, Location-based search, Search on demand
Listings: Comparison of listings, and Listing details
Price Update Alert: Push notifications, SMS, email, messages on instant messenger
Reviews: Buyers trust authentic reviews and refer them before making a final choice.
Price History – This feature is optional, however is good to have on a price comparison website.
Awards: Users love bonuses, cashback, discounts, special offers, gift cards, coupons, and competitions, etc.
Scanning a QR Code and Barcode Scanner Price Comparison: Customers compare prices in local stores using their smartphone camera
Push Notifications: To update the users about the latest deals from their favourite brands.
Video and Graphics Descriptions: A product with a nice picture, info-graphic, description and video has more chances of getting noticed by the customer.
Reviews and Ratings: These are testimonials of satisfactory purchases and gratitude from the customer. It improves trustworthiness and helps in acquiring a vast user base.
Communication: Frequent communication relieves customers of any doubts. They can talk to the representatives directly about the quality of service, areas that need improvement, how to improve retention rate and customer experience.
Trending: A price comparison app must show the products that are trending and in top searches.
Integrating Social Media: It allows customers to share the picture and link-description of the product with their friends and family. It is also beneficial for the owner as they get free publicity when any user shares his/her wish list or their newly bought products on social media.
Scan and Compare: The price comparison app must have barcodes and QR scanners integrated into it to compete with other apps. It enhances the user's shopping experience and saves time.
Blog: A dedicated blog page keeps users engaged with all the updated information about offers, deals, and news. It is another way of promoting the business' services.
Get Seller Details: It lets customers know the seller's details like – contact information, address, specializations, etc. Contacting a seller can be helpful if the delivered product is damaged.
Three Cost Comparison Panels
User Panel
Sign-up/Login
Social Media Integration
Account Verification
Browse Products
View Product Listing
Get Product Details
Save Products
Select Desired Products
Order History
Admin Panel
Various user permissions and interfaces along with underlying features determine the overall cost of the price comparison apps
Dashboard Management: To let administrators check the order status, receive the order and process it. It also lets them analyze the cost structures and analyze all related details.
User Management: To store and track the users' avail that are availing the services.
Product Management: To let admin manage and list all the products on different e-commerce apps.
Service Module: To let admin track the product listings, offers, shipping services, notifications, and rate standards.
Notification Module: To let users be aware of offer confirmation, payment, order deliveries, etc. that are managed by the admin.
Report Generation: To generate all reports related to the number of products purchased, and running price standards.
Manage Earnings: To let admin manage all app earnings that are generated by the in-app purchases, subscription packages, and orders placed.
Retailer Panel: It is pertinent to integrate a lot of retailers into the application to improve the number of products and comparisons. It makes it easier for the experts to deliver your solutions even for small business owners to have a dedicated section for themselves, thus making it easier to execute the process.
Product Feeds Submission: To let retailers upload the product list. It lets admin review and approve the same on the portal thus showcasing the products of retailers on a broad scale.
Select the File Submission Format: It helps the retailer choose the format (mostly CSV) in which the product list is delivered to the admin.
Bulk Edits & Upload: To let retailers make bulk edits through CSV or a particular format and upload it.
Track Orders: To let admin and retailers track the products, make provision for deliveries and meet client requirements.
Retailer Panel
Product Submission: To let retailers submit the products for showcasing to their customers.
Edits & Upload: To let retailers make modifications, additions and deletions in their product listings.
Order Tracking: To let retailers track the products at their end.
App Platforms: Objective-C, Xcode IDE, Swift Programming language for iOS; C# programming language for Windows; and Java programming language for Android.
Customizations: It involves including animations, screens, interaction elements, navigation
Number of Screens: To let retailers manage the number of product screens.
Integrating Third-Party APIs: To let retailers manage the app complexity and third-party APIs.
Offline Support: To provide offline support to the customers.
Handoff Feature: To let users experience the flow of information and data to move between different devices.
Advanced Features
Video descriptions: A video and animated image express more than a static one. These videos are promotional, which encourages the users to make a purchase.
Editorial Reviews: It is important to make your customers have authentic information available to develop a trustworthy appeal and help acquire a larger user base.
Technology Stack
User Interface & Experience (UX UI): CSS3, JavaScript, AngularJS, Ruby, Python, or Django, Java for Android version, and Swift for iOS version.
Location Tracking: Global Positioning System (GPS)
Cloud: Amazon data servers or Google cloud storage
Real-Time Analytics: API for SMS, Voice, and Phone Verification
Database: MongoDB, HBase, Cassandra, Postgres, MySQL, etc.
Benefits for Customers
Many online stores on one platform
Easy search for the cheapest product
Reviews of real customers
Selection of the most popular products
Various sorting of product offers
Benefits for Sellers
The increase in online site traffic
More sales made
An additional interaction channel
The opportunity to collect user reviews
Simple and affordable functionality
Famous E-Commerce Price Comparison Apps
ShopSavvy
BuyVia
ScanLife
PricePirates
Famous Flight Price Comparison Apps
Momondo
Google Flights
Kayak
Cost To Build a Price Comparison App
The cost of the price comparison app depends upon various panels and it approximately comes around $8000 to $20000.
How do price comparison apps make money?
The cost of an average price comparison app cannot be very low. If you want your project to pay off, you need to consider: Cost per click (CPC) or pay per click (PPC), Commissions, paid placements, collect fees, place Google Ads, brand advertising, and target marketing.
In Conclusion: Reach out for price comparison website development
Price comparison websites incorporate airline, e-commerce, automobiles industries, mobile phones, travel resources, like CruiseCritic (sea cruises), alcohol products (WineSearcher), cyclist insurance (say, Bikmo), clothing price comparison websites, such as Fashiola, digital services (how about Cable.co.uk?), books for sale (this resource claims to be the best book price comparison site), supermarket comparison sites (among them is MySupermarket), web platforms aimed at gamers (CheapShark), the search for hotels and hostels (such as Trivago), makeup price comparison sites (take a look at the following example), financially oriented platforms. It lets people choose the product on basis of the model, colour, size, quality, screen size, storage capacity, camera specifications, display resolution or carrier. Price comparison websites provide users with key product information like price, brief description, availability in stores, rating, and reviews.
Please share your suggestions at [email protected]