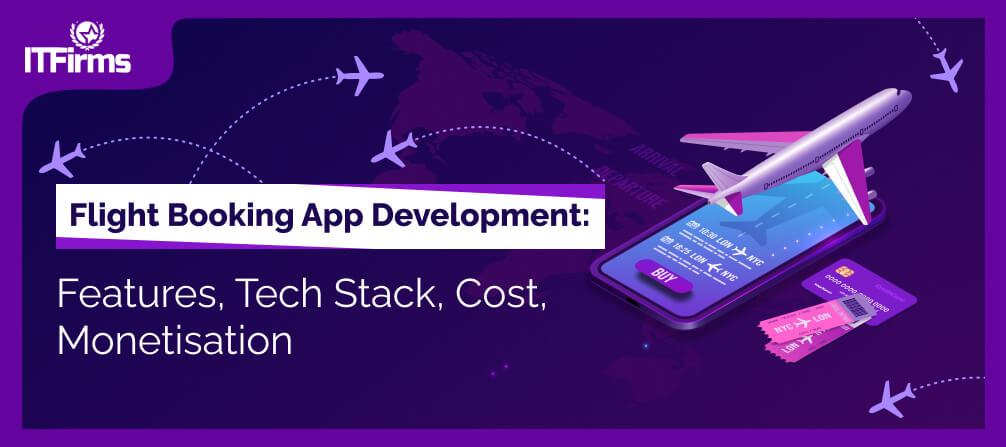 Flight Booking App Development: Features, Tech Stack, Cost, Monetisation
Basics on Flight Booking App Development!
Customers look for easy bookings, easy cancellations, transparent refund policy, best deals on tickets, and simple in-app online payments. Users perform a complicated search – they use ITA's matrix with special routing language to get granular in their searches. They type out codes, check-in online request upgrades, compare flights, routings and different airports. Here's a brief idea about developing an app for flight booking.
Features in Flight Scheduling App
Travel and booking websites and applications imbibe advanced personalization, predictive analytics, multiple tabs, advertisements, suggestions, better visibility, understanding, and targeting niche less saturated markets. These generally feature aggregating travel data, creation of user profiles, scheduling, booking flights, and making payments within the app. It contains advanced search options, booking overview and management.
Customer Panel
Quick signup/login
Scheduling flights
Flight booking
Booking status
Flight status
Check-in
Frequent flyer
Ratings and reviews
Admin Panel
Manage to book
Multilingual support
Offer management
Customer support
Information management
View searches
Manage ticket booking
Advanced Features in Admin/Customer Panel
To accentuate the performance and user experience, features that can be integrated into the application include:
Cabin maps
Multi-day search
Mass booking discount
Price drop alert
Email notifications
API integration
Price comparison
Holiday packages
There are some additional features to differentiate your offering:
Fare price prediction and price drop alerts
Personalization
Real-time flight updates and self-service
Technology Stack to Build Flight Booking Apps
You require two things to build a travel agency app: By sourcing the travel data directly from the Global distribution systems (GDS's) or by participating in affiliate programs.
While selecting the APIs of travel agencies, Expedia API, provides rich content options for properties while GDS, such as SABRE, offers pricing info and some other details. API's are free to use while GDS typically charges a certain fee.
The technology stack depends upon the travel app and differs depending on the platform that you decide to target. Native development stacks are preferable for iOS and Android travel application development. It brings in the best possible performance which is crucial for travel apps with extensive data usage.
Best Travel Agencies for 2022
Christopherson Andavo Travel
Travel Edge
ATG
Arrivia
World Travel, Inc
World Travel Holdings
Omega World Travel
Ovation Travel Group
Frosch
AAA
Corporate Travel Management
Fareportal
Direct Travel
American Express Travel
Internova Travel Group
Flight Centre Travel Travel Group, Americas
CWT
BCD Travel
American Express Global Business Travel
Booking Holdings
Expedia Group
Best Flight Apps for 2022
Scott's Cheap Flights
Skyscanner
Google Flights
App in the Air
Kiwi
Momondo
Priceline
Hopper
Travala
Business Model Flight Booking Systems – How do they earn money?
While there are many ways to monetize your flight booking app, cooperating with related businesses through partnerships and affiliate programs, service fees and commissions by promoting direct booking to avoid additional service fees, featured listings, adding banners, promoting reasonable items, advertising relevant services/products to add value to the product, offering additional paid services to your customers through paid subscriptions like personal travel assistant services, travel disruption management, or special bundle deals delivered weekly/monthly, all help fetch money for the business. It predominantly works on three different business models:
Advertising Business Model (Example: TripAdvisor)
Click-Based Advertising: Click-based advertising is when users click on one of the web pages, or clickable buttons that leads to a booking page. The advertiser pays only if the user clicks on the link which leads them to the advertiser's page.
Transaction Revenue: Transaction revenue is generated through direct bookings. The type of revenue depends upon the advertiser who imparts a percentage of commission on the booking price which by far exceeds click-based revenue (but occurs less frequently).
Display-based advertising: The pricing model is the cost-per-impression or cost-per-mille (CPM), the cost per 1000 impressions.
Subscription-based advertising: It is a contract for some time. Booking apps can add as many flights as possible to their databases. But the owner can only edit the profile, make special offers, mail address, phone numbers, list preferred contact methods, etc. when they subscribe.
Agency Business Model, Merchant Business Model, Advertising and other Revenues (Example: Booking.com, Priceline)
The agency model makes use of commissions which depends upon the size of the revenue and how well it ranks on the booking pages. Customer acquisition is another factor where travel agencies don't need to worry about which flight does the user books. They make their commission either way.
Customer value proposition: Cheapest prices, amount of choice, useful and persuasive content, reduction of risk.
Technological Lead: Flight booking websites like booking.com, Priceline spend upwards of $100m to further enhance their technology every year.
Merchant Business Model (Example: Expedia)
In this business model, the booking platform buys travel tickets and then resells them to the travellers. The merchant gets it at a cheaper price, as they buy early and in bulk. Often they bundle them with airfares, rental cars and/or other things. The businesses have to fork out the cash upfront in the merchant model.
Factors That Affect the Cost of Flight Booking App
The average cost of the development of a flight booking app for Android or iOS differs from $25,000 to $55,000 for a single platform.
In Conclusion: How would you like your flight booking app to be like?
Developing a travel booking, scheduling website or app can be a challenging and cost-intensive undertaking. Therefore, it is essential to choose a reliable top app development firms that thoroughly researches and implements the idea with a higher degree of certainty that meets your requirements. Follow us on Facebook and Twitter for more!
Please share your suggestions at [email protected]