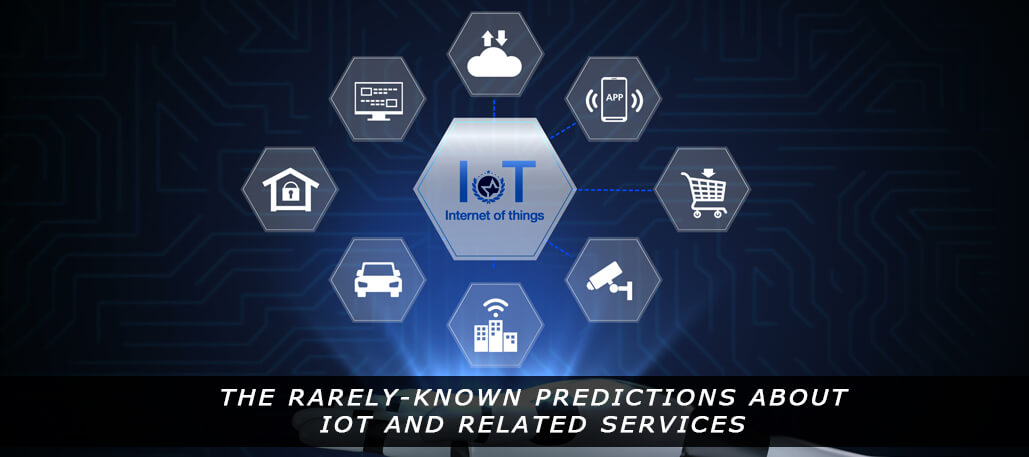 The Rarely-Known Predictions about Internet of Things (IoT) and Related Services
Know how IoT is going to change the way you see things around you, in the immediate future.
Internet is the most growth-struck invention of all time. Since the day it got invented it is growing both in terms of reach and applicability. It is surely one thing that is going to the base of everything we do in the future life – raking in everything from easiest and commonest things like automating home and streaming movies to the most complex things like controlling a robotic device that facilitates production in a factory or powering a close-circuit network of information exchange.
A lot of it is already with us and we are feeding big on internet-based services and benefits already. We have smart homes, connected cars, industrial internet, smart body gears around us. And with smart phones becoming ever accessible to the remotest of destinations it is only going to grow in its presence and impact. As it seems to most of them, it is going to keep spreading further and allow us to live the age that we have seen in the sci-fi movies, partnering with intelligent software and connected things.
The idea takes us straight to Internet of Things and its various perspectives. So, how this is going to be like. What are the different ways it is going to disrupt the future of science and how our lives are going to get influenced and driven by this change. Here are some of the predictions on how industries would be benefited.
Picking up the top 3 industries to be influenced by IoT
Communication & Media
Wearing smart glasses, telecom and media employees would be able to unlock and access protected fields and secure data. It would be a lot easier and a more standardized operation to track and maintain details about their customers. It would also help them in reducing the publishing cost as everything would be carried and retrieved through the internet.
Manufacturing Utility Industry
IoT would help utility providers to design their systems to act more flexibly and efficiently transferring data and commands remotely. They would be able to generate and disburse information fast and easy with the help of IoT-driven infrastructure. With this monitoring the plants would get easy and smooth. And the system would get automated with the help of smart grids and electric meters.
Healthcare
Healthcare is going to be disrupted greatly with the advent of IoT based technology in the domain. The approaches and practices would be more connected and utilizing patient and medicine information to attain more accuracy and consistency to the processes. Activity trackers, measuring tools, AI support would be changing the entire scenario. By the year 2025 the worth of IoT in healthcare is expected to reach a whooping figure of $2.5 trillion and it will be consuming over 30% of IoT devices of total.
Other major trends and projections
Smart Cities
Smart city projects have already been started to be worked on. Many companies and departments have planned projects for transforming the existing infrastructure into the connected one. This would be around adopting new power distribution systems, electronic transmission network, food vending machines, self-sanitizing mobile toilets, automated banking facility, ultra-modern ticketing, and solar-operated tools and centrally wired energy sources at bus stops and public stations.
Smart Products
Internet of Things would be transforming the way you use and interface with routine life products. These products may belong to home or office and can be anything from a gadget aiding in increased energy efficiency, enhanced security, or richer user experience to a complete system that serves you for performing a task in a more synergized, efficient and controlled manner. With these smart products coming in, more and more data and resources would be connected in real-time to interact with and serve users adding more viability, possibility and quality to the overall processing value and outcome.
Secured Routers
IoT technology would allow engineers to build devices and nodes that are connected through a highly secure ecosystem of networks. This is possible by implanting highly secure routers that collect, transfer and stream internet data with great security. Such routers would have features such as data encryption, secure DNS and automatic security updates. This would ensure that you don't have to face and suffer any data theft or leakage operating in the highly volatile and risk-prone online space.
Application specific device ecosystems
Going with specific IoT-based device ecosystem, a business can bind together different service components and protocols from different vendors through centrally managed devices for comprehensive management of tasks and practices. The devices and consoles so connected, update you well with all the proceedings and changes taking place in the process. So that you can centrally manage multiple vendors, resources, functional proponents, users and everyone else in the channel. In future, we would see more of it coming to drive the processes faster and apply more precision, to get you better output. 
Some Awesome Inventions for masses
Among many innovations and developments taking place in the space of IoT, some of the major would be in the segment of environment and road safety. The most talked-about of which is the pollution control system that will be facilitated and managed by government agencies. You already have multi-application gas sensor out there. Now, this equipment can detect how pure and healthy is your breath by sensing it for different diseases and health hazards. This analysis is going to be placed at a community level building a health-IoT ecosystem to make general people know how healthy and safe they are within their surroundings. This system would also be aiming to detecting the levels of pollution and pollutants and would be making attempts to treat them.
Another big change would be brought in by reducing traffic congestion and accidents by regulating and controlling fuel consumption by deploying connected traffic information system, equipped with latest sensors and advanced communication tools powering the hyper-connected network well controlled by process-led teams. This would include information on optimum routes, suggestions on easy passthroughs and diversions, parking prompts, and breakdown support.
Final words
With these expert predictions, you can make out how things would be in the near future when you would have IoT transforming the way you plan, do, consume and experience things by elevating them to the next level of functional connectivity and detailing.