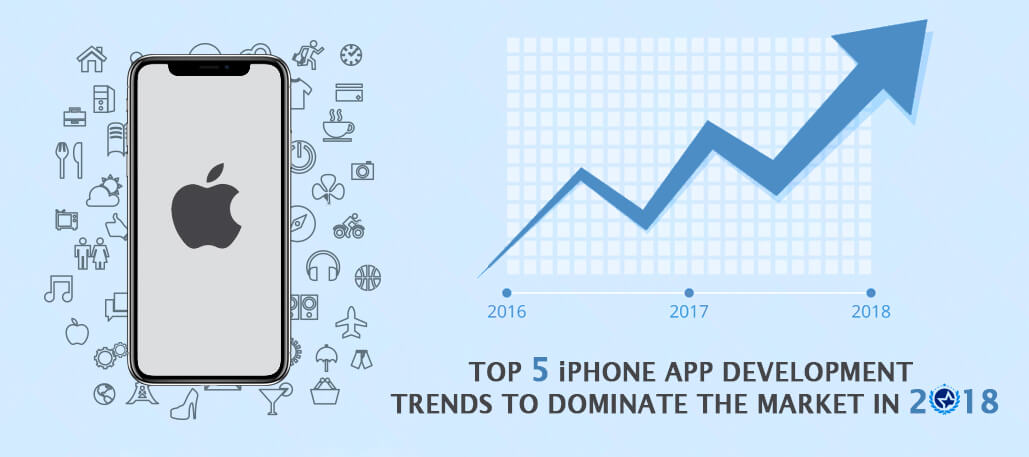 Top 5 iPhone App Development Trends to Dominate the Market in 2018
So, we've finally entered the year 2018 and as expected we are seeing things building in favor of 5 most significant trends predicted earlier. For the already strong iOS, 2017 proved to be a fortune-builder as it saw a great hike in terms of technological value and user acceptance. With 4 million+ apps in its kitty, whooping download growth of 70% and a jaw-dropping revenue of $5bn+ in revenue, iPhone is all set to shoot high this season carrying the momentum further.
Here's what we can see coming from the iPhone app development to dominate the market trends in 2018:
Swift4
Swift is steadily and impactfully cementing the futuristic base for iPhone app development. It has gone fine and strong till now to attest iPhone's potential in the domain. To take it ahead with its futuristic goals, now we are going to see Swift4 coming in 2018 and amazing us all as a strongest ever programming language pre-compiled for macOS, iOS, Linux & tv OS.
With this release Swift will come with handy traits retaining the glorious legacy of Swift 3. The new version comes with high potentials to deal with the propositions that are going to reflect ideas and traits that should dominate latest trends.
Artificial Intelligence in Siri
With Siri leaving iPhone users to amazement with its contextual and intuitive brilliance through its recently upgraded AI, we can see significant possibilities joining in to serve advanced user needs with bot assistance. The cult status of Siri is now going to get bigger with as it will work as a powerful task manager and voice assistant is permitting users with great ability to skim higher assistive utility and contextual value henceforth.
Apple HomeKit
It has been years since the first home automation apps were launched. But, it's certainly the Apple HomeKit that completely changed the way we control electricals and electronics at home. With the onset of the year 2018 we are seeing a lot of new apps coming into existence utilizing the advanced home automation options offered by Apple HomeKit. And this opens up compelling avenues for developers to vouch upon and explore the hot new segment that is transformed more into phenomena now.
Also, with the growth of smart phones and ever-empowering smart infrastructural capacities, connected devices are playing a big role in allowing people to easily make it to a smart home. Which in turn, should impact the IoT market and bring together allied technologies to serve users with best of home automation systems in the approaching times.
File Management
iOS 11 has come with lot of new features and advanced options to allow you managing your files and data more effectively and resourcefully. Now the operating system offers you with factory-fitted file management system dubbed as 'files'. This allows users to manage their files using various cloud apps from various locations. It saves a lot of time managing and accessing files across locations. With this, developers are able to come up with various innovative concepts and this has made mobile app developers build significant apps to help you manage files in different ways using multiple options as per your need – and this would extensively dominate the market trends in 2018.
High-performance hardware
As we see ARKits gaining pace in the mobile technology circuit, it's time when developers will look into creating compelling virtual content representing real world scenarios and projecting cybernetic scenes well-supported by heavy duty performance of A9, A10 and, A11 processors. In 2018, these would highly contribute in Rendering Optimizations, Lighting Estimations, Visual Inertial Odometry and of course Virtual Simulation.
In a nutshell, as we look ahead to get our ideas growing big with newer cross-industry opportunities that 2018 is going to bring along, we should be highly optimistic with the role of these trends in bringing most value to the field of mobile app development. All you need to do is keep your pace up with the changing ideas and traits of the market and go with the flow of the technology and you should meet the best of returns down the line.