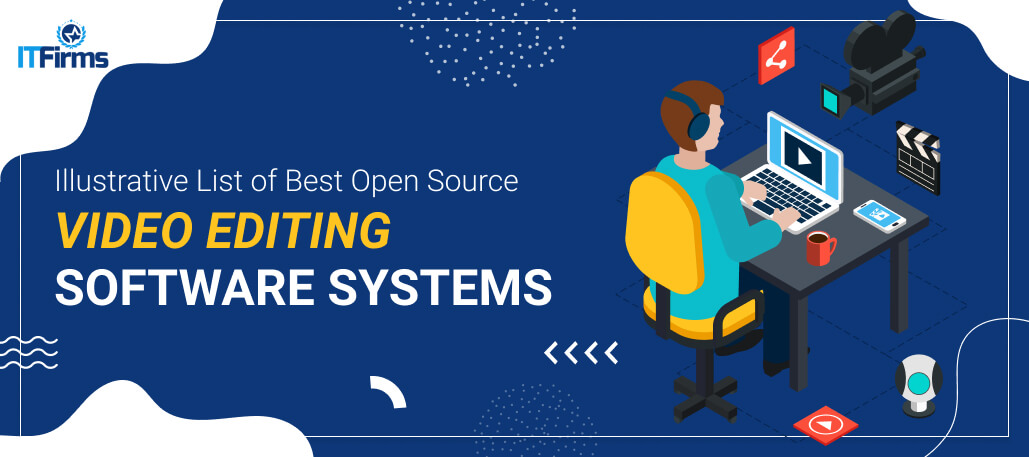 Illustrative List of Best Video Editing Software Systems
Video Editing Software can be called a gift for translating complex issues into everyday language. This illustration talks about some of the best video editing software!
As the appetite for premium quality video increases, a gamut of video editing apps (open source and paid) aiming to take advantage of the burgeoning video explosion. These aim to bridge the wide divide between YouTube, which does not have any video-editor/rich-text editor in particular and hundreds of software programs from big firms into basic and professional photo editing.
Finding an appropriate video/photo editing software can help you showcase your products by producing professional promos for platforms like Facebook, Instagram, YouTube or any other social media platform. Well-produced product videos are a more engaging form of content marketing than photographs alone and can reduce a customer's hesitation in making a purchase.
Open Source Video Editing – Ways in which videos can be edited
People do not like carrying heavy devices, especially while on work like big cameras for shooting videos when smart-phones with portable features are available to capture and record moments. As easy as taking a nap, people look for ways to ease off their tasks. They might look for a magic photo editor online and attend to their priorities. Various free open-source video editing software online enables users to click and share photos and videos in a snap across to contacts and various groups on social media and instant messaging platforms like Facebook, Instagram and Whatsapp. A host of free and open-source software are available across Google Play or App Store are available for the need to modify the videos and add some effects to make it cooler before sending it across.
Available types of video editing:
Linear editing
Simple Cutting
Bespoke Editing
Review for Editing
Editing Based on a Theme
Editing Material From The Internet
Multi-Source Editing
You Film We Edit
Extraction from a DVD For Editing
Adding Voice Commentary
Film Editing
Editing For Art
Editing Film From Live Events
Length Reduction Editing
Editing To Accentuate the Highlights
Photo Slideshows
End of Life Photomontage
Subtitling
Many more, photo editing styles to try including Clean Editing, Matte Finish, High Contrast, Mid-Contrast Black and White, Warm Black and White, HDR, Cross-Processed, Damaged Film Look, Vintage Film, Dark and Moody etc.
What should we expect from open-source video editing software?
Video-editing software is a core part of any industry, can help enhance its online presence, boost conversions, increase return on investment for the online stores. These can be used to uplift Facebook Ads, YouTube product testimonials or Instagram stories to make your brand look professional. Video Editing Apps range from simple to complex and are created for the desktop to mobile apps for social media etc. These are just perfect for adding those extra, special effects, subtitles, captions and a professional touch, try one or more of this video-photo editing software:

It has filters to edit photos and videos, create slideshows and movies, combine two small clips to form a movie, add music and text.
What makes it stand out?
Filters form the basis of any editing apps.
Object Detection, stabilization, effects, auto-crop
Sharing the final video is easy with this app via email, messages, websites and blogs.
Create marketing videos for social networks
Converting video ads
Add logos, text and subtitles to the videos
What makes it stand out?
Create and edit videos
Customize themes and transitions and graphics designed for any occasion
Trim videos, rotate photos, create video clips, speed up footage or play it in slow motion
Make a square, portrait, panoramic prints etc.
What makes it stand out?
Create professional videos
Add or reduce speed, filters, add music, add titles, auto-ducking, do voiceovers.
Add video effects to clips
What makes it stand out?
Create and edit videos
Add songs, music, photos
Combine video clips to make the video longer
Add effects including blur
Speed up and slow videos
Save and share videos in 720p, Full HD 1080p and 4K.
What makes it stand out?
Create a video easily and quickly.
No video editing experience required.
Hundreds of video templates and over one million pieces of stock photos, royalty-free videos and music available.
Make your video more engaging with diverse dynamic text, overlays, widgets, logos, and other animated elements.
What makes it stand out?
Open-source video editing software
Available for Windows, Mac, and Linux
Live preview, luma waveform, chroma vectorscope, and histogram displays.
Audio mixing, syncing, scrubbing, and waveform visualization.
Up to 32 slots for adding video, images, audio, and effects.
Speed control, adjustment layers, transitions, keyframes, filters, and more.
It is best for more advanced projects that may involve 3D animation.
What makes it stand out?
To trim, cut and duplicate videos
Add emojis, stickers, music, sound effects on your recorded video
This app has more than 50 filters including movie, retro, selfie.
Merge more than one clips to your video with different options like blur and background.
Export video in 720p, Full HD 1080p with no quality loss.
Upload created videos on YouTube, Facebook, WhatsApp and other social media platforms.
What makes it stand out?
Available on Windows, Mac, and Linux.
Features high precision video trimming.
Multicam support.
Possible export to 720p for YouTube.
Supports a wide range of video formats.
4K video support for YouTube and Vimeo is only included in the paid version of the software.
Lightworks has many great video tutorials which can make it quicker to get up and running.
What makes it stand out?
Available on Windows, Mac, and Linux
Supports a wide range of video formats and boasts a great collection of tutorial videos
4K HD resolution support and its timeline editing
Shotcut doesn't require you to import your video into the editor: this can be a time saver if you are dealing with large video files.
It features native timeline editing and 4K resolution support
It is best known for 4K, HD video projects.
What makes it stand out?
Available on Windows, Mac, and Linux
Easy to use drag and drop interface
Unlimited layers and audio mixing
Striking a nice balance between advanced features and a simple interface, it allows real-time previews when you create transitions between clips.
Unlimited tracks/layers
Clip resizing, scaling, trimming, snapping, rotation, and cutting video transitions with real-time previews
Compositing, image overlays, watermarks
Title templates, title creation, subtitles 3D animated titles (and effects)
Advanced Timeline (including drag & drop, scrolling, panning, zooming, and snapping)
Open source, unlimited layers.
What makes it stand out?
Available on Windows, Mac, and Linux
With an intuitive interface, video slicing and trimming, users can master audio and correct colour
It can also be used to add 2D and 3D titles to the videos
Allows advanced trimming and uploading the videos
Enables Multicam editing
Allows colour correction
Enables audio mastering
It has incredible colour correction
What makes it stand out?
Available on Windows, Mac, and Linux
It is one of the best video editing software for beginners as the interface is very simple to use.
This program can help you to perform basic tasks including Simple cutting, Encoding, Filtering
It is very simple software; no need to read technical docs.
It can be a good place to start if you are new to video editing.
What makes it stand out?
Available for both Mac and Windows
It has all features of a basic editor like splicing, trimming, audio editing
Hitfilm asks you to share a status update on social media, before downloading it.
Hitfilm includes a store where you can purchase add-ons, but this is beyond the scope of most users, as the free feature set should be more than enough.
Advanced cutting tools
Keying for green screen effects
Audio and video filters
Compositing tools
Layers and masking
3D video support
It is best for YouTuber Vlogs – it has built-in support for YouTube.
What makes it stand out?
Available on Windows and Mac
Video stabilization
Team collaboration
It is deceptive simple to use and has amazing flexibility.
Audio Tools
Brand/Text Overlay
Collaboration
Speed Adjustment
Split / Merge
Supports HD Resolution
Video Stabilization
To make quick presentations
Creating marketing videos or listicles for your blog.
What makes it stand out?
Hundreds of font options to choose from, to get your brand right
Hundreds of animated graphic options ("stickers")
Thousands of music options (some are free)
Layouting is very simple
Millions of graphic element options
Thousands of stock video options
Pre-made Intro templates
What makes it stand out?
Available on Mac
Library of pre-made transitions
Video trimming
Audio editing
Split screen
4K resolution support
What makes it stand out?
Available on Windows.
The best free video editing software only available on Windows is VSDC.
It is best for colour correction and audio editing.
It is relatively straightforward to learn with many powerful features.
It is best for Windows-based editing projects
Helpful Tips on Using Best Video Editing Software
Do not make use of any other software while video editing is on.
Finish one task at a time before moving on to next.
Desktop computers are preferable for video editing work. In the case of laptops are used, ensure that they have sufficient battery life to dedicate full power to editing.
Synopsis: What to expect from free video editing software?
There are many more video editing software besides the ones listed above to be considered before making a choice: (open-source and paid)
Machete Video Editor Lite
VideoPad
Freemake Video Converter
Quik
Adobe Premiere Rush
Horizon
Promo.com
GoPro
Magisto
Boomerang
Anchor Video Maker
Anchor Video Maker Reviews
Hyperlapse
Apple Clips
FilmoraGo
As a help, here is a list of points (illustrative) to select as desired:
Video editing software is the best for beginners – Avidemux, Openshot, VideoPad
Video editing software to use for advanced projects with 3D animation – Blender
Video editing software to use for 4K, HD video projects – Shotcut
Video editing software is best for Windows-based editing projects – VSDC
Video editing software is best for Mac users getting started with video editing – iMovie
Video editing software is best for video splicing – Machete Lite
Video editing software is best for uploading vlogs to YouTube – HitFilm Express
Best video editing software to correct colours – DaVinci Resolve
Best to modify and convert videos, extract audio from video clips, and embed videos to websites – Freemake
Mobile apps that can be used to edit a video quickly – Splice, Quik, Adobe Premiere Rush
Best for capturing videos horizontally – Horizon
Best for quick video edits – Magisto, Apple Clips
Best for turning photos into video content – Boomerang
Best for turning audio files into social shares – Anchor Video Maker
Best for shooting time-lapse – Hyperlapse
Best for adding text, themes, and overlays to customize videos – FilmoraGo