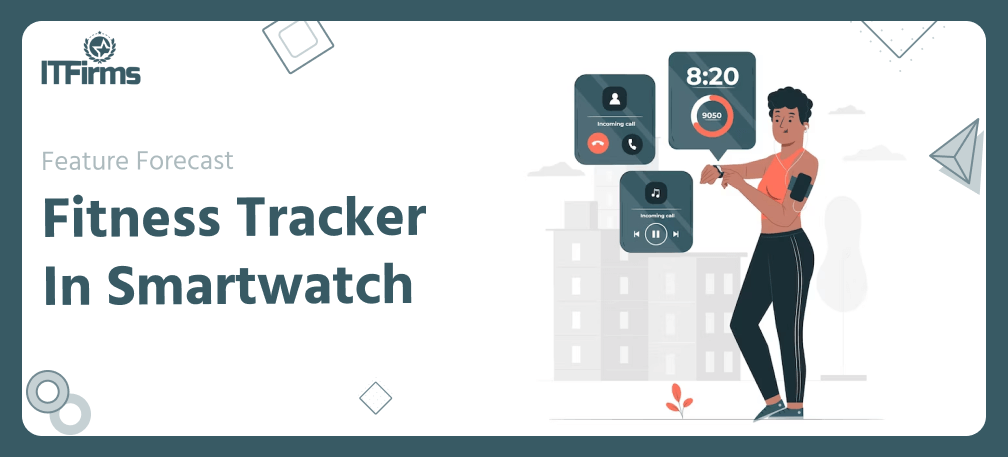 Fitness Tracker In Smartwatch: Feature Forecast
"Looks like you are jogging. Don't bother about checking the app. We will add the data in the background." – Let's Refurbish The Digital Clock To Make It Smarter!
An activity tracker is a fitness tracking software that helps in monitoring tracking your weight, step count, heart rate, and calorie consumption, distance walked. Acting as a wearable computer, the Fitness tracker app comes in handy for active people who wish to track when they are on move. Such applications normally run in the background and do not interfere with regular applications. The app usually has automatic sensors that help it know when a person is swimming or going for a jog.
Applications like Google Fit, Strava, Map My Run, Adidas Runtastic, and Progression – Workout Tracker track workouts, runs, walks, and bike rides in real time. Suck fitness tracker apps record the speed, route, race, elevation, weight, sleep time, and calorie intake. It generates daily, weekly, and monthly reports based on the data collected and even allows for data synchronization with a variety of supported apps.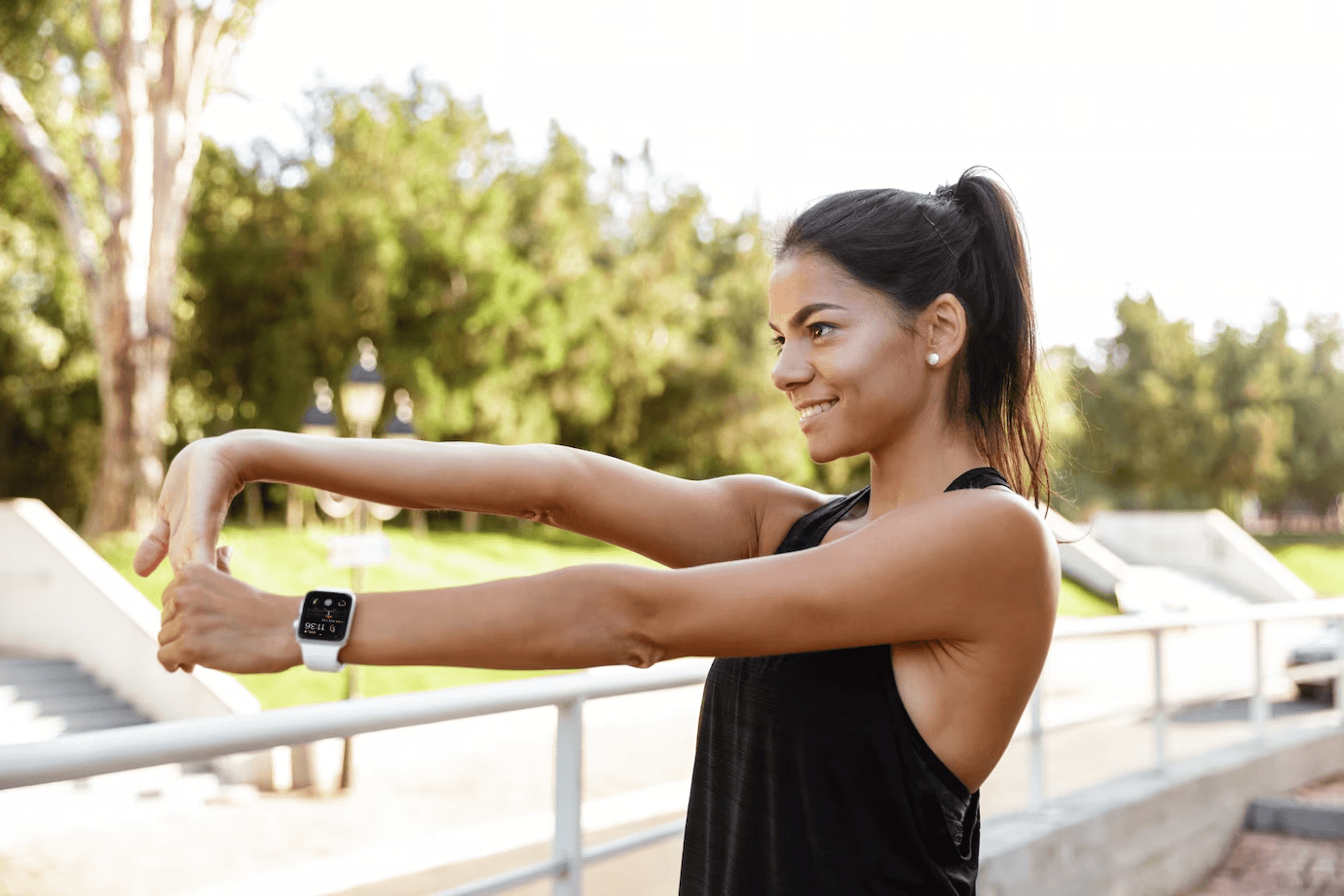 What's a fitness app?
A fitness app can bring different meanings to different people. While it can work out as a health and fitness app, app for wearable devices, mobile – tablet – TV app for home exercises, diet and calories counting app, workout and sleep tracking app, and app that enables contact with your personal trainer (AI/VR/AR), a health app that offers attending live classes, health club apps.
But overall this piece of software helps in monitoring health-related metrics such as walking, running, blood oxygen levels, heart rate, calorie consumption, and sleep quality. These sometimes appear in form of smartwatches, wristbands, earbuds, personal computers, mobile phones, or clothing made of smart fabric.
Besides being a standalone device, fitness tracker apps also exist in the form of a fitness app as software, usually installed on smartphones utilizing the device's built-in components to keep track of certain activities.
The global fitness or activity tracking wristwear market revenue in 2022 was 17.3 billion USD. There were approximately 101 million global fitness tracker unit shipments in 2022.
| | | | | |
| --- | --- | --- | --- | --- |
| Device Type | 2019 | 2020 | 2021 | 2022 |
| Smartwatch | 18,501 | 21,758 | 25,827 | 31,337 |
| Wristband | 5,101 | 4,987 | 4,906 | 4,477 |
| Ear-Worn | 14,583 | 32,724 | 39,220 | 44,160 |
| Head Mounted Display | 2,777 | 3,414 | 4,054 | 4,573 |
| Smart Clothing | 1,333 | 1,411 | 1,529 | 2,160 |
| Smart Patches | 3,900 | 4,690 | 5,963 | 7,150 |
| Total | 46,194 | 68,985 | 81,499 | 93,858 |
Data Source: Gartner
Best Fitness Apps in 2023
Best App Overall: MyFitnessPal
Best Budget Fitness App: Daily Workouts Fitness Trainer
Best for Apple Watch: Zones for Training
Best Fitness App for Barre: Alo Moves
Best for Yoga: Glo
Best for Beginners: Sworkit
Best Fitness App for Weightlifting: JEFIT Workout Planner Gym Log
Best Complete Strength-Cardio Program: AARMY
Best Fitness App for Meditation: Headspace
Best Fitness App for Quick Workouts: The 7-Minute Workout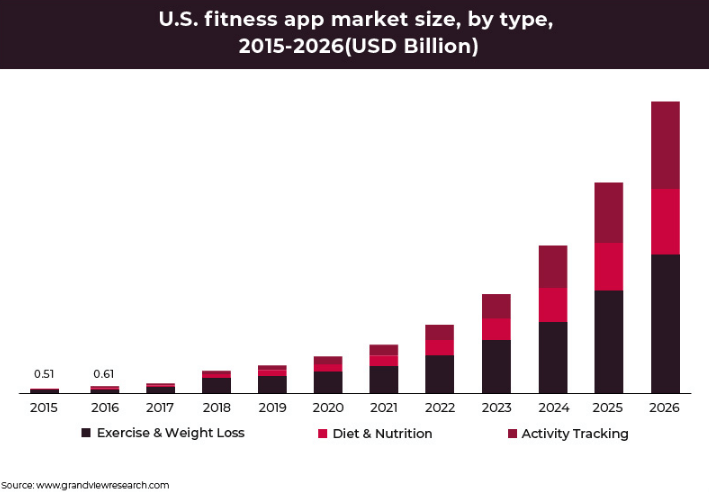 Data Source: grandviewresearch.com
Smartwatch Fitness Tracker App Features
Possible and potential features (basic):
User personalization
Wearable and non-wearable device integration
Activity summaries by a specific time period
Goal setting
Tracking metrics
Push Notifications
Social Sharing
Community
Gamification
Video tutorials
Exercise detection
Step counting
Heart rate monitoring
Sleep Tracking
Music (and so on)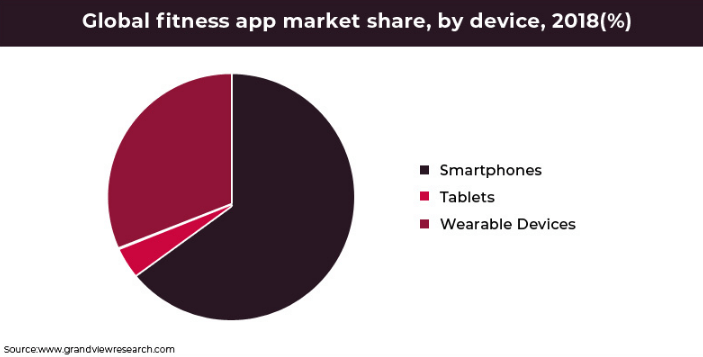 Data Source: grandviewresearch.com
Alternatives to Smartwatch Fitness App Development
There are many such apps in the market, that act standalone or are embedded with other third party mobile apps:
Google Fit
Samsung Health
VeryFitPro
Wear OS
Adidas Running
Lifesum
Strava
Fitbit
Runkeeper
Map My Run by Under Armour
Nike Run Club
Sports Tracker
FitPro
VeryFit
FitPro Watch – Smartwatch App
Fitness Tracker and Sleep
HuaWise Fit
Withings Health Mate
WoFit
H Band
Lefun Wear
Yoho Sports
fitpolo
H Band 2.0
JYouPro
Wearfit
Letsfit
Orunning
JYou
Smart Wristband
Silvercrest Active
Mi Fitness (Xiomi Wear Lite)
Yoho2 Fit
Movescount
Tracke
Garmin Connect
Wake Up Well
Rummifit
FitBit
boAt ProGear
iTech Wearables
iTech Wearables 2019
Huawei Health
Smart + Watch
Moto Body
Zepp Life
Owatch
Pixel Watch
OnePlus Health
Galaxy Wearable (Samsung Gear)
Cost of Fitness App Development
The cost to develop the best workout app depends upon features, mobile platform, complexity, technology stack required, and the location of the development team. The approximate time required for every stage of development:
Preparation of the project – 50 hours
Design (UI and UX) – up to 100 hours
Backend, Frontend – up to 250 hours
Integration with third-party services like payment platform, push notifications, and analytics – about 60 hours.
In general, the average development time to build a fitness app for smartphones comes out to be 460 hours (net). But these numbers can vary significantly depending upon the app's complexity and the rate that the development company charges.
Activity Tracking with Healthcare Fitness Tracking Apps
According to Gartner, the total global spending on wearable devices has been close to $81.5 billion in 2021. Essential hardware components for fitness tracking apps: GPS, Heart rate monitoring, ambient light sensors, essential group of sensors.
Step counting is the most basic requirement of Smartwatch fitness tracker applications. Irrespective of which sports activity a user is a part of, they are likely to monitor the daily steps key performance indicator (KPI).
Besides counting steps health tracker applications like Google Fit also allows adding blood pressure, adding weight, adding activity, and tracking an overall workout in a day. Adding activities includes adding a title, activity name (walking, jogging, swimming, etc.), starting date and time, duration of the activity (30 minutes, 40 minutes, etc.), the intensity of the workout (adding heart points), distance (adding kilometers), energy expanded (adding calories), steps (adding steps), and any additional notes. But a user does not necessarily have to add all these details manually. It gets tracked and added to the application by itself, and is then used by the app to show the daily, weekly, and monthly reports.
Heart rate monitoring, sleep tracking, and music add additional value to the users. Listening to music while walking, running, or meditating helps improve the overall user experience. The music ecosystem is vast, and users have various other third-party music apps like Spotify, and Apple Music, and the option of using API.
Activity Type
Also a smartwatch fitness tracker app is capable of tracking many different types of activities: Walking, jogging, aerobics, American football, Australian football, backcountry skiing, badminton, baseball, basketball, beach volleyball, biathlon, boxing, calisthenics, circuit training, cricket, cross skating, cross country skiing, crossfit, curling, cycling, diving, downhill skiing, elliptical, ergometer, fencing, fitness walking, flossing, football, frisbee, gardening, handball, hand-cycling, high-intensity interval training, hiking, hockey, horse riding, ice skating, indoor skating, indoor volleyball, inline skating, interval training, jogging, kayaking, kettlebell, kick scooter, kickboxing, kite skiing, kitesurfing, martial arts, meditating, mixed martial arts, mountain biking, nordic walking, open water swimming, other, P90x, paced walking, paragliding, pilates, polo, pool swimming, pushchair walking, Racquetball, road biking, rock climbing, roller skiing, rowing, rowing machine, rugby, running, sailing, sand running, scuba diving, skateboarding, skating, skiing, skipping rope, sledding, snowboarding, snowshoeing, softball, spinning, squash, stair climbing, stand up paddle boarding, stationary biking, surfing, swimming, table tennis, treadmill, walking, volleyball, wakeboarding, water poplo, zumba, windsurfing, yoga, that's it.
Applications like Accuweather, have inbuilt sensors that effectively predict hourly, daily, radar, minute-cast monthly forecast, air quality, and health and activities that directly or indirectly affect a person's daily routine.
Pep Up Your Steps
As the device makers focus on improving sensor accuracy, the huge gap between medical and non-medical devices is gradually being diminished. The capability of these embedded sensors determines the reliability and the increased usability, thus improving the widespread adoption of fitness tracker app development and usage over the past few years.
On top of it, application development companies are seeking miniaturization, the reduction in the size of devices, the inbuilt capability, and nearly invisibility to the end user make it even more unobtrusive to the user. This space is continuously being updated with such quirks, keep looking out for more!