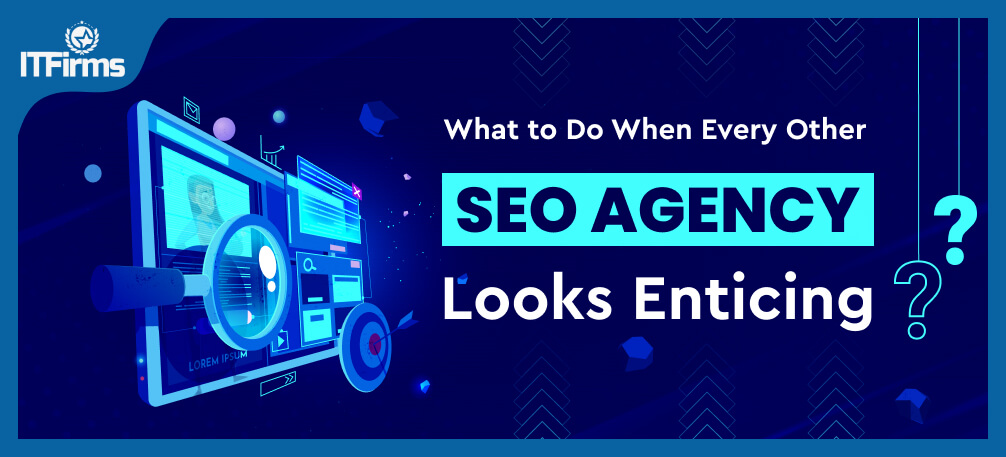 What to Do When Every Other SEO Agency Looks Enticing?
Here we are trying to illustrate the importance of SEO – how does it affect your business, what is the right way to hire an SEO agency, and what points you consider meanwhile!
Finding an appropriate agency for Search Engine Optimization can be difficult if not impossible because there are thousands of them and work on similar lines. Selecting an SEO agency that is right for you can be a deal. But it becomes easier if you become aware of your goals and business outcome. Every SEO agency is capable of giving you the organic ranking that you deserve. But is it really where you would like to go? SEO can unlock massive amounts of online traffic for your business, and you may check the results in real-time. It often involves content marketing and paid to advertise.
What should you consider before hiring a top digital marketing company?
To onboard the perfect SEO agency: (1) You should be aware of your business destination and (2) You what you are looking to accomplish.

To fulfil the first one, you require Search Engine Optimization techniques, which involve: (1) SEO-optimized content marketing, (2) Voice SEO, (3) Link building, (4) Local SEO, and (5) eCommerce SEO.
To fulfil the second one, you require: (1) To rank your entire website or specific keywords higher, (2) Get more qualified traffic and leads, (3) Drive sales directly from organic traffic.

The goal of your business and what you want to achieve will determine the SEO tactics and strategies that you'll need.
Also, you will not find an SEO agency that is an umbrella solution for all digital marketing.
It differs for industry verticals and company sizes.
Reach out to them with the basics to understand the right SEO Company to partner up with;
You will require expert writers/agencies with content marketing skills that allow your website to rank on Google search.
Empower yourself with the best content marketing to disallow your competitors to have higher domain authority or more back-links pointing to their website and high-ranking content pieces.
To increase relevant links pointing to your website and increase your domain authority and boost ranking simultaneously, try approaching an experient SEO agency.
What is the right way to hire an SEO agency?
SEO program should include:

Manual review of current site,
Audience Analysis,
Competitive Analysis,
Link Building and Content Promotion,
Social Media Marketing,
Consultative Support and Implementation on Technical SEO, Content Strategy, and Content Promotion.

A company that follows a definitive process to execute SEO strategies
A company that has a diverse team of specialists
A company that has an impressive client portfolio
A company that has real customer testimonials
A company that thinks ahead and track the latest trends- impact on ranking, traffic, recent trends, and business
A company that agrees with your company culture
How to work with an SEO agency?
Prepare your in-house teams to confront and interact with the search engine optimization agency. Acquaint them why you need to hire SEO professionals and how does it affect your business. Select a bunch of people that work as a tide between your company and the digital marketing company, bridging every communication gap.
Contract with deliverables should follow up after your discovery call and follow-up conversations. You require sharing it with relevant team members and with your legal department to avoid hassles later. On-boarding, scoping of the project and management requires you to share your digital resources judiciously. Define the scope of the work and estimate the login codes and analytics tools in use. Align your in-house team members along with the top SEO company in a well-defined onboarding process. Approximate the delivery timelines and communication channels so that you get to develop SEO focussed content, performance-based digital marketing strategies and make your business visible on a global podium.
Please share your suggestions at [email protected]